NCAA mid-major Northern Arizona University is tackling a high-major schedule to open the 2006-07 men's basketball season.
The Lumberjacks, ranked 18th in the country in Collegeinsider.com's mid-major Top 25 preseason poll, meet Kansas University, the No. 3-rated team in the Associated Press poll, at 7 tonight in Allen Fieldhouse.
After that, NAU, which returns four starters off last year's 21-11 team, travels to Arizona State on Monday and No. 10 Arizona on Wednesday.
"If we are not the No. 1 RPI team in the nation after the first week of the season, I don't know who else to schedule," Northern Arizona coach Mike Adras said.
"It (the schedule) is probably a little tougher than I would care to play. But we have always played good teams, and we would hope they prepare us for what lies ahead in Big Sky play. RPI has become a factor, and we have addressed that with our schedule this year."
Adras' team is well equipped for the early season challenge.
The Lumberjacks, who recently placed first in the Big Sky preseason coaches poll and second behind Montana in the media poll, return nine letterwinners, including seniors Tyrone Bazy, Ruben Boykin and Steve Sir.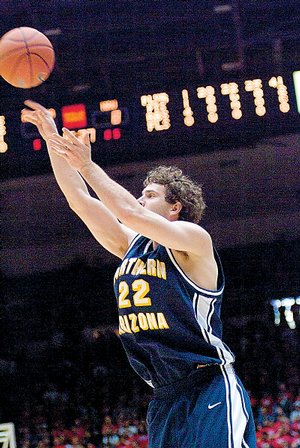 Bazy was the 2005-06 Big Sky Newcomer of the Year after averaging 13.6 points in league contests. Boykin grabbed a conference-best 7.2 rebounds per game, while Sir led the country in three-point field-goal percentage, canning 93 of 190 treys for 48.9 percent.
"The Kansas game was scheduled to be played last year, and they asked if we'd postpone it," said Adras, explaining KU's desire to add New Orleans to the schedule after the area was hit hard by Hurricane Katrina.
"I said, 'Yes,' and this is what we came up with. We always want to play a state school, and Arizona agreed. ASU came up at the last minute, and there was nowhere to put the game except there. We're flying back from Kansas, and ASU is three minutes from the Phoenix airport, so we said, 'What the heck, we'll do it.'"
Adras has ties to several members of KU's coaching staff and naturally is quite familiar with coaches at ASU and Arizona.
"Bill (Self) and I go way back. When Bill was at Oral Roberts we used to talk back then," Adras said. "His team played in Flagstaff when he was at Oral Roberts. I've got to convince him to play in Flagstaff now.
"Joe Dooley (KU aide) and I go way back to when I was an assistant at NAU and he was an assistant and the head coach at East Carolina. I know Kurtis' dad," he added of assistant Kurtis Townsend. "He was a women's basketball assistant at San Jose State when I was a men's basketball assistant. You're in this business long enough and you get to know them all."
KU vs NAU
Adras' eighth NAU team may wind up being his finest. Sixth-year senior guard Sir, who received an extra year of eligibility from the NCAA, "really has a knack for shooting the ball and it comes from a daily routine and daily practice," Adras said of the San Diego State transfer.
"The guy is always shooting the basketball. I wish he would do some other things on the court. He doesn't enjoy doing those things as much as he enjoys shooting the basketball."
Sir and his Lumberjack teammates will have to play some defense if they hope to defeat the high-powered Jayhawks.
"Darrell (Arthur), oh my goodness, you know he's going to be good," Adras said. "We recruited his high school teammate - Ronnie Morgan - so we saw 'Shady' play a few times and appreciate how good he is. Then in the two exhibitions games, I look at the numbers and what he's doing already and I just shake my head."
Adras also lauded Julian Wright "and we haven't even touched on their best player (Brandon Rush). I saw in the paper he's a first-team All-American and I said, 'Oh, that's good. We're playing a top-three team and they have a first-team All-American.'"
KU has a plethora of talent, Adras indicated.
"Kansas has five McDonald's All-American players. We have five players who like to eat at McDonald's," he cracked.
More like this story on KUsports.com