There are some people who, after getting one "B" on their report card, will high-five a roommate and then go kill all the brain cells that made that great grade possible.
Gotta celebrate, you know.
And then there's Todd Reesing, Kansas University's freshman quarterback. He confessed to coach Mark Mangino last week that he might settle for a "B" in his math class this semester - which, for those scoring at home, is a Calculus 2 honors class for engineers.
So, Todd, you're an engineering major?
"No," Reesing replied, "which is the weird thing."
Strange indeed. Reesing actually enrolled in a more basic calculus class in the spring, but found it too easy. And even though he's double-majoring in economics and finance, he decided to try a math class for engineers that would make most mortals curl up and weep.
He might get a "B" in that class. And he calls it "disappointing."
Considering that, why wouldn't football come easy to Reesing? It sure seemed like it did last week, when his red shirt was stripped with KU's season on the line. What should've been a green freshman learning the game from the sidelines, Reesing instead came out of the locker room after halftime, took a couple of warmup snaps from center David Ochoa, then went out and won a must-win game against Colorado.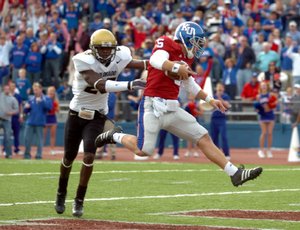 Oh yeah, the Buffaloes were spotted nine points before Reesing earned his chance, too.
Is this guy for real? Yeah, Reesing's only 5-foot-10, has only played one half of football and still can't be considered the clear starter when fellow freshman Kerry Meier is healthy.
But Reesing's performance in KU's 20-15 victory over Colorado got the masses excited again - and just in time, just as KU's football season was about to be lost.
"I know," receiver Brian Murph said, "we wouldn't have won without him."
He'll play some more, Mangino insists, probably extensively when Kansas takes on Iowa State today.
But who is this guy we'll be watching? And how can someone with so much on his plate seem so carefree about all of it coming at him with the velocity of one of his passes?
"He's really not a guy who's bogged down by life," Mangino said. "He's having a good time."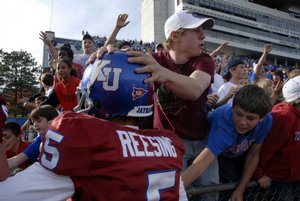 Getting his chance
Especially now. After thinking that 60 minutes on the sideline every Saturday was his destiny in Year One, things changed in an instant.
First, it was a shoulder injury to Meier, suffered in KU's 36-35 loss at Baylor. That game dropped Kansas to 3-5, essentially putting the Jayhawks' backs against the wall if they wanted to reach their goal of postseason play.
On the way home from Texas, Mangino considered how Kansas might need Reesing this season. On the bus ride home from the airport, Mangino asked Reesing if he'd be willing.
"Before I could finish my sentence," Mangino said, "he said, 'I'll do it. I'm ready to play.'"
Mangino still kept the card up his sleeve, until a stale offense in the first half against Colorado forced him to bring out the secret weapon. Kansas was down 9-0 at the time.
Reesing wasn't perfect, but by the end of the third quarter, he started a string of three straight drives into the end zone. A 9-0 deficit became a 20-9 lead. Kansas went on to win the game, and the bowl possibilities - once on life support - got a little brighter.
"He's a guy that's well prepared," Mangino said. "When he goes in, he'll get after it. He won't hold anything back."
Mangino saw Reesing's potential after Reesing's junior year at Lake Travis High in Austin, Texas. While Reesing was in Kansas during the summer visiting Kansas State unofficially, the family decided to take a stop in Lawrence before heading home.
KU vs. Iowa State
"We just wanted to see him in person," Mangino said. "He showed up, and we spent time with him talking to him, and he's exactly what he looked like on tape in terms of size and stature."
Oh yeah. That's the other thing - in an era of quarterbacks that tower between 6-2 and 6-6, Reesing might hit 5-11 with bed head. That scared away some schools.
It didn't scare away Kansas.
"His tape was too hard to ignore," Mangino said. "We offered him."
Reesing said yes, figured he could graduate early to start his college football career and did just that. He moved to Lawrence in January, months before his Lake Travis classmates would be going to prom.
Getting going
It has to be hard for any early graduate to fit in right away. But remember, Reesing makes about everything look easy. Why would that be any different?
"Personality-wise, he's just fun to be around," said Murph, a senior. "Everybody likes him."
Several teammates cited the energy Reesing brings. While he was helping with KU's comeback last week, Murph said that Reesing was pacing up and down the sideline, shouting, "This is what I do!" and slapping the pads of teammates.
By the numbers
"He was hyped on the sideline," Murph said. "He couldn't sit down. He was ready to make some more plays."
Some of that energy transfers straight to his arm, it seems. If Reesing needed to make a quick impression, all he had to do was laser a pass to one of his receivers or go deep. He has the cannon to do both in impressive fashion.
Outsiders noticed it right away during spring drills. As little as he was, his arm was a like a rocket.
"I've always thrown it kind of hard," Reesing said. "I guess that's just how I play. I feel that if I got a strong arm and I can get the ball there faster : as long as my guys can catch it, that's what I'm going to do.
"There's certain cases where you take some off if it's a short pass, but if you put the ball on the line and get it there fast, it's less of a chance of the defense making a play on it."
Mangino is staying close to the vest on who will start today, but it likely depends on Meier's health. Even so, KU's fifth-year coach said he didn't pull Reesing's red shirt for one half of play. He'll get in there more, and the rest of the Big 12 North will be able to see what teammates have seen since Reesing came on campus this spring.
A little flash and a little flair - from a little guy with big potential.
"I knew what he could do," Murph said. "He just proved it."
More like this story on KUsports.com