He hit shots when he was open and when closely guarded. He swished them when his feet were set and when he was off balance.
Missouri's Thomas Gardner - as fans of the Border Showdown are well aware - put on a Jordan-esque, LeBron-like performance in erupting for 40 points in the Tigers' 89-86 overtime victory over Kansas on Jan. 16 at Mizzou Arena. Gardner hit 13 of 22 field-goal attempts, including 7-of-14 threes.
It's an effort that still has the Jayhawks shaking their heads.
"I think that was probably the best individual performance I've seen because we had the game won, and his performance helped win the game for them. That was the big difference," said KU sophomore guard Russell Robinson, who today again will shadow Gardner, a 6-foot-5 Portland, Ore., native, during the KU-MU rematch.
Tipoff is 2:50 p.m. at Allen Fieldhouse, with a live telecast on CBS (channels 5 and 13) and a replay at 10:30 tonight on Sunflower Broadband Channel 6. Kansas is listed as a 17-point favorite.
Robinson, Brandon Rush and Jeff Hawkins all took turns trying to slow Gardner in the first meeting : to no avail. He scored 20 points the first half and just as many the second 25 minutes, including a game-tying three with 5.4 seconds left in regulation.
That bomb helped complete a comeback from a seven-point deficit in the last 1:51 and five-point deficit in the last 29 seconds.
"Everybody has their game, and that was his day. I don't think he's going to put up 40 this time, but he'll probably still have a good game," Robinson said.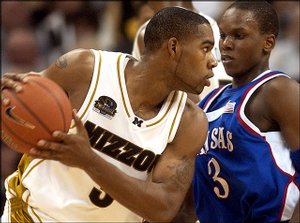 Gardner, the Big 12 Conference's leading scorer at 19.8 ppg, needs 48 points to reach 1,000. The last MU juniors to hit the 1,000 standard were Rickey Paulding and Arthur Johnson in 2002-03.
He needs 34 to pass Anthony Peeler as MU's top scorer against KU in a two-game season series. Peeler had 73 versus the Jayhawks in 1991-92.
"We've got to guard Gardner this time," KU coach Bill Self said. "The last time he only got about three or four good looks that he made. Other times we were right there. He played unbelievably well."
Not many teams have been able to slow Gardner, who has scored in double digits in 24 of his last 26 games. He has topped the 20-point mark in seven of his last 11 games, and the 43.5-percent shooter leads the league with three 30-point contests.
His 40-point outing against KU was the 10th highest single scoring game in the NCAA this year.
"I think we did play pretty good defense on him. He had eight turnovers. He just hit some tough shots," Robinson said. "This time we just can't let him get going. We've just got to contain him.
"We're at home, so we have to keep the crowd behind us. We have to use that in any way we can and just try to play great defense."
Related Content
Gardner was an overnight hero on the MU campus immediately after his Superman effort versus KU. The Columbia Tribune reports he received 57 text messages immediately after the contest and 70 messages on his Facebook Internet page. Classmates applauded Gardner when he walked into one of his theater classes that week.
"It's funny because people all say the same thing: 'I know you've heard this before, but I just wanted to say congratulations,''' Gardner said. "You just are polite (in response)."
Of his 40-point outing, he shrugged. "I got hot early," he said. "The rim looks real big. Everything feels good coming off your hands."
Since the KU game, things have not gone well for the Tigers, who have dropped six of seven games and lost their head coach, Quin Snyder, who has stepped down. Melvin Watkins took over.
KU, meanwhile, has won eight straight games and is ranked No. 22 in the country.
"Our team played well over there," Self said. "We didn't lose our confidence over there even though we lost in terrible fashion if you are a KU fan. But we feel we got better playing at Missouri.
"The guys really rallied around each other and have been tough, kind of got themselves in a foxhole so to speak after that loss and stayed there, learned to enjoy each other and play together even more.
"You don't want to say losing helps," Self continued, "but I believe that at a time where that loss could have hurt us and did more damage than one game, the guys didn't allow that to happen."
Now it's Missouri that has been losing and losing a lot. The Jayhawks say they won't pay attention to records in such an intense rivalry.
"I think it'll be a tough game," said KU freshman Rush. "They are a wounded animal now, so they'll come out fighting. It was tough to play there, and this game will be tough, too."
Added senior guard Hawkins: "Sometimes losing can be good, especially when it's early in the season. I think it was good that we lost that game to Missouri because we're on a nice little roll right now. I think we're really fired up to play Missouri because we've still got that nasty taste in the back of our mouths."
More like this story on KUsports.com