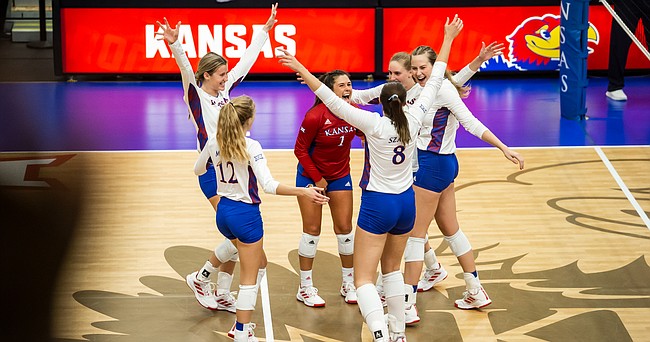 Kansas City snapped KU's nine-set winning streak in the opening set on Thursday night, but the Jayhawks rallied to win the next three and left Horejsi Family Volleyball Arena with their four-match winning streak intact.
After dropping a sloppy first set, 25-22, KU powered past Kansas City in the next three, 25-18, 25-21 and 25-18, to take the opening match at the Jayhawk Classic.
Coach Ray Bechard's Jayhawks (6-3) now have won six of their last seven matches and are 4-0 at home.
"Coach B always talks to us after the match about getting better," said senior middle blocker Rachel Langs, who finished with a typical steady-Eddie line of eight kills and four blocks. "Even when we win, we know there's always room for more improvement."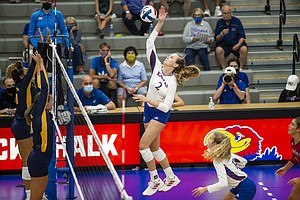 That was the theme of the night. After hitting just .100 in the opening set, the Jayhawks topped the .400 mark in two of the next three, led by 14 kills from freshman Caroline Bien and 13 from Jenny Mosser.
That duo has paced the Jayhawks's attack all season, but Bechard said he was particularly pleased with the balance his offense found in this one.
"London (Davis) had a slow start but really got it going late tonight," Bechard said of the freshman who finished with seven kills. "That's huge. That changes everything because now we've got more balance, and I just thought we got better as the night went on, which was good to see."
After playing a one-setter system for most of the season, the Jayhawks went to a two-setter offense midway through Thursday's match. Freshman Camryn Turner responded to the opportunity with 26 assists and 12 digs, working in tandem with sophomore setter Elise McGhie throughout the night.
Largely because of Turner's talent and the desire to be more versatile, Bechard said the Jayhawks had been tinkering with that approach in practice but decided to fully unleash it to give the team a spark.
Once they caught fire, the Jayhawks never really cooled down. And Kansas City, after a ferocious start, kept falling victim to KU's rhythm and their own miscues. The Roos (8-2) flubbed their way to 15 service errors on the night, including four in a row at the end of the third set which helped KU pull away.
Kansas delivered 12 service errors of its own, but Bechard said that was a product of a new mentality in the sport.
"Service errors are going to go up because everybody in the country has just made a commitment to serving the ball hard," Bechard said. "We can take the deep errors, when you're serving tough. It's the bad errors you don't want, when you're serving into the net."
Thursday's match was another step forward for the surging Bien, who hit .565 for the night and had just one error in 23 swings. The freshman from nearby Saint Thomas Aquinas added 11 digs and three aces.
"I'm so proud of her," Langs said of Bien. "She's doing awesome. We obviously knew before she got here that she was really good, but even now that people are talking about her and seeing how she performs, she doesn't get a big head. She just does a really good job of carrying herself and comes out and just does what she knows how to do."
Sophomore middle blocker Caroline Crawford (8 kills on 15 swings and 3 blocks on Thursday night) is another player who follows that game plan. And Langs said she and the rest of the KU upperclassmen have enjoyed watching both of KU's killer Carolines put in the hard work and see it pay off.
She also takes pride in helping both of them find their way through the early stages of their college careers.
"When I came in, people did that to me," Langs said. "And now it's like I get to do that for them. I think that's really cool to have been on both sides of that."
Bechard said having Langs' experience and steady hand has been invaluable to this young and rising KU roster.
"She's somebody who just goes about her business and is (even-keel) the whole time instead of being up and down," Bechard said. "You always know what you're going to get."
KU returns to action at 7 p.m. Friday night, when Missouri State comes to town for the second of three home matches at this week's Jayhawk Classic. KU also will take on Albany at 11 a.m. Saturday.