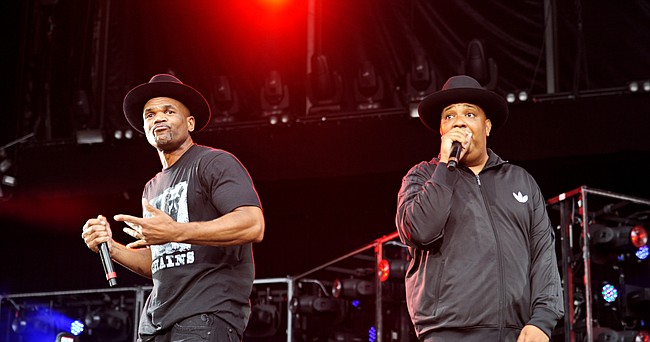 Legendary hip hop group Run-DMC will be the featured musical act at the 37th annual Late Night in the Phog basketball celebration at Allen Fieldhouse on Oct. 1.
KU announced the 2021 Late Night performer in a Friday afternoon social media video that featured head coach Bill Self discussing the event with his assistant coaches in his office.
In the video, Self incorporated some of the group's most popular song titles — "It's Tricky" and "Walk This Way" — into the script for the video.
Later, Joseph Simmons, better known as Reverend Run, jumped into the video to announce that the group that has long been known for rocking Adidas sports gear was coming to Allen Fieldhouse. Run-DMC even has a song titled "My Adidas."
Other recent musical acts to perform at Late Night include Snoop Dogg (2019), 2 Chainz (2018), Lil Yachty (2017) and Tech N9ne (2016).
The event itself, of course, is the official celebration of the start of another Kansas basketball season, featuring scrimmages by both the KU men and women, skits and prizes for students in attendance.
Two KU students will get the opportunity to walk away with $10,000 from Self by making a half-court shot.
In recent years, the event has been turned into an all-day extravaganza, with food trucks, interactive contests and music on the lawn outside of Allen Fieldhouse beginning at 11 a.m.
Late Night is slated to begin at 6:30 p.m., and doors will open at 4:30 p.m. for students and 5 p.m. for the general public. Admission is free and fans are encouraged to bring non-perishable food items to donate to Just Food of Douglas County.
Late Night in the Phog will be televised via Big 12 Now on ESPN+. Brian Hanni and Greg Gurley will serve as hosts. It also will be carried on Kansas Athletics' cable partners, including Midco, Spectrum Sports and Cox.