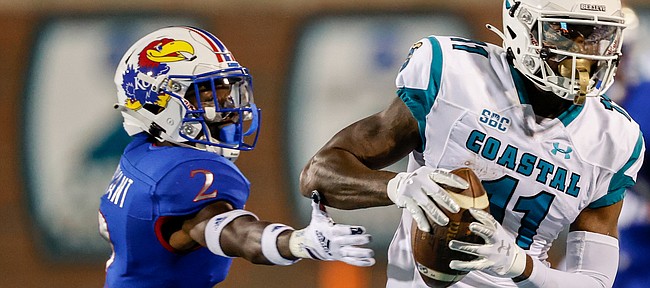 The Kansas football defense faced its first substantial test of the season in Week 2 at Coastal Carolina. The 49-22 road loss against a veteran-laden top-20 team, KU defensive coordinator Brian Borland said, allowed him to learn about where the defense is at — and how it needs to improve — as the Jayhawks head into Big 12 play.
"We can compete. We're not afraid of giving effort and things like that," Borland said of what the defenders showed him at CCU. "But I also know we've got to clean up what it is that we're doing, as well."
The Chanticleers exploited KU's shortcomings and mistakes as often as they could, rushing for 215 yards and passing for 245 more en route to a six-touchdown night against the KU defense. It was a far cry from when KU held FCS opponent South Dakota to 263 total yards and 14 points in the season opener.
Asked Wednesday during a video conference with reporters about KU's linebackers and how that group needs to improve, Borland used it as a jumping off point to say he's asking the same of the linebackers that he is of every player on the defense this week, ahead of Saturday's conference opener versus Baylor (2:30 p.m., ESPN+).
"We play with high effort, but we're not always probably as physical as we need to be," Borland said of a recurring problem in Week 2.
"There's a physical part of being physical and there's a mentality of being physical. I think we need to make sure we have the mentality of physicality — and hopefully that'll help us," Borland added.
That eagerness to be a physical presence for the defense will need to start up front for the Jayhawks. Borland said on the interior of the defensive line he wants the D-tackles not only holding their own against offensive linemen, but finding ways to make plays at and behind the line of scrimmage, too.
Borland said the coaches are trying to create some movement by taking some strategic measures that will allow D-tackles to come free and make plays more often.
Generally, that's really what Borland wants from every position. It's one thing to be in the right spot, but KU's coaches want the players to take a confident and assertive approach to what they're doing, too, so the defense as a whole can be more disruptive.
"We've just got to take it to people a little bit more than we do," Borland said. "And that's something obviously that we're working on, working on all aspects of that."
A super-senior defensive end who has delivered some of what Borland is looking for, Kyron Johnson said as the defense heads into its Big 12 opener "every area" on the team could use improvement.
On the defensive line in particular, Johnson (14 tackles, 2.5 tackles for loss, 1.5 sacks, one forced fumble and one fumble recovery) said position coach Kwahn Drake has preached technique this week, as the D-linemen need to get off the ball and knock O-linemen back.
"Men tend to get beat when they don't have good technique," Johnson said.
With the linebackers, junior Rich Miller, who played for Borland previously at Buffalo, said the group needs to continue improving its eye discipline and having a better feel for what the offense is trying to execute. One person missing an assignment "can kill the whole defense and spark a big play," Miller said. Moving forward, Miller said the linebackers need to be more aggressive while carrying out their assignments.
Miller also thought there were a few times when the defense was clicking against CCU.
"I think we know that if we are more disciplined then we can do anything, we can play with the best of them," he said.
The defense's optimal sequences came not only late in the second quarter and early in the third — the two times KU forced Coastal to punt — but also on a short-lived CCU possession in the second quarter that ended with Johnson recovering a fumble forced by fellow D-end Malcolm Lee.
Borland thought the defense showed its potential in those moments. He noted KU was down 28-22 near the midway point of the third quarter. But the D.C. said the defense didn't finish off the game effectively, either.
While the defense still has "a ways to go," Borland said, he thought one of the good signs in Week 2 was the group's ability to carry out a game plan. He said when CCU showed some looks the Jayhawks had prepared for, the defense executed. It was when the offense added new or unexpected wrinkles that it took some time for the defenders to adjust.
"Our guys, we've lost no faith in who we are, what we're doing," Borland said of the defense's progress heading into Week 3.