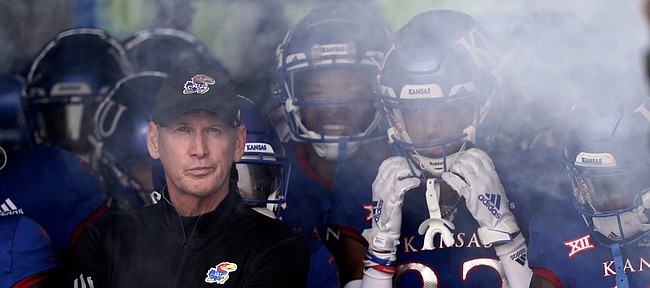 — Kansas (1-6 overall, 0-4 Big 12) at No. 15 Oklahoma State (6-1, 3-1) • 6 p.m. kickoff, Boone Pickens Stadium • Game-time forecast: 66 degrees, sunny, 0% chance of rain • TV: FOX Sports 1 • Radio: KLWN, FM 101.7 / AM 1320
Keys for Kansas
1. Don't step in that bear — or Cowboy — trap
For a long struggling program like Kansas football, competing with — and holding a fourth quarter lead against — powerhouse Oklahoma a week ago was a drastic change from recent Big 12 defeats for the Jayhawks, who have lost 16 conference games in a row.
Whether that one result can be a turning point for the future of the program could depend on what happens in the final five weeks of this season, beginning with a daunting road game at No. 15 Oklahoma State.
"You hope it's a building block," head coach Lance Leipold said of the upset scare his Jayhawks gave OU. "But again, we lost the game. I mean, we can't lose sight of that."
Added Leipold: "I think that's where I sometimes quite honestly feel it's fragile. I want to acknowledge the positive, but what could have been, too."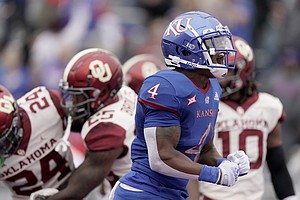 Those types of reminders have been talking points for KU's coaches throughout this week. Offensive coordinator Andy Kotelnicki said he thinks players on that side of the ball have responded well in practices after having their best showing in a Big 12 game this season (highs of 412 yards and 23 points versus OU).
To illustrate his point about how the Jayhawks need to avoid feeling satisfied by contending with OU, Kotelnicki during the offense's Monday meeting showed the players a picture of a bear trap.
"One of those traps they don't use any more," he said. "It's got the claws, like kind of from that movie, 'Saw.'"
Kotelnicki told the players that every week there's always a trap, and it's important for KU's football program that the Jayhawks don't step into one right now.
"This week's trap was a sense of a moral victory, as though you have arrived," Kotelnicki said.
While the O.C. pointed out to the players he was happy they were able to perform better and give some energy to themselves, the program and the fan base, he also told them the reality of the situation was they didn't do enough to beat Oklahoma.
"So whatever we did, we need to still do more," Kotelnicki said. "And I'm talking to myself when I say that out loud, too."
As Leipold said, the promise the Jayhawks showed against OU could be just a blip if they don't have the right approach in the aftermath.
2. Enhanced physicality
One area where the Jayhawks must keep positive momentum is the physicality department.
Super-senior receiver Kwamie Lassiter II said that's been a point of emphasis for him in recent weeks, dating back to a third-down catch he had in KU's blowout loss at Iowa State on Oct. 2.
"I caught an out route, I got out of bounds. And it was short," Lassiter said of the four-yard gain on third-and-5, with the Jayhawks already behind by 14 in the first quarter. "We went for it on fourth down. We didn't get the the first and it was (ISU's) ball."
First-down yardage was attainable for Lassiter if he had looked to take on the defender instead of getting out of bounds.
"And that's not what you want in a football game, especially against a team like that," Lassiter said, looking back at the play. "So it was an emphasis, going north and south."
Kotelnicki said coaches are stressing physicality with the "whole football team," not just Lassiter. But the O.C. credited the veteran receiver for taking on that challenge.
Against OU, on a play-action pass to Lassiter, Kotelnicki said he saw the wideout make a decision to take on a defender, as opposed to avoiding contact and going out of bounds. Lassiter's effort gave KU a first down.
"And that's what we're looking for," Kotelnicki said. "We're looking for the mindset and the mentality to understand that physical football typically is winning football."
KU's offense will need to maximize its physicality versus an OSU defense that ranks in the top 20 nationally in tackles for loss (6.9 per game, No. 9), defensive touchdowns (two, No. 9), rushing defense (94.3 yards allowed per game, No. 12), third down defense (30.4%, No. 12), sacks (3.0 per game, No. 16), fourth down defense (33.3%, No. 18) and total defense (316.7 yards allowed per game, No. 19).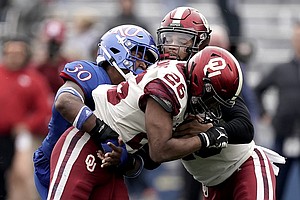 Of course, KU defensive coordinator Brian Borland believes in physical football, too, and has preached as much to his players.
Last week against OU, Borland said the defense played its most physical game yet.
"We didn't get pushed around at all by those guys. We really didn't," Borland said.
Even comparing the defense's performance versus the Sooners to how the unit played in a 17-14 win over FCS program South Dakota in Week 1, Borland said he told the players their Week 8 showing was better and closer to what he's been looking for from the group.
"Just flying around, hitting, knocking guys back, from that standpoint, that was the best we played," Borland said.
After giving up 576 yards to Baylor, 564 yards to Iowa State and 438 yards to Texas Tech, KU surrendered 398 yards to OU.
Borland thinks the improvement has to do with the defenders getting more comfortable in the scheme, which allows them to execute and make tough plays more often.
"We can play faster now," Borland added. "We don't have to think quite as much."
3. Stop the run — and pick up on passing cues
Oklahoma State's offense might not be putting up as many points (27 per game, seventh in the Big 12) in conference play as the other top teams in the league this year, but Borland said the Cowboys' balance can keep defenders on their heels if they're not careful.
"I don't know if they're a team that would really love to just drop back and throw it 50 times a game — they haven't shown the desire to do those things," Borland said of OSU, which is averaging 28.5 pass attempts and 232.3 passing yards a game in Big 12 play.
"Not that they can't throw, but they're a solid run team, and then it's play-action pass, and boot passes, and just different things, RPO quick throws, that really complement the run game," Borland explained of what makes the Cowboys effective and potentially difficult to defend.
"You know, it's hard to put your finger on them," KU's D.C. continued. "You have to stop the run. But they have other options, as well, and their personnel is pretty good."
OSU's ground game has benefited from the emergence of running back Jaylen Warren, a transfer from Utah State who is averaging 147 rushing yards a game in his first five starts this year. Warren (4.7 yards per carry) has picked up six runs of 20 or more yards in the past five games.
Plus, junior Cowboys quarterback Spencer Sanders is one of just three QBs in program history to surpass both 4,000 passing yards and 1,000 rushing yards in his career. In his six appearances this year, Sanders has completed 59.2% of his passes, with nine TDs and five interceptions. He's averaging 197.3 passing yards and 40.8 rushing yards a game.
KU's defense will need to eliminate big rushing gains versus OSU. A week ago, the Sooners totaled 220 yards on the ground and 106 of those came on two plays — a 40-yard touchdown by QB Caleb Williams and a 66-yard reverse by receiver Trevon West.
Leipold said OSU has the type of team he wants to build at KU in the future: a "big and physical, balanced, excellent football team."
Prediction
OSU 37, KU 16