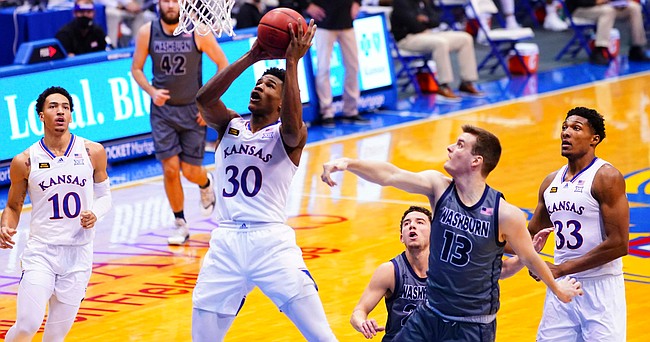 Just because he's been in this position before, don't think for a second that Kansas basketball coach Bill Self is not flattered by the fact that his team was picked as the preseason favorite in the Big 12 Conference.
But do understand that Self, who is set to begin his 19th season at KU, has seen enough to know that what happens in October has very little bearing on how things play out in February and March.
Still, Self and his teams have always been comfortable operating as the hunted, and it appears as if that will be the case again during the 2021-22 season.
"We've been picked fairly high most years," said Self, whose team also enters the season ranked No. 3 in The Associated Press preseason poll. "But I think from a staff standpoint it doesn't really mean much at all. I would say this, though. I would rather be picked high than not picked high. But the reality of it is, right now, it's a coin flip."
Good or bad. Win or lose. Hot or cold. Most things in college basketball do seem to fall in line with that 50-50 assessment.
But as the Jayhawks begin final preparations for next Wednesday's exhibition game against Emporia State — and the regular season opener against Michigan State six days later — Self finds himself wondering, in a year of so much turnover across the country, if his returning core will give Kansas a leg up on the competition.
"Everybody to me looks good on paper," he said. "We probably look as good as anybody on paper because we've returned guys (and) most of the other programs don't return as many guys. It doesn't mean anything to me. How do you know how quickly teams with so many newcomers are going to gel together?"
One newcomer, point guard Remy Martin, said this week that the Jayhawks have enough upperclassmen and experienced veterans to understand what it takes for a talented team to turn in a special season.
"In practice, we're going at it," Martin said Thursday. "Coach Self is definitely challenging us to be our best selves, including myself. I've been a part of teams that look great on paper, but never really achieved all the things that we expected to. So I know that we do have the pieces, which is great, but when we get in on that court, it's a whole different story."
In returning starters Ochai Agbaji, Christian Braun, David McCormack and Jalen Wilson — along with key reserves Dajuan Harris and Mitch Lightfoot — the Jayhawks return 71% of their minutes, 74% of their scoring, 70% of their rebounding and 65% of their assist totals from last season.
Those numbers played a big part in where KU was picked and ranked in the preseason. But the fact that Self and his staff brought in eight new scholarship players to pair with them significantly raises KU's ceiling.
And it's entirely possible — perhaps even likely — that even with that returning core, KU will need two or three of those newcomers to perform at a high level for these Jayhawks to accomplish what they hope to accomplish.
The options there are plentiful. Martin was regarded by some as the top transfer in all of college basketball this offseason. Joseph Yesufu was a star-in-the-making at Drake. Big man Cam Martin is determined to show that he can make the jump from the Division II level to the high-major level. And three of the four true freshmen — KJ Adams, Zach Clemence and Bobby Pettiford — appear to be in the running for a spot in KU's regular rotation.
The question with those newcomers is simple: Can they handle the pressure that comes with being everyone's pick to win and one of the favorites to make a run at a national title?
"I think when you play at Kansas, and you coach in this league, pressure is something that is usually good," Self said. "If you can't deal with that type of pressure, then you're probably not going to be able to deal with real pressure later on."
Remy Martin said the intensity and practice and strength of the KU roster has this team prepared for anything.
"We have all the pieces," he said. "And coach is putting us in the best position to be able to compete at a high level every single day."
Added Agbaji: "It's kind of the same goals as every year. Be successful and push ourselves in practice every single day to train for those pressure moments that come in the season when the title's on the line or when things mean the most."