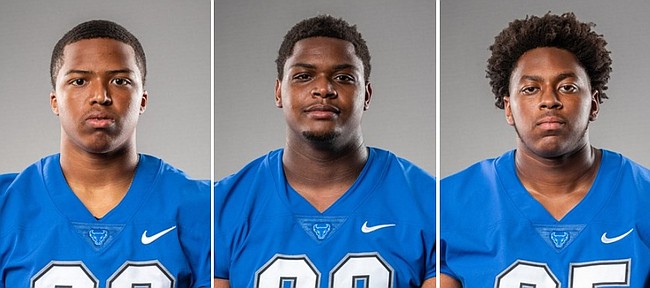 The Kansas football program continued to be a popular landing spot for former Buffalo players on Monday, as three more transfers announced they are joining the Jayhawks.
A pair of defensive contributors for the Bulls in 2020 — linebacker Rich Miller Jr. and defensive tackle Ronald McGee — and young offensive lineman Michael Ford Jr., all of whom had entered their names into the transfer portal, told Jayhawk Slant of their plans to follow head coach Lance Leipold and members of his UB staff to KU.
Their proclamations came hours after three other former UB players made their intentions to play for Kansas known, giving the Jayhawks six Buffalo transfers for the 2021 roster.
Miller, who left Buffalo this spring as a 6-foot-1, 230-pound junior, played in every game for the Bulls as a reserve the past two seasons. Miller played mostly on special teams as a true freshman in 2019 and then got more time as a backup linebacker in 2020, making 13 tackles and one tackle for loss during his sophomore year.
Miller told Jon Kirby of Jayhawk Slant he trusted Leipold and his staff and wanted to continue his relationship with them at KU.
"I always knew that they see the potential I have," Miller said. "Once I entered the transfer portal and I got the call, I'm like, 'they really do see the potential in me, and it's meant to be.' If it wasn't meant to be, then I wouldn't have gone to Kansas. I feel like Coach Leipold has had a lot of success everywhere he's been, so it's only right for me to come help him try to turn the program around."
Miller was a two-star prospect out of Detroit when he signed with UB in the Class of 2019.
McGee, a 6-3, 285-pound defensive tackle, played junior college in Kansas at Highland Community College before signing with Buffalo in the Class of 2019 as a two-star juco prospect.
Over the past two seasons, when he was a sophomore and junior at UB, McGee played in 17 games, starting once in 2020. He comes to KU having made 18 tackles and two sacks at the FBS level, mostly as a reserve.
The respect McGee has for Leipold, he told Jayhawk Slant, played a key role in his decision.
"I feel like what makes him a good head coach is that he personally cares about the players," McGee said. "If you have a team full of guys that care about each other, it's going to be pretty hard to beat them. And Coach Leipold, he doesn't just care about the wins and losses. He cares about his players and player development as well."
A 6-3, 285-pound offensive lineman from Homewood, Ill., Ford is the youngest of the UB transfers coming to KU. Ford redshirted at Buffalo this past season after signing in the 2020 class as a two-star prospect.
Ford was in the mix to start for the Bulls in 2021 before deciding to follow Leipold and his old O-line coach, Scott Fuchs, to Kansas.
"Coach Fuchs is a very cool person," Ford told Jayhawk Slant. "He's a great coach. I think he's a great teacher. I feel like he's a gigantic reason of why I was successful my freshman year coming into college. From him I've learned just to play like a shark, because he always said that."
Added Ford: "I always have a shark mentality because the only time a shark stops swimming is when he's dead. He always demanded the best. I feel like he teaches some great techniques."