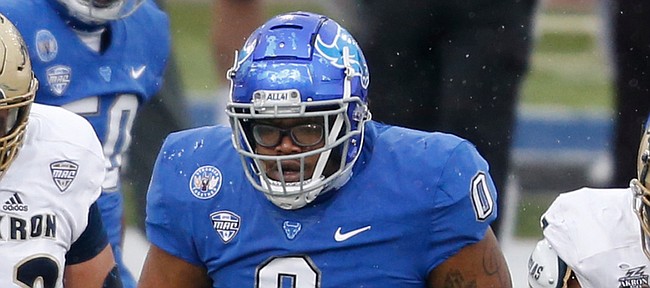 The Kansas football program isn't just adding former Buffalo coaches in 2021. A trio of former Bulls players announced Sunday they are following Lance Leipold and several of his assistants to Lawrence via the transfer portal.
Eddie Wilson, a defensive tackle who played each of the past three seasons at UB, became the first Buffalo transplant to make known his decision to join the Jayhawks. And before the evening was over, former Buffalo receiver Trevor Wilson and previous Bulls center Mike Novitsky also divulged their plans to do the same.
Listed most recently on the Bulls' roster at 6-foot-4 and 325 pounds, Eddie Wilson started every game at UB in both 2019 and 2020. This past year, he made 21 total tackles and a sack in an abbreviated seven-game season for Buffalo.
A third-team All-MAC selection in 2020, Eddie Wilson told Jon Kirby of Jayhawk Slant he wants to help his new teammates and produce.
"I'm going to be here for guys on and off the field," Wilson said. "I've been here before and started on the field. I want to lead by example with my actions and I want to help the whole defensive line be dominant. I want them to see how hard I will work. I want to help everyone I can."
Eddie Wilson projects to fill an obvious need for the Jayhawks on the defensive line, after nose tackle Da'Jon Terry left the program a few weeks back in order to transfer to Tennessee.
Rated as a three-star D-lineman coming out of high school in New York in 2018, Eddie Wilson has 34 games of college football experience and will be a senior this coming season.
Novitsky started at center for Buffalo each of the past two seasons. The 6-5, 295-pound offensive lineman from Victor, N.Y., was named first-team All-MAC in 2020.
An under-the-radar recruit in the Class of 2018, Novitsky signed with UB as a two-star prospect. He redshirted his first year on campus before stepping into a starting role as a redshirt freshman.
KU offensive coordinator Andy Kotelnicki and O-line coach Scott Fuchs trusted Novitsky to start every game for UB's offense — 20 in total — the past two seasons. Novitsky was listed as a junior at Buffalo before transferring.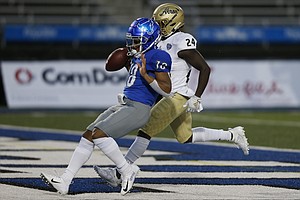 A 5-11, 190-pound receiver, Trevor Wilson will join the Jayhawks as a sophomore. The wideout from Tallahassee, Fla., redshirted at UB in 2019, before appearing in all seven games for the Bulls in 2020.
In his debut college campaign, Trevor Wilson caught 16 passes for 319 yards and three touchdowns. His breakout game came late in the season versus Ball State, when he hauled in six receptions for 118 yards and a TD.
"As far as speed that's one of my main focuses when playing football," Trevor Wilson told Jayhawk Slant. "I mean, that's what I've been doing since middle school. I come from a big track background. And I just I feel like any team that I'm on I just bring that explosive playmaking to the team."
As a prep recruit in the Class of 2019, Trevor Wilson had several scholarship offers, from programs such as Oregon, Maryland, Texas Tech, Memphis, UCF and others. Trevor Wilson's late father, Robert, played receiver in the NFL from 1998-2001.