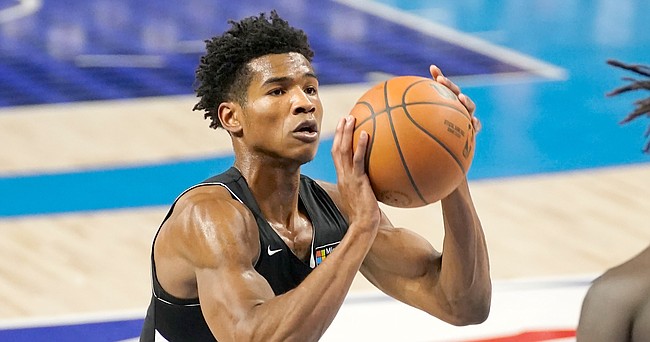 After two days of posting solid numbers in the measurement and testing portions of this year's NBA combine in Chicago, University of Kansas senior Ochai Agbaji was quiet in his first team scrimmage on Thursday.
Coming off the bench for Team 4, which fell to Team 3, 94-54, in the second of two afternoon scrimmages, Agbaji had a hard time finding opportunities to showcase his game.
He finished with four points on 2-of-7 shooting and misfired on all four of his 3-point attempts, most of which came off the dribble.
Agbaji added two rebounds, one assist, one steal and a turnover in his 23 minutes on the floor.
Agbaji, who squared off with former KU teammate Quentin Grimes (12 points, 6 rebounds and 3 assists) on Thursday, will get another opportunity to scrimmage Friday afternoon.
Baylor coach Scott Drew, who has become familiar with Agbaji's game in the past few years, was in Chicago for the action and he praised Agbaji's game during the broadcast.
"Great athleticism, somebody who has become a more consistent shooter and defensively he's someone you can switch with," Drew said. "As he continues to get better putting it on the floor and his assist-to-turnover ratio improves, he'll have some real potential. In the NBA, if you can make 3s and you can defend, you can make a lot of money."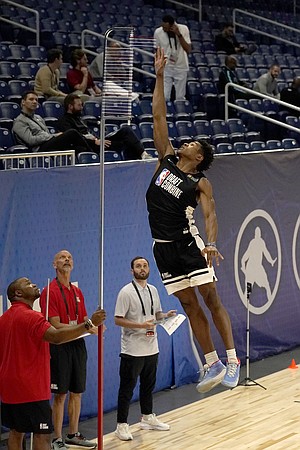 Although KU's leading scorer last season had a quiet outing on Thursday, ESPN analyst Jay Bilas said putting up numbers in a game-like setting was only part of what makes the combine scrimmages important.
"No scout here is watching this game looking for their leading scorer," Bilas said during the broadcast. "That's just not what this is about. They're looking for players who can help them and players who can be in the rotation."
That concept makes what Agbaji did in the days leading up to the scrimmages just as important as anything that happens late in the week.
The first few days of the combine included player interviews with team officials, medical tests with team doctors, drill work and skills tests.
And all of those elements combined create each player's portfolio.
As expected, Agbaji measured well, and his athleticism showed up on paper.
The Kansas City, Mo., native was listed as 6 feet, 5.5 inches in shoes and 214 pounds, with 4.15% body fat. He also had a wingspan of 6 feet, 10 inches and a standing reach of 8.75 inches.
His wingspan was the fifth longest among all shooting guards at the combine. His standing reach was the third best among all guards. His body fat percentage was the third lowest of all players at the combine. And his hand length (9 inches) was tied for the longest among all guards.
In the physical testing drills, Agbaji's max vertical leap of 41.5 inches was the third best among guards and tied for the sixth best mark among all players. And his lane agility time of 10.88 seconds also landed him in the top 10 among all participants.
Also of note in the jumping portion of this year's combine was Tennessee's Keon Johnson breaking the 20-year-old vertical record previously held by former KU guard Kenny Gregory.
Johnson topped Gregory's mark of 45.5 inches from the 2001 combine by 2.5 inches.
Earlier this week, ESPN.com draft expert Jonathan Givony listed Agbaji in the No. 59 spot in the 60-pick draft.
Agbaji, along with KU teammate Jalen Wilson and Arizona State transfer Remy Martin, has until July 7 to make a final decision about keeping his name in the draft pool or returning to Kansas.
Following the combine, which wraps up Sunday, Agbaji is expected to have the opportunity to travel to different cities to run through individual workouts with a number of NBA teams before the July 7 deadline.
This year's NBA draft is set for July 29.