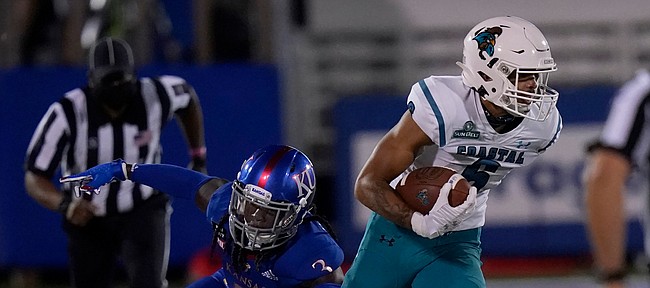 The Big 12 won't be offering Lance Leipold a friendly initiation process this fall, when the path toward victories figures to be onerous for Kansas football during Leipold's debut season as the head coach.
According to various projections, including some posted this week by Sports Betting Dime, the Jayhawks are expected to play one of the most difficult slates in all of the FBS.
SBD's strength of schedule formula calculates that KU is set to encounter the second-toughest calendar among the 130 FBS teams in 2021. Only Arkansas' schedule, which includes matchups with Texas A & M, Georgia, Texas, Auburn, LSU and Alabama, is expected to be more difficult.
Per SBD, its rankings take into account opponents' efficiency ratings from the 2020 season while also factoring in the production lost from each team's roster. The formula also incorporates recruiting rankings, transfers added and whether games are played at home or on the road.
KU football's season kicks off this year with the Jayhawks' most winnable game on the calendar, when FCS program South Dakota visits David Booth Kansas Memorial Stadium on Sept. 3.
But both of KU's other two nonconference games are on the road, with the first of those coming at Coastal Carolina (Sept. 10), which currently sits at No. 35 in the country in ESPN's Football Power Index.
Based on the preseason FPI rankings, the Jayhawks' other road nonconference foe, Duke (Sept. 25), would be the worst FBS opponent on KU's schedule, as the Bule Devils are ranked 74th.
The computer models at both SBD and ESPN expect many teams in the Big 12 to play some of the most demanding schedules in the country. Six of the conference's 10 teams appear in the top 14 of SBD's strength of schedule rankings: KU, Texas (4th), Oklahoma State (5th), Baylor (6th), Kansas State (8th) and TCU (14th).
ESPN's FPI strength of schedule rankings, meanwhile, have every Big 12 team except Oklahoma ranked in the top 15 — and OU is 17th.
What could be a loaded Big 12 this fall includes seven teams in ESPN's FPI top 25: No. 2 OU, No. 4 Iowa State, No. 9 Oklahoma State, No. 12 Texas, No. 19 TCU, No. 21 Texas Tech and No. 24 West Virginia.
Kansas, at 109 in the FPI, is the lowest ranked Power Five team.
Las Vegas oddsmakers aren't expecting the Jayhawks to win many games a year after going 0-9, either. At VegasInsider.com, win total odds from five different sportsbooks are listed, and four of them placed KU at 1.5 wins. Draft Kings has the Jayhawks' win total even lower, at 1.0.
2021 KU football schedule
Sept. 3 — South Dakota, 7 p.m. (ESPN+)
Sept. 10 — at Coastal Carolina, 6:30 p.m. (ESPN2)
Sept. 18 — Baylor, 2:30 p.m. (ESPN+)
Sept. 25 — at Duke
Oct. 2 — at Iowa State
Oct. 9 — Bye week
Oct. 16 — Texas Tech
Oct. 23 — Oklahoma
Oct. 30 — at Oklahoma State
Nov. 6 — Kansas State
Nov. 13 — at Texas
Nov. 20 — at TCU
Nov. 27 — West Virginia