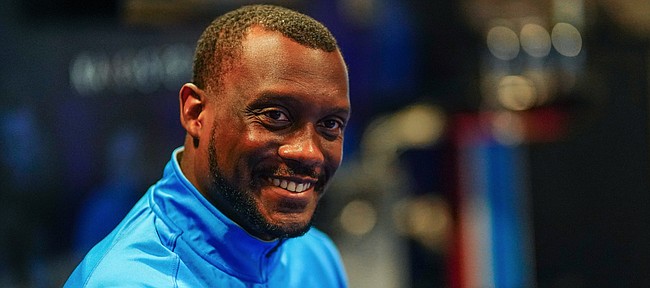 The Kansas football offense no longer boasts a playmaker as hyped as former standout rusher Pooka Williams. However, running backs coach Jonathan Wallace not only likes the depth the Jayhawks have within the position group he oversees, Wallace also thinks highly of the players' methods of going about their business.
"Man, there's a lot of potential," Wallace said recently. "And I think that these guys, each and every one of them, are investing a lot of time in immersing themselves into the game."
Although various circumstances, including Williams' opt out four games into the 2020 season, led to the Jayhawks asking multiple backs to carry the load over the course of nine games, the state of affairs ultimately allowed three different ball carriers to flash their potential.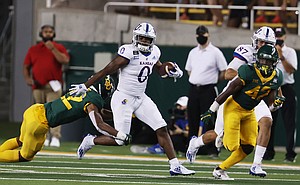 Velton Gardner rushed for 81 yards in KU's season opener versus Coastal Carolina. Daniel Hishaw Jr., a true freshman at the time, went for 73 yards at Oklahoma and 87 yards at Texas Tech in each of his final two appearances. Amauri Pesek-Hickson, while filling in for Hishaw and Gardner against TCU, ran for a team season-high 100 yards.
In the months that have gone by since then, the backs impressed their position coach with their desire to spend extra time around the KU football facility in the name of investing in their respective futures.
"It's to the point where they're constantly asking questions, they're coming in and watching video and film on their own," Wallace shared.
By taking such steps on their own, Wallace thinks the running backs' potential for production on the field will only increase.
"And I think that's a great foundation for the younger guys coming in, to be able to see, hey, this is the process, this is what it will take in order for us to be extremely successful," the coach added.
Back during spring practices, before the new staff was in place, Pesek-Hickson said the backs' collective improved mental approach was evident, as they were "locked in to everything" that was going on.
According to Pesek-Hickson, the rushers were faster and stronger, too, and making cleaner cuts.
"It's a great thing to see," the redshirt freshman said. "We're doing everything we did last year, but we look way stronger, way older and way more in sync."
As much talent as Gardner, Hishaw and Pesek-Hickson already bring to KU's running back group, one freshman they're showing the ropes to this summer, former Lawrence High star Devin Neal, is expected to make the unit even stronger.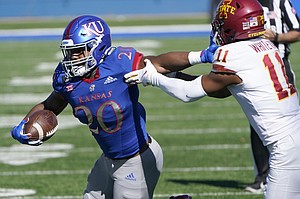 While Wallace didn't divulge any secrets about what the KU offense will look like this fall with a wealth of running backs available and new head coach Lance Leipold and his longtime offensive coordinator Andy Kotelnicki in place, the program's second-year running backs coach said the staff will see when preseason practices begin how to best go about making use of the depth.
In that setting, Wallace explained, he and other KU coaches will be able to determine how each back is "picking up the game," as well as what the backs can handle and what they can't.
"What is their workload? What are they good at? What are they not good at? So that's how I like to structure it," Wallace said.
As Wallace put it, it's his job to make sure each running back is in the best position to succeed while aligning with what Kotelnicki and Leipold are looking for out of the offense.
The Jayhawks' potential as a running team this fall, Wallace said, will depend upon how the running backs approach the process.
"How do we handle the training room? How do we handle lifting weights every day? How do we handle making sure I'm on time for class? All of those little details that sometimes get overlooked, that's what it depends on," the position coach said.
If the day to day attitude of the running backs is on point, Wallace said "there is no ceiling" for their potential as a group.
Key KU football RBs entering 2021 season
(2020 stats listed)
No. 0 — Velton Gardner; 5-9, 195-pound jr.: 72 rushes, 325 yards, 2 TDs (6 games)
No. 20 — Daniel Hishaw Jr.; 5-10, 222-pound soph.: 52 rushes, 229 yards, 2 TDs (8 games)
No. 23 — Amauri Pesek-Hickson; 6-0, 235-pound RS-fr.: 40 rushes, 145 yards (4 games)
No. 4 — Devin Neal; 5-11, 208-pound fr.: 1,370 rushing yards, 20 touchdowns (as a senior at Lawrence High)