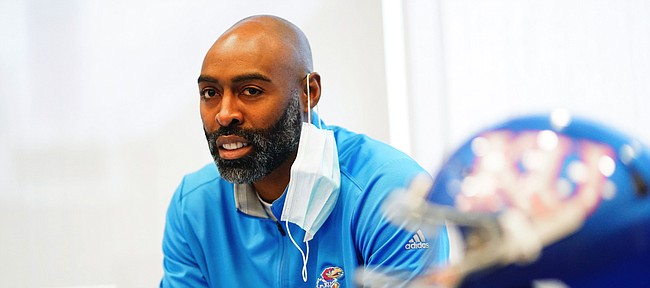 In a Kansas football secondary where experience will be scarce entering the 2021 season, cornerbacks coach Chevis Jackson still sees some promise within the young group.
While recently discussing the depth on the back end of KU's defense, Jackson presented his opinion that although some of the underclassmen players didn't see much game action this past fall, that didn't mean they were unqualified.
"We've got a lot of guys that were young last year that didn't play," Jackson said of the secondary. "But you got a chance to see them in the spring."
KU lost its most heralded and proven defensive back, sophomore corner Karon Prunty, to the transfer portal in early June (a development that hadn't come about when Jackson and other KU assistants were last available for interviews).
That leaves super-senior safety Ricky Thomas and junior safety Kenny Logan Jr. as the most experienced players in the secondary. Sophomore Duece Mayberry, who appeared in all nine games as a reserve in 2020, is the de facto veteran corner on the roster at this juncture, with both of last season's starters — Prunty and Elijah Jones — transferring.
Still, Jackson alluded to the talent within KU's group of redshirt freshmen — cornerback Ra'Mello Dotson and safeties Johnquai Lewis and Donovan Gaines — when voicing his optimism for the secondary's overall depth this year.
Lewis closed KU's spring practice schedule by intercepting a pass and making three tackles in the Jayhawks' spring game.
Plus, Jackson thinks highly of the true freshman defensive backs who were on campus for the spring semester: cornerbacks Jacobee Bryant and DeVonte Wilson and safeties OJ Burroughs and Jayson Gilliom.
"They're competitive. They want to be the best," Jackson said. "They're a closely knit group — you see one of them, you're going to see all of them."
Throughout the spring, Jackson said he witnessed the freshmen defensive backs playing "for each other."
"You don't want to let that guy down beside you," the third-year KU assistant said of their approach.
It helped, too, Jackson added, that veterans Logan and Thomas could provide the youngest players in the secondary with tutelage and advice.
"Those guys are great leaders for those younger guys, and they move as a unit," Jackson said. "They've got a lot of position pride right now."
The assistant coach also anticipates adding Bryant, a Class of 2020 signee who grayshirted before joining the program in the spring, and true freshman Cam'ron Dabney, who enrolled this summer, will bolster the cornerback group.
Bryant delivered one of the highlights of KU's spring game when he picked off a pass and took it 45 yards for a touchdown.
The defensive backs who have been around the program and playing in the secondary for more than a year, Logan and Thomas, will have to continue to grow and lead, Jackson pointed out. And he thinks the Jayhawks who know what to expect from him, as well as from Big 12 offenses on Saturdays in the fall, will help the secondary continue to develop.
"With all those reps in the fire, in game experience, I think the sky's the limit for this group," Jackson said. "We've just got to keep excelling."
Key KU football DBs entering 2021 season
S - Ricky Thomas, super-sr.
S - Takulve "TK" Williams, sr. (played WR in 2020)
S - Kenny Logan Jr., jr.
CB - Kwinton Lassiter, jr. (juco transfer)
CB - Duece Mayberry, soph.
CB - Ra'Mello Dotson, RS-fr.
S - Johnquai Lewis, RS-fr.
S - Donovan Gaines, RS-fr.
CB - Jacobee Bryant, fr.
S - OJ Burroughs, fr.
S - Jayson Gilliom, fr.
CB - DeVonte Wilson, fr.