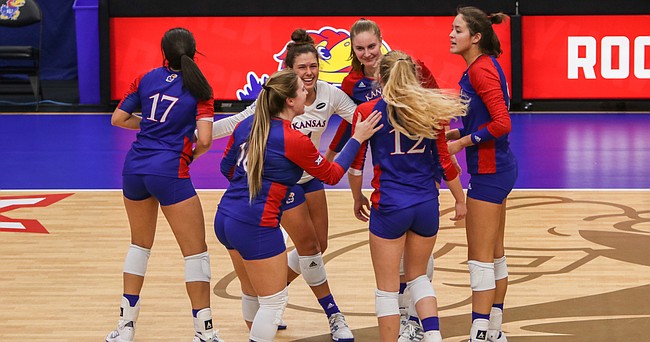 For the second season in a row, Big 12 volleyball in 2021 will feature eight doubleheaders over two-day spans, with teams making half as many road trips as they normally do.
The 2021 fall schedule was released on Wednesday, and it revealed that Kansas will host eight matches against Iowa State, Texas, Oklahoma and TCU and travel to Texas Tech, Baylor, West Virginia and Kansas State for eight more.
"You know, K-State played here twice (last year) so we need to make that up," KU coach Ray Bechard said Thursday in a phone interview with the Journal-World. "There's just some equity involved. So it's a two-year commitment and it's our understanding that we'll go back to the Wednesday-Saturday format (after that)."
The reason for the change in 2020 was player safety in the midst of the pandemic. Rather than having every Big 12 program make eight road trips, the conference cut the travel in half and scheduled teams to host four doubleheaders and travel for four.
"In a pandemic, fewer trips was good," Bechard said. "Just less risk for the team and everybody involved."
From the volleyball perspective, Bechard said the doubleheaders presented a handful of challenges, from both strategy and player-recovery issues. He noted that last season's matches were typically better on the first night of the doubleheader than the second.
"You had to immediately go back to the drawing board after you play to kind of doctor the game plan a little bit and make adjustments," Bechard said. "So it was interesting to see how many adjustments they could make in a short time."
Bechard's team, which plugged several newcomers and first-year players into key spots, finished 12-10 last season, with eight of those matches coming in the spring after a pandemic-shortened regular season.
After going 5-9 against Big 12 foes in the fall, the Jayhawks were 7-1 in the spring, including two wins over TCU that were not able to be played in the fall.
"We were a much better team in the spring than we were in the fall," Bechard said. "So I think (the split season) really allowed us to grow, especially with the youth on our team."
Bechard's squad will field the largest roster it has ever had in 2021, with the Jayhawks returning all 16 players from last season and adding four newcomers.
All but one of those players — sophomore Ayah Elnady is playing with her national team in Egypt — is on campus for summer workouts, and Bechard said he thought both the returners and KU's newcomers would be in position to make an impact next season.
"We can only do voluntary stuff in the summer," he said. "But I know they're together, they're building relationships and creating that dynamic that's essential to have some success in the fall."
KU will open the 2021 season Sept. 24-25 against Texas Tech in Lubbock, Texas. The Jayhawks' home opener is set for the following weekend, Oct. 1-2, against Iowa State.
2021 KU volleyball schedule
Sept. 24-25 - at Texas Tech
Oct. 1-2 - vs. Iowa State
Oct. 8-9 - vs. Texas
Oct. 14-15 - at Baylor
Oct. 29-30 - vs. Oklahoma
Nov. 4-5 - at West Virginia
Nov. 19-20 - vs. TCU
Nov. 26-27 - at Kansas State