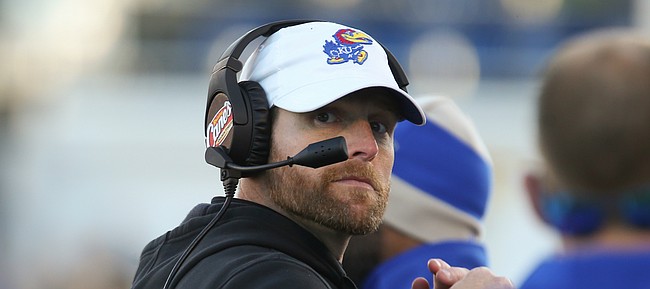 A little more than two years into his time as the head football coach at Kansas, Les Miles will have to find his fourth offensive coordinator.
Brent Dearmon, the Jayhawks' coordinator and quarterbacks coach since the midway point of the 2019 season, is expected to be named the next O.C. at Middle Tennessee State, ESPN reported Wednesday night.
Dearmon confirmed the news to the Journal-World.
Miles selected Dearmon to take over the offense six games into the head coach's first season at KU, when Miles fired coordinator Les Koenning during a bye week in early October.
The Jayhawks, after a 2-4 start, went on to go 1-5 the rest of the season after the change, but scored at least 31 points — a total they only reached in one of their first six games — three times down the stretch, under Dearmon
KU's offense struggled throughout the winless 2020 season, though, never taking off as the Jayhawks dealt with problems at quarterback and along the offensive line, as well as opt outs.
In what ended up being Dearmon's last year as KU's coordinator, the Jayhawks never scored more than 23 points and averaged just 15.8 points (123rd out of 126 FBS teams) and 259.2 yards per game (126th).
When Miles took over the program late in 2018, he initially hired Chip Lindsey as offensive coordinator. However, Lindsey left a little more than a month after taking the job in order to become the head coach at Troy.
Lindsey's departure led to Miles hiring Koenning. But KU's offense sputtered out of the gate in 2019, and then failed to build upon a promising showing in a 48-24 win at Boston College, and Koenning's tenure ended six games after it began.
First hired by Miles as a senior offensive analyst, Dearmon was promoted to replace Koenning. At the time, Dearmon signed a contract that was guaranteed through the 2021 season. Language in the contract stated KU Athletics would be owed a $500,000 buyout if another program were to hire Dearmon away.
After 15 games as the O.C. at KU in the Big 12, Dearmon is leaving for the same job at MTSU in Conference USA.
Dearmon will move on to work for head coach Rick Stockstill, who has the led the Blue Raiders for 15 years. MTSU went 3-6 in 2020. Stockstill's former O.C., Tony Franklin, retired at the beginning of January.
As Miles again searches for an offensive coordinator, KU football is set to begin offseason conditioning workouts next week. KU has not yet announced when spring football practices will begin.