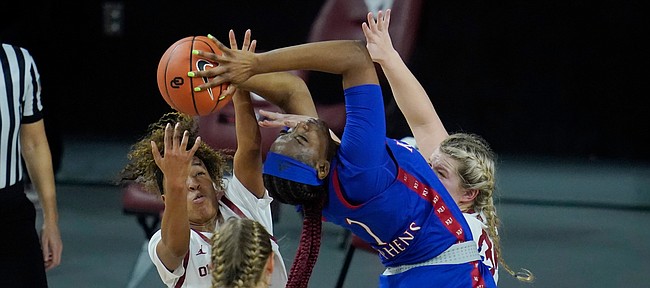 Despite a late-game rally, the Kansas women's basketball team couldn't quite catch Oklahoma Wednesday night, when the Sooners' 3-point marksmanship gave them just enough for an 84-81 home win.
With Gabby Gregory (27 points, 6-for-10 on 3-pointers) and Taylor Robertson (19 points, 5-for-7 on 3's) raining jumpers all night in Norman, Okla., OU picked up its second Big 12 victory of the season while outscoring KU, 45-21, from 3-point range.
The Jayhawks (6-6 overall, 2-4 Big 12), head coach Brandon Schneider said during a postgame video press conference, had troubles defending OU's five-guard lineup, a look the Sooners (5-7, 2-5) had to go with throughout, because they only had six scholarship players available.
"We just did a poor job of keeping the ball out of the lane in a lot of drive and kick scenarios," Schneider said after OU shot 15-for-31 from deep. "And never really adjusted effectively to Gregory in particular."
Although KU got off to a promising start in the fourth quarter, with Ioanna Chatzileonti (14 points, eight rebounds), Tina Stephens (19 points, 10 rebounds) and Holly Kersgieter (seven points) each scoring a layup in the opening couple of minutes, the Sooners' stretched their lead out to 15 before the midway point of the period.
Of course, it was the Sooners' 4-for-4 shooting from long distance in that stretch that made the difference.
A furious rally for KU in the final 2:31 couldn't save the Jayhawks, who were down 81-66 before they rattled off a 10-0 run, keyed by a pair of Brooklyn Mitchell 3-pointers.
A Zakiyah Franklin 3-pointer later made it a five-point difference for the second time in crunch time, and a Stephens layup with 4.8 seconds left cut it to 84-81 before the Sooners finished off the victory by inbounding the ball and avoiding a foul.
"We had guys in the game that played really hard and fought and competed every possession," Schneider said of KU's late push. "We were able to force some mistakes. And then we executed down the stretch."
The Jayhawks headed to the third quarter down 11 points, but that deficit increased to 15 in a hurry as OU sophomore Gregory buried her fourth and fifth 3-pointers of the night.
KU kept battling, though, and was able to trim the Sooners' lead to single digits for the first time since the opening minutes of the second quarter. Chatzileonti (3-for-4 in the third), Stephens (2-for-3), Kersgieter (1-for-3) and Franklin (1-for-3) each contributed offensively, but the disadvantage stood at 65-55 entering the fourth.
After trailing by as many as 16 points in the opening quarter, the Jayhawks fared better in the second. That's when Stephens scored nine points and went 5-for-6 at the foul line and Julie Brosseau knocked down a pair of 3-pointers to help the visitors outscore the home team, 24-21, in the period.
On the strength of five 3-pointers and three layups inside, OU raced ahead to a 16-point advantage with under a minute left in the first quarter. When Robertson buried a 3-pointer to make it 28-12, the Sooners had connected on nine of their opening 13 field goal attempts overall.
The Jayhawks, meanwhile, began the road game 5-for-13 from the floor.
KU is scheduled to play host to Oklahoma State on Saturday at 4 p.m., inside Allen Fieldhouse.