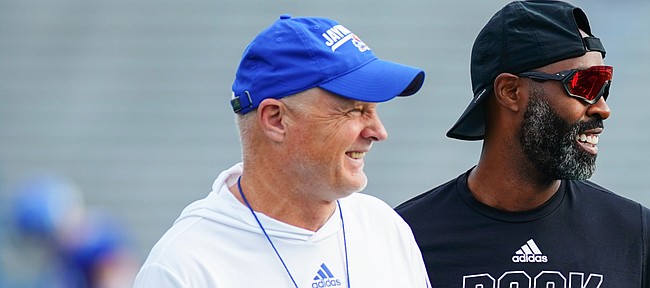 Regardless of the type of practice the Kansas football safeties are having on any given day of preseason camp, defensive coordinator Brian Borland always wants them to do better.
And sometimes Borland, the group's position coach, simply wants them to talk more.
"We've got to be better communicators back there," said Borland, the longtime assistant of head coach Lance Leipold.
Early on during camp, Borland shared, he could tell the safeties in his position group were often holding back when they needed to be in communication with their teammates before a snap. The issue was that a player who needed to call something out at times wasn't completely sure of himself to make the right read.
That led Borland to share with the safeties his philosophy on them speaking with their chests out.
"Even if you're wrong, let's all be wrong together, instead of some on one page, some on another," he said.
KU's defensive coordinator and safeties coach thinks there is "lots of ability" in the group, which includes junior Kenny Logan Jr., super-senior Ricky Thomas and freshmen Jayson Gilliom and O.J. Burroughs.
"Every day it's a different guy stepping up, making a really eye-opening kind of a play sometimes," Borland said. "I know there's a lot of potential back there at that position. And quite honestly I think at every position."
Echoing the 1% better every day mantra that was established within the program during spring football, before the former UB coaches arrived, Borland said he thinks the safeties are taking steps in the right direction each practice this preseason.
D-line vs. O-line
Two weeks into preseason camp, KU's coaches have witnessed plenty of competition in the trenches, between the linemen on both sides of the ball.
"It goes back and forth every day," defensive line coach Kwahn Drake said Thursday of his group's battles with the offensive line.
"Some days you feel like you've got a little edge on them and another day they'll come back with something new," Drake said.
The D-line coach praised his counterpart, KU O-line coach Scott Fuchs, for waging a war of techniques between the two sides. Following the 13th practice of camp, Drake said Fuchs will tweak or change up something the O-linemen are doing one day at practice and Drake will respond with a tweak of his own.
As a result, Drake thinks linemen on both sides are straining and improving.
"I appreciate that. Those are the things that help us get better as a unit, when you have coaches finding new ways to do different things and then myself having to adjust to those things," Drake said. "That, I think, brings the team together."
Big 12's future
This fall Leipold will lead the Jayhawks through a Big 12 slate for the first time, but no one knows for certain yet how many more years KU's annual schedule will include Texas and Oklahoma.
Leipold was asked again this week, during KU's team media day, about the future of the league, with the Longhorns and the Sooners officially headed to the SEC by 2025 at the latest.
"We've got so many other things to look at right now," Leipold began, referring to his staff's focus on rebuilding the KU football program.
"Were we all surprised? Definitely," Leipold added, before reiterating he needs to be putting all his energy into getting the Jayhawks as ready as they can be for the Big 12 this season.
"I'll defer to the people above me and everyone else and the commissioners and all of that to determine that," Leipold said of what's to come for the league and KU.
"This university and athletic department's in a great position in a lot of different ways," he continued. "I've been put in charge to put this program in a better position for wherever the future takes us."