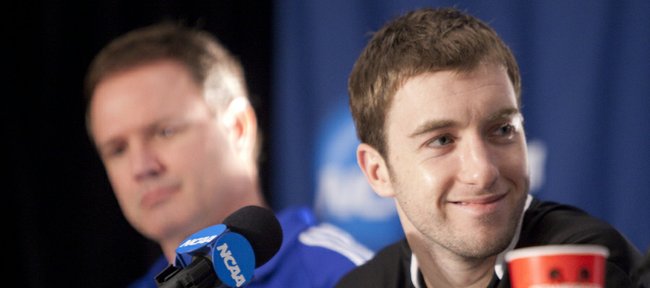 After four years as an assistant coach at lower levels and several more as a playing professional, former Kansas guard Brady Morningstar is coming back to his alma mater.
KU coach Bill Self officially announced on Thursday evening that the 2010 KU graduate from Free State High in Lawrence is joining his staff as video coordinator.
Morningstar, 35, takes the job previously held by Jeremy Case who was promoted to a full-time assistant role earlier this week.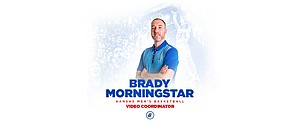 "We're all excited to bring Brady back to KU to be a part of our coaching staff," Self said in a release announcing the news, which was previously reported by the Journal-World. "Brady was a very good player here and was a great teammate. I can't wait to add his knowledge, feel and personality to our mix."
Morningstar comes to KU after two seasons at Kansas City Kansas Community College and two more at Texas Wesleyan prior to that.
During his five seasons with the Jayhawks as a player, Morningstar was a part of KU's 2008 National Championship team and also helped the Jayhawks to three NCAA Elite Eights, four NCAA Sweet 16s, five Big 12 regular-season titles and four Big 12 Tournament championships.
He played in 116 games at KU and made 68 starts while earning an all-Big 12 honorable mention nod and a spot on the Big 12's all-Defensive team his senior season.
At Free State, Morningstar earned all-state and all-metro honors and was the Sunflower League Player of the Year in 2005.
"I'm extremely excited for this opportunity to work under Coach Self and with the rest of the staff," Morningstar said in the release. "I learned so much from coach when I was here as a player and took that knowledge with me when I went to play professionally and later when I went into coaching. I want to thank Brennen Shingleton at Texas Wesleyan and Brandon Burgette for giving me the opportunities to start my coaching career."
Following his KU playing career, Morningstar played in the NBA's D League (now the G League) for two seasons with the Tulsa 66ers and Canton Chargers before heading out of the country for stints in Finland, Germany and Argentina.
With his parents still in Lawrence, he has maintained a presence in his hometown and around the KU program throughout his post-college days and always wondered about returning to the KU bench someday.
"He's been around coaching basketball and training since he finished playing," Self added. "And I anticipate he's going to be a terrific addition to our staff."