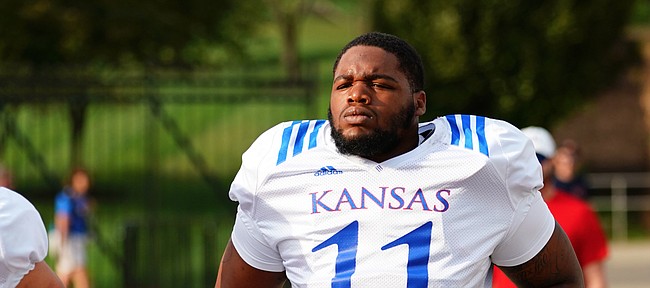 When former Buffalo defensive linemen Eddie Wilson and Ronald McGee joined the Kansas football program this summer, one of their new teammates, defensive end Malcolm Lee, could tell both were physically impressive. And Lee also knew from experience that the most difficult adjustment for the veterans might be getting used to KU D-line coach Kwahn Drake.
"He's definitely a jerk," Lee joked about Drake's proven tactics as a motivator and teacher. "That being said, he gets guys right."
Both Wilson and McGee already had three years of college football experience before transferring to KU this summer, and due to the blanket waiver granted by the NCAA in 2020 for an extra year of eligibility, the two former UB interior linemen still have two years left to play.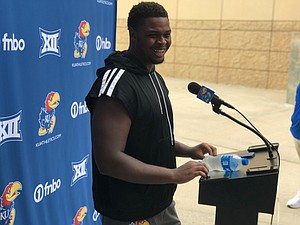 Despite his background and knowledge, Wilson, a 6-foot-4, 315-pound lineman who was an All-MAC third team selection last year, said he has learned "so much" from Drake, Lee, super-senior nose tackle Sam Burt and others since arriving in Lawrence.
"I felt like a freshman when I first got here," Wilson said. "There was a lot I didn't know coming into it."
Wilson also has learned that his new position coach, Drake, knows "when it's time to have fun" and "when it's time to work."
"He forced the best out of me. He expects too much out of me to just let me slide on the little things," Wilson said, adding that Drake will notice if his eyes aren't looking where they should be or if his alignment is off. "He's on it."
McGee, a 6-3, 285-pound lineman, said he appreciates the way Drake expects so much.
"Sometimes you've got to show tough love for people to get the best out of them," McGee said of Drake's style.
Wilson said the former UB D-linemen have found Drake treats all of the players in the position the same, but coaches them differently based on their experience and skill sets. One player may better understand something Drake's teaching when he draws it up on the board, Wilson gave as an example, and another might better comprehend a concept by going over it on the field.
"I felt like I needed that coaching style, and that's what I've been looking for," Wilson added. "He expects a lot out of me and he knows how to push me."
Drake said adding Wilson and McGee to the group via the transfer portal this offseason helped the D-line's depth, but noted their presence also benefited their new teammates, because Wilson and McGee knew all about head coach Lance Leipold's culture and coordinator Brian Borland's defense. The two new veterans, Drake shared, have helped teammates understands checks and calls within Borland's system.
Through evaluating the former Bulls during their first camp as Jayhawks, Drake called Wilson a "more powerful, big, stronger" lineman and said McGee has "more quick twitch" to his abilities. The KU assistant even called McGee "Aaron Donald light," referring to the Los Angeles Rams' seven-time NFL pro bowler. "Not saying he's there yet," Drake said, "but some of those movements flash in that direction."
As he does with all of his pupils, Drake said as he prepares Wilson and McGee for their KU debuts, he wants to make sure they are doing "the little things correctly" and making the plays that come to them on the field rather than trying to "overdo" anything on the defensive line.
"I told them: anything that you do wrong right now, it's my fault," Drake said of the learning process during the preseason. "It's not on you. It's on me. I'm gonna fix it for you. Just tell it to me and we're going to find a way to get better."
McGee expects the end result to benefit all parties involved.
"With Coach Drake's knowledge and me and Eddie's full potential, across the whole D-line we can have an (exceptional) impact for the Kansas defense," McGee said.