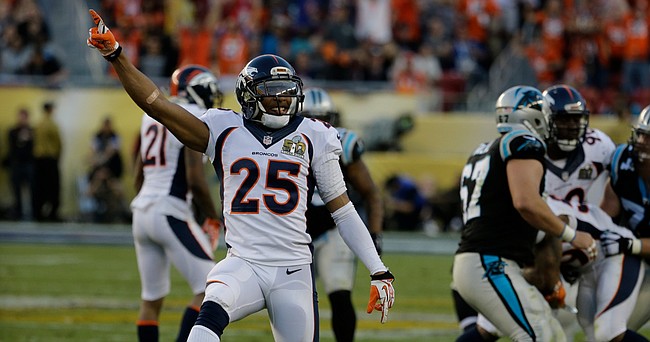 When he signed a $2,000 deal with the Denver Broncos as an undrafted free agent in July of 2011, former Kansas cornerback Chris Harris Jr. was just hoping to make the roster.
Today, he's a member of the NFL's All-Decade team. And he can't put a price on that.
"Undrafted to All-Decade team," Harris shared on Facebook following the recent reveal of the 52-player team. "God is amazing."
Chosen by the Pro Football Hall of Fame's selection committee, the All-Decade team celebrates the top players of the 2010s, both in terms of their statistics and accomplishments on the field.
"Man, it's a huge deal," Harris said on "The Jim Rome Show." "It's a great honor, and I'm just thankful that all my hard work is really getting noticed out there. "Now, it's time to get ready for this next day."
During the past decade Harris was selected to the Pro Bowl in 2014, 2015, 2016 and 2018, earned first-team All-Pro honors in 2015 and helped the Broncos win Super Bowl 50.
He appeared in 139 games and made 121 starts during that time.
A fixture on the NFL's Top 100 player lists during the prime of his career and routinely sitting near the top of Pro Football Focus' weekly and seasonal grades for cornerbacks, Harris recorded 20 interceptions — returning four for touchdowns — during his time with the Broncos and added 86 pass breakups, 512 tackles, six forced fumbles and four fumble recoveries.
Harris, who recently left Denver to sign a two-year, $20 million contract with the Los Angeles Chargers, was known as one of the league's stingiest pass defenders, especially on receivers who lined up in the slot.
Through his first nine seasons, only 10 wide receivers have caught a touchdown while being covered by Harris, who has been thrown at 644 times in his career.
Adam Rank, of NFL.com, ranks Harris as the 45th best player on the 52-man All-Decade team, calling him, "one of the best undrafted players of all time."
Even after leaving in free agency to join a division rival, the Broncos recently released a statement expressing their appreciation for Harris' nine seasons in the Mile High City.
"Chris Harris Jr. was an underdog from the very first day he arrived in Denver as a college free agent in 2011," the statement read. "With a competitive fire and never-back-down mentality, Chris beat the odds to become one of the best cornerbacks in Broncos history. He was a founding member of the 'No Fly Zone' and helped that group take flight as one of the NFL's all-time greatest secondaries. After countless pass breakups, interceptions and tackles, Chris would make that 'No Fly Zone' motion with his arms that became synonymous with the many big plays he made during nine years as a Bronco. Most importantly, Chris helped our team win a lot of games as a Super Bowl champion who came up big in the biggest moments.
"Along with his wife Leah and their family, Chris had a real connection with this city. He was a fan favorite not only for being a great player but also his generous spirit in giving back to the community. We appreciate all Chris did for our organization and look forward to welcoming him back to celebrate his many accomplishments as a Denver Bronco."
The Kansas City Chiefs had six current or former players named to the All-Decade team (Eric Berry, Travis Kelce, Tyrann Mathieu, LeSean McCoy, Tyreek Hill and Darrelle Revis), second only to the New England Patriots total of eight.
Eight of the All-Decade selections were unanimous picks of the 48-person voting committee, including quarterback Tom Brady, linebacker Von Miller, running back Adrian Peterson and defensive end J.J. Watt.
Here's a look at the complete team, which included coaches Bill Belichick and Pete Carroll.
Offense: QB Tom Brady, QB Aaron Rodgers, RB Frank Gore, RB Marshawn Lynch, RB LeSean McCoy, RB Adrian Peterson, WR Antonio Brown, WR Larry Fitzgerald, WR Calvin Johnson, WR Julio Jones, FLEX Darren Sproles, TE Rob Gronkowski, TE Travis Kelce, OT Jason Peters, OT Tyron Smith, OT Joe Staley, OG Jahri Evans, OG Logan Mankins, OG Zack Martin, OG Marshal Yanda, C Alex Mack and C Maurkice Pouncey.
Defense: DE Calais Campbell, DE Cameron Jordan, DE Julius Peppers, DE J.J. Watt, DT Geno Atkins, DT Fletcher Cox, DT Aaron Donald, DT Ndamukong Suh, LB Chandler Jones, LB Luke Kuechly, LB Khalil Mack, LB Von Miller, LB Bobby Wagner, LB Patrick Willis, CB Patrick Peterson, CB Darrelle Revis, CB Richard Sherman, S Eric Berry, S Earl Thomas, S Eric Weddle, DB Chris Harris Jr., DB Tyrann Mathieu.
Specialists: P Johnny Hekker, P Shane Lechler, K Stephen Gostkowski, K Justin Tucker, PR Tyreek Hill, PR Darren Sproles, KR Devin Hester, KR Cordarrelle Patterson.