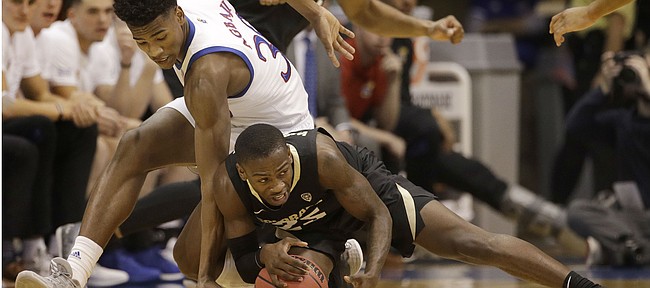 It's been well documented for weeks why many analysts believed Bill Self's top-ranked Kansas basketball squad was the team to beat heading into March.
And the more than a dozen postseason accolades the Kansas players received — from Big 12 Player of the Year and two separate national Defensive Player of the Year awards to honorable mention All-Big 12 honors — certainly back up those claims.
But there was another, less-obvious strength of this year's run that Self thought made the 2019-20 Jayhawks good enough to go 28-3 and become a top contender for the national title.
"I thought we did a good job of really accepting our roles," the KU coach recently said on "The Jayhawker Podcast" with Brian Hanni. "And everybody contributed to that. I thought everybody played a role in our success. If you have one of those guys that doesn't play to their role, we wouldn't have been 28-3 because we only played eight guys. It wasn't like we had anybody else to put in."
One thing that Self believed helped players fit so snugly into their specific roles was the clearly defined strengths and skill sets of each of the Jayhawks.
Sophomore Devon Dotson was the unquestioned point guard and primary ball handler. Senior Udoka Azubuike was the punisher in the paint on both ends of the floor. Senior Isaiah Moss was the team's top shooter. And junior Marcus Garrett was the defensive stopper.
But starter Ochai Agbaji, who filled whatever role the Jayhawks needed on a night-to-night basis, was also praised by Self for his ability to play Garrett's role when Garrett was either injured or on the bench.
"Some guys' role was to shoot, some guys' role was to drive it, some guys' role was to be a defensive rebounder or an offensive rebounder," Self said. "But (Agbaji's defensive) role, to me, was as significant as everybody else's role."
Analytics guru Bart Torvik's individual player ratings provide a little perspective into just how good Agbaji was as a defender this season.
The KU sophomore's 4.5 defensive efficiency rating ranked just behind Dotson (5.0), Garrett (4.7) and Azubuike (4.7).
And the number placed him in a tie for 20th nationally, ahead of all five AP first-team All-Americans Obi Toppin (4.3), Luka Garza (3.8), Myles Powell (3.8), Payton Pritchard and Markus Howard (3.5).
Self camps canceled
One of the fixtures of summer on the KU campus is the steady stream of hundreds of young, aspiring basketball players flocking to Bill Self Basketball Camp in June.
This year, however, that will not be possible because of the COVID-19 pandemic.
According to billselfbasketballcamp.com, the camps for June have been canceled "in the interest of public health."
A message on the website indicates that those families who were signed up for the camp would receive an email outlining the details for receiving a full refund.
"We want to thank everyone for all of your continued support and we will be sure to update you with any announcement of future camp dates and times," the message on the site's home page reads.
In addition to a missed opportunity for young campers to learn from the Kansas coaching staff and meet and learn from several players on the current KU team, the schedule change eliminates the likely return of several former Jayhawks who often return to Lawrence work camps and scrimmage with the current team.
Class of 2022 offer
According to Corey Evans, of Rivals.com, KU is the latest program to offer a scholarship to 6-foot-10, 200-pound Class of 2022 prospect Dylan Anderson.
Anderson, who hails from Gilbert, Ariz. — the same hometown as current Jayhawk Mitch Lightfoot — is a 4-star prospect ranked No. 65 nationally by Rivals.com.
Listed as a center in the Rivals database, Anderson currently has offers from KU, Arizona, Arizona State, California, Gonzaga, Grand Canyon and Northern Arizona.