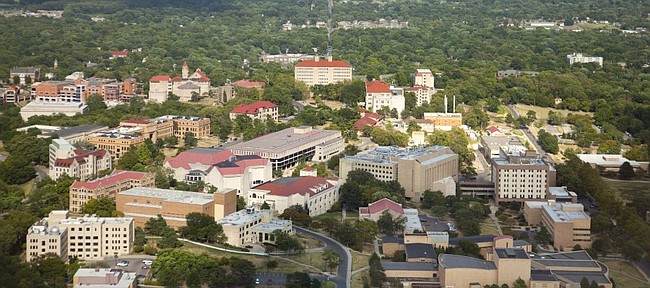 Long after their seasons were called off because of the global health crisis, three Jayhawks on the women's swimming and diving and softball teams earned All-American honors over the weekend.
Redshirt sophomore Shelby Gayre, of D'Hanis, Texas, became the first KU softball player to earn an All-American nod since Lawrence native Maggie Hull was named a third-team NFCA Division I All-American.
Gayre landed on Softball America's 2020 Shortened Season second-team All-American list as a catcher.
"I am incredibly proud of Shelby Gayre," KU coach Jennifer McFalls said. "She has worked so hard to come back from injury and she was determined to be a difference-maker for us. She worked to rehab both physically and mentally to get herself ready for this season. She's not only a talented player, but she's also an amazing student in the classroom and first class on and off the field."
In 24 games this season, Gayre led the Jayhawks with a .393 batting average and 24 RBIs.
She also led the Jayhawks with 11 home runs, which ranked first in the Big 12 and fourth in the country.
As those numbers might suggest, her 1.000 slugging percentage ranked first in the Big 12 and third nationally as well.
In the pool, KU sophomore Dewi Blose and freshman Jiayu Chen were both named to the College Swimming and Diving Coaches Association of America's 2019-20 All-American list.
Blose qualified for the NCAA Championship in both the 100- and 200-yard backstroke events after a strong performance at the Big 12 Championship. She claimed KU's fastest times in the 100 backstroke (52.44) and the 200 backstroke (1:54.61).
Chen also qualified to compete at the NCAA Championship in both the 1- and 3-meter dive events after her performance at the NCAA Zone D Championship.
In her first season at KU, she was named the Big 12 Champion in the 3-meter dive after setting a championship meet record with 384.60 total points on 11 dives.
"As a team, we're so happy for Dewi and Jiayu," head coach Clark Campbell said. "Both had stellar seasons and were ready to represent us at the NCAA Championships. Being an All-American is something they will cherish for the rest of their lives."
Added KU diving coach Gabe Downey: "I'm thrilled for Chen to receive the All-American status that she truly deserves. The only minor disappointment is that I'm confident she would have been able to compete for a national championship. But fortunately, as a freshman, I'm confident she'll have that opportunity again. Ultimately, this honor is a credit to her and a credit to all of the people within Kansas Athletics who work tirelessly to give her and all of our student-athletes these opportunities."