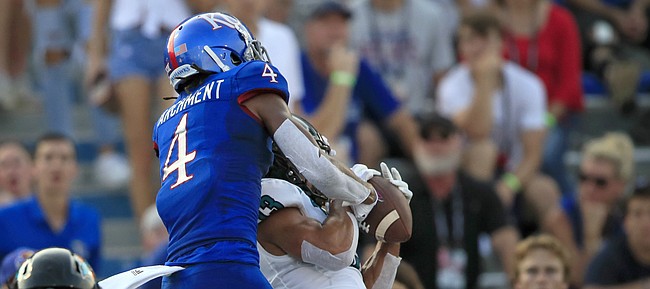 Two weeks into his first season as head coach at the University of Kansas, Les Miles has seen the Jayhawks' offense sputter far more than roar.
Despite opening the schedule against one FCS foe and a Coastal Carolina team that is in its second year as an FBS program, KU ranks 115th among FBS teams in points per game (15.5), 94th in yards per play (5.24) and, according to ESPN's analytics, 129th out of 130 teams in offensive efficiency.
Based on explanations from both Miles and his players over the past several days, miscommunication has plagued the offense, accounting for some of its ineffectiveness.
As early as KU's Week 1 victory over Indiana State, Miles said signals from the sideline to Stanley were incorrect on at least two play calls. Following KU's 12-7 home loss to Coastal Carolina, players pointed to other instances of failed communication.
Asked specifically Monday about how a signal from the sideline might break down, senior quarterback Carter Stanley declined to offer specifics, not looking to blame any one person or part of the process.
"But at the end of the day we've got to be better communicating on stuff like that," Stanley said. "It shouldn't happen one time a game, let alone two or three."
Miles said offensive coordinator and quarterbacks coach Les Koenning handles play-calling responsibilities during games, while taking "suggestions" from the head coach and other members of the staff.
Koenning watches the action from upstairs in the coaches' box and calls in the plays through his headset. From there, other KU coaches send in signals from the sideline so the 11 players on the field know what to run.
"We've got a lot of coaches from different offensive backgrounds, so we've got a wide array of plays and schemes that we can do," Stanley said. "It's definitely some good stuff that we have. But we've got to go out and execute better."
Andrew Parchment, a junior receiver, presented a similar notion. On Stanley's second interception against Coastal Carolina, Parchment said his mistake caused the costly turnover.
"That was my fault. I ran the wrong play," Parchment said, referencing the presence of an extra defender in the area where Stanley intended to throw while under pressure.
Parchment misinterpreted the play call from the sideline before the snap in that instance.
"Like I told (Stanley) on the sideline, that was my fault and I owe him one," the junior receiver said.
After KU produced only 107 passing yards and 280 yards of total offense while falling to 1-1, Parchment said the Jayhawks experienced miscues, whether they came before or after the ball was snapped.
On the last two plays KU ran late in the fourth quarter against CCU, Parchment could be seen looking toward the sideline with his palms up.
"I think everybody from top to bottom we've just got to get back on the same exact page," Parchment said, "and just execute on all facets of the game."
To give an illustration of how he personally needs to improve, Parchment revealed on the first play of the game he ran the wrong route.
"We can't just blame everything on play-calling and stuff like that. We've got to look at ourselves in the mirror as well," said the 6-foot-2 receiver, who finished with three catches for 14 yards.
According to Parchment, who was Stanley's deep target on the first play from scrimmage, he could have scored a touchdown.
"Instead of me breaking out the way I did," he said of heading a little to the right of the outside hash out of the slot, "if I would've ran straight up the field I would've run straight past the safety."
Similar instances have plagued KU's offensive linemen, too. As senior left tackle Hakeem Adeniji reviewed video from the loss, he said some of the shortcomings were the result of some form of miscommunication — one player missing an assignment and the play breaking down as a result.
"It could be the crowd's loud and you didn't hear it," Adeniji offered of one way things could break down for the O-linemen. "Or you never know, it could be somebody's nervous or didn't point out a blitz or something like that."
All three players described such occurrences as fixable.
And Miles said there are ways coaches can work during the week on aspects of the communication flow to make sure plays aren't torpedoed due to a player misinterpreting a play call.
"What you do is you make sure that every day that they're in headsets, and I'm talking about the assistant coaches," Miles said of their approach during practices. "You signal the plays and you signal the field and you get it from one coach who's got the script and the other coaches act as if they were on the sideline on Saturday."
Stanley said he will spend a lot of hours at KU's facility this week in preparation for KU's Friday game at Boston College (6:30 p.m., ACC Network), especially after the way the offense performed in its first loss.
That extra time will allow him, he said, to go over video and communicate with his receivers — "based off of looks that we're expecting, how you can maybe adjust the route or give them a sense of what I'm thinking and what these coaches are thinking."
Parchment thinks the Jayhawks' offense is better than what they've shown.
"We've just got to do better this coming week," Parchment said.