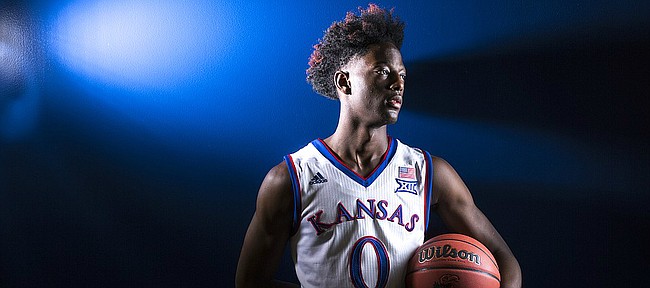 As far as introductions go, the one Kansas junior Marcus Garrett had with new KU strength coach Ramsey Nijem on Monday morning during Day 1 of boot camp still had him smiling hours later.
"When he came in there, he was energetic," Garrett said of Nijem, who was hired last week to replace Andrea Hudy and went through his first day on the job Monday. "He came in there saying, 'Don't look at me crazy, we're family now.'"
It was a good start, an important start, for Garrett, given the fact that the news of Hudy moving on was still fresh in his mind.
"It came out of nowhere," Garrett said. "I was just playing my video games when it happened and I just couldn't believe it."
Asked to recall his emotions when the news of Hudy leaving first hit, Garrett needed just one word to sum up his initial thoughts.
"Hurtful," he said. "I mean, we all had great relationships with Hudy and we know all she'd done for us."
While Nijem was more of an observer Monday morning when the Jayhawks ran through the first day of the 17th annual KU boot camp under Bill Self, Garrett said he felt like an old veteran.
That's not to say it was easy. Garrett said Day 1 was as hard as any of the boot camp days that came before it in years past, and it served as a reminder that merely being ready isn't enough.
"I already knew what to expect before I went in," Garrett said. "(But) it just seems like every year you're going to be ready for it just because you know what's about to happen, and it just kills you every year."
For KU's seven newcomers — Christian Braun, Mackey McBride, Tristan Enaruna, Jalen Wilson, Isaiah Moss, Michael Jankovich and Dajuan Harris — the experience was completely new, but Garrett said everybody made it through without incident and characterized Day 1 as having gone "great."
He said the first day was always harder on the rookies because of the unknown that comes with it.
"They were pressured about the situation," Garrett said of KU's first-year players. "They didn't know what to expect. Once they finally got out there, you could tell they were just shocked with all the running. The first day (is the hardest for the newcomers) because I feel like once your body gets used to it, once you get used to waking up that early and you get used to the drills, you can find ways around it."
Eventually, you get so used to it that you don't even fear the sound of your alarm any longer.
After relying on technology to have him up and at it during his previous two boot camps, Garrett beat his alarm clock by 30 minutes on Monday, waking up at 6 a.m., almost a full hour before drills began.
From running and defensive slide and close-out drills to high-energy situational drills, the goal of boot camp is to test one's mind as much as his body. And Garrett, who said his injured left ankle finally reached 100% healthy just three weeks ago, said the goal for the rest of this year's boot camp was to maintain the right frame of mind to take advantage of all it has to offer.
"Not just to try to get through it, but to get better," he said. "Even though it's hard, there's still teaching tools in there. We do a lot of defensive drills and (it) teaches you different ways to take angles in different situations. All the drills we do in practice, we're doing in boot camp. But it's just after running, so you don't really realize it until practice starts."