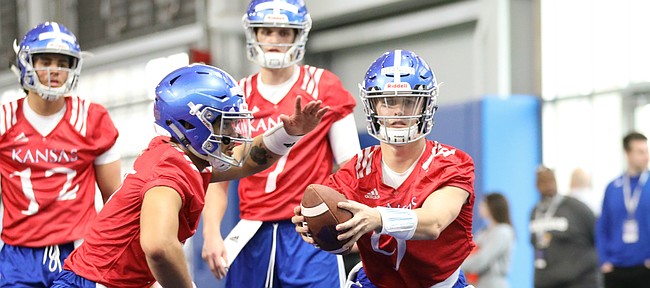 Les Miles wanted to rewatch his Kansas football team's 12-7 loss to Coastal Carolina before doing anything drastic like saying he might need to make a change at quarterback.
By Monday morning, when Miles spoke to the media for the first time since Carter Stanley threw two interceptions and only passed for 107 yards on Saturday, the head coach had decided no such change was necessary.
Miles said he'll continue to stick with Stanley as the Jayhawks' No. 1 QB, as they head into their nonconference finale at Boston College.
Upon reviewing the footage of Stanley's performance (13-for-19 passing versus CCU, with no touchdowns), Miles said the QB was "guilty of trying to make plays."
"And it's the right thing, and it's absolutely the wrong thing," Miles said of Stanley at times forcing throws when better alternatives were available.
"In this instance he made a couple mistakes. I think he's a guy that's accountable," Miles continued. "I think he'll step in and with opportunity play well. I'm not going to make a change at this time."
A fifth-year senior from Vero Beach, Fla., who has witnessed plenty of QB changes over the previous four seasons, Stanley said it meant "a lot" to him that Miles didn't go another direction after the QB's unproductive week.
"That's comforting for sure," Stanley said. "I certainly feel like I'm still the starting quarterback for this team. I feel like the guys still support me 100%."
Through two games, Stanley ranks 76th nationally in passing efficiency rating (135.07) and 71st in yards per pass attempt (7.3), with two touchdown throws and two interceptions.
There are some specific areas, Miles said, where the coach would like to see the QB improve.
"You know, he can extend things with his feet and really should have done that a little bit more," Miles said. "He could have gone and got a couple first downs, and those are things that he's very comfortable doing. It's just awareness."
Nonconference finale on ACC Network
As announced earlier this year, KU's Friday game at Boston College (2-0) will air at 6:30 p.m. on a channel that launched this year, the ACC Network.
According to the ACC Network's website, the channel is available in Lawrence to viewers who use one of the following services: DirecTV, Dish, Hulu, PlayStation Vue, Sling, Spectrum, Suddenlink and YouTube TV. Per the ACC Network's list, Spectrum customers should know the availability of the channel varies by market and subscribers should visit Spectrum's website or call customer service for more information.
The game will not be available on ESPN+.
Kickoff set for league opener
The Big 12 announced Monday the kickoff time for KU's conference opener. The Jayhawks will host West Virginia at 3:30 p.m. Sept. 21.
Just like KU's game against Coastal Carolina, the game against WVU will be available exclusively through ESPN's subscription-based video streaming service, ESPN+.
This and that…
• Kansas senior tight end James Sosinski set career highs in catches (three), yards (36) and longest reception (20 yards) against CCU.
• Senior linebacker Najee Stevens-McKenzie had his most productive game in a KU uniform to date, with a career-high three tackles and two tackles for loss.
• Junior KU linebacker Dru Prox set a career high with 11 tackles versus CCU. He has led KU in tackles each week so far, and currently he is tied for fourth in the Big 12 in tackles per game, averaging 10.0.