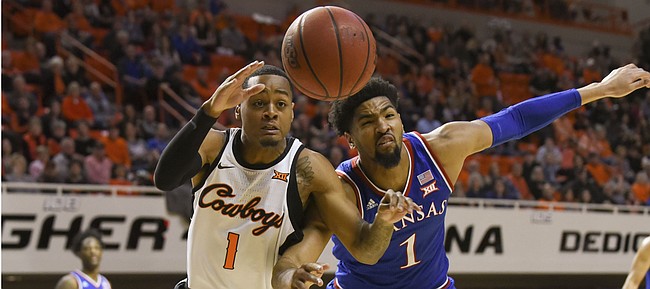 Stillwater, Okla. — Sometimes, you need a little good fortune to stay alive.
No one knows that better now than the 15th-ranked Kansas Jayhawks, who dodged a bullet and emerged from Gallagher-Iba Arena on Saturday afternoon with their Big 12 title hopes still intact following a gritty, if not pretty, 72-67 win over Oklahoma State.
There's not a player or coach on the entire Kansas roster who would have brokered a deal to put the ball in the hands of the Big 12's best 3-point shooter with the Jayhawks up 3 and their Big 12 title hopes on the line.
Yet, there the Jayhawks were, with just under 7 seconds to play in Saturday's third-to-last game of the regular season, when OSU junior Lindy Waters III caught the ball on the wing and found himself Grand Canyon wide open for what would've been a game-tying 3-pointer in the final seconds.
Instead of burying the jumper like Waters has done more than half the time this season, the could-be Kansas backbreaker missed hard off the rim to the right and allowed the Jayhawks (22-7 overall, 11-5 Big 12) a chance to ice the game with two free throws from freshman Ochai Agbaji with 4.4 seconds to play.
"I thought we got lucky," KU coach Bill Self said after the game.
So, how did the best pure shooter in the Big 12 Conference find himself so open to begin with?
According to the Jayhawks, a simple miscommunication between Agbaji and fellow freshman Quentin Grimes put Waters in position to make life miserable for the Jayhawks.
After the game, however, there was no debate between the two Jayhawks about who was at fault.
"We got the win. I'll take the blame," said a smiling Grimes after scoring 17 points on 6-of-11 shooting to help lead the Jayhawks to victory.
Added a laughing Agbaji — who Grimes said immediately yelled out to him, 'Why'd you tell me to switch?' — "I was just giving him some trouble about it. But it's OK. We'll go over it. He knows that it was his fault. He should take the blame."
Truth be told, it's probably the Cowboys (10-19, 3-13) who deserve a little credit for getting Waters open.
"I was coming down the court, I was guarding Waters and Quentin called a switch out, so I went with his man and he went with his man," Agbaji said. "It was kind of confusion, but it's a hard action to guard."
That it was. Both Grimes and Self said the Jayhawks worked on Oklahoma State's fake ball-screen action throughout the week leading up to Saturday's victory. But doing it in practice and doing it with the season on the line are two totally different scenarios.
"We talked about it," Self explained. "(The OSU screener) left early, so there's no way you could switch. No way you could switch. But every other time it was a switch. We had one (player) switch and one (player) not, and he got a great look. Fortunately, the hottest shooter in the country just didn't make it."
Waters, who missed a good chunk of the second half because of an ankle injury, finished the game with just 6 points on 2-of-6 shooting from 3-point range. But even injured and even on a day where he wasn't quite as lava-hot as he was three days earlier when he made 7 of 10 from downtown in a near upset of Texas Tech, the Jayhawks knew better than to leave the Oklahoma State sharpshooter all alone.
"I'm glad he didn't make that 3," Agbaji said. "That would've been bad."
Added Grimes when asked to share what went through his mind when the ball was in the air: "I was praying he didn't make it, and I guess God answered me."
That was not the first time Grimes had things go his way on Saturday. After opening the game with 7 quick points to help stake Kansas to an early 14-8 lead, Grimes saw his confidence grow from there.
The rest of the way, even though he finished with three turnovers and misfired on a couple of shots, everything Grimes did was born from a desire to attack.
His 3-pointer with 2:42 to play — off of a hockey assist from Dedric Lawson and a true assist from Agbaji — tied the game at 67 and his hard drive to the rim a minute later from the corner led to a free throw that put Kansas ahead for good.
"Quentin played great tonight," KU junior Dedric Lawson, who led the Jayhawks with 20 points and 15 rebounds in 35 minutes. "He started the game out with tremendous confidence and it just carried over. That's something we need him to do every game."
Self agreed and said Grimes' grinder game impacted a lot more than just his shooting and ability to put points on the board.
"I thought he played well late, but I thought he played well the entire game," Self said of his freshman guard. "I thought it was one of his better games. He shot the ball well, he was aggressive, he got downhill. And that (3-pointer to tie it) was as big a shot as he's made all year, obviously."
Fueled by a 13-0, first-half run by the Cowboys that left the Jayhawks staggering, KU trailed 37-32 at halftime and fell behind by as many as 7 points early in the second half and 5 points late.
But the Jayhawks had an answer of some kind for every OSU run — even if they had no answer for junior Cameron McGriff's 19 points or Curtis Jones' 7-of-9 shooting off the bench that also netted 19 points — and, so often, Grimes, Agbaji and Lawson were at the heart of them.
"I feel like we grew up today," Grimes said, noting that his confidence to open Saturday's victory came from strong play during recent practices by both himself and the team as a whole. "We were down, it was a different kind of atmosphere, the crowd started getting involved and we kept grinding and grinding and hit some tough shots. I think we're all just coming together as a team right now."
With two games to play in the regular season, the Jayhawks return to the Sooner State on Tuesday for an 8 p.m. tipoff in Norman, Okla., before closing things out with a home game against Baylor on Saturday.