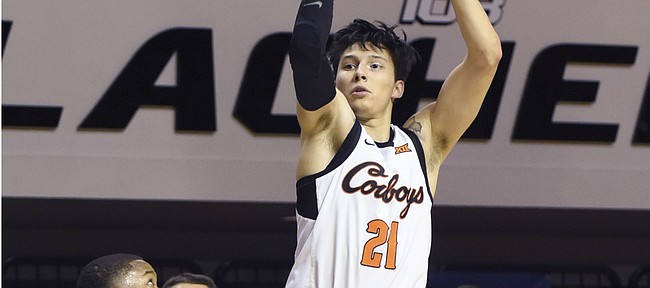 Stillwater, Okla. — To an extent, the Jayhawks knew what they were getting into at Gallagher Iba Arena on Saturday.
Or, at least they thought they did.
Three days earlier, many members of the Kansas basketball team gathered to watch on TV as Oklahoma State drained 3-pointer after 3-pointer at Texas Tech, nearly pulling off an upset that would've greatly helped KU in its pursuit of a 15th consecutive Big 12 title.
The Cowboys buried 17 of 32 3-pointers in Lubbock, Texas, in an overtime loss. A key component of the scouting report couldn't have been more obvious for the Jayhawks. And, of course, head coach Bill Self reminded his players about OSU's ability to thrive from long distance.
Even so, Dedric Lawson shared after a must-have 72-67 Kansas victory, there was something different about knowing what had to be done and executing it. By the late stages of the first half, Oklahoma State already had connected on 7 of its first 12 3-pointers.
Despite the heavy KU support inside OSU's home venue, it was beginning to look like the Cowboys' pistols would fire them to a victory and, as a result, all but terminate the Jayhawks' chances of contending for the conference championship.
"We wanted to come here and try to shut them down as much as possible. But they still made shots," Lawson said of OSU's hot start, "and some of them were great contested shots. They were just on fire."
Those bursts of potentially discouraging 3-pointers didn't alter the way KU defended the arc, though. If anything, the fact that the Cowboys were connecting on difficult looks over the extended arms of some Jayhawks convinced the visitors to keep making things difficult for OSU's capable shooters. Letting up wasn't an option.
In the second half, Oklahoma State (10-19 overall, 3-13 Big 12) misfired on its first four attempts from downtown. And even though back-to-back treys from Curtis Jones and Cameron McGriff would swing the lead back in OSU's favor, 50-47, with 12:13 to go, KU's perimeter defenders kept willing their way through screens in order to continue contesting, and the Cowboys shot 4 for 15 from beyond the arc in the game's final 20 minutes.
"I think guys just played with more energy," Lawson said of the Jayhawks' approach to defending OSU's 3-point attack in the second half. "It's different from coach telling you they can shoot and actually going out there and them making shots. I think guys just realized, 'Man, these guys really can shoot.' When we played them at home, they weren't this successful with the 3-ball shot (9 for 20). The last two games, they've been on fire, so going out there and just knowing how good they could shoot just picked up the intensity."
The Cowboys finished the loss 11 for 29 from long range (37.9 percent), but their weaponry didn't seem nearly as lethal in the game's latter stages, as they only connected on 4 of their final 17 looks.
Kansas entered the first stage of its two-game road swing through Oklahoma 0-4 on the road when allowing the home team to make at least 10 3-pointers.
This time around, though, the Jayhawks' second-half defense of the perimeter made a victory possible.
Asked what KU did differently to influence OSU's 4-for-15 showing on second-half 3-pointers, Self didn't overlook the fact that Lindy Waters III (2 for 6 from deep, 6 points) missed more than 7 minutes of the half with an ankle injury.
More importantly, Self offered, KU's defenders often forced the Cowboys to make difficult shots.
"I even thought when Jones (4 for 4 on 3-pointers, 19 points) made a couple of his shots, I thought our hand was over the ball," Self said.
Some of the 3-pointers OSU hit, the coach added, were "marginal" looks from a quality standpoint, and Self credited the Cowboys for knocking them down.
"So even though they made 11 3s, I would bet you only five or six were probably easier shots where they had their feet square when they caught it. Most of the other ones were pretty tough," Self said.
"(Thomas) Dziagwa (3 for 10 on 3-pointers, 15 points), you know, he can make a shot. All he needs is any space at all. But I thought we actually defended pretty well, even though they still made some," Self said. "I mean, its hard to get our guys to pressure up enough when they're just dribbling and jumping up and shooting 3s, because those aren't high-percentage shots that they were making."
According to Ochai Agbaji, the Jayhawks made a few adjustments in the second half to keep the Cowboys from going off.
"Just being and playing under them more. Not giving them any good looks or any free catches — that's what coach was calling it," Agbaji said. "But, really, just finding the shooters more. We weren't really, like, aggressive on them in the first half. I think we picked it up, obviously, in the second half."
Quentin Grimes, too, could sense the Jayhawks were playing more effective on the perimeter during the final 20 minutes of a tight road game.
KU's guards, Grimes said, were just determined to not let the Cowboys get open and hit 3-pointers off of actions, pin-downs in particular.
"We came off ball screens knowing how well they could shoot," Grimes said. "We didn't give them any space. Basically, it looks like they're going to let it fly, so you have to be all up in them and make them put it on the ground. If they make a play off of that, we can live with that."
In spite of all those successful trips to the defensive end of the floor, the Jayhawks experienced a rare breakdown up 3 in the game's final seconds. A miscommunication between Grimes and Agbaji left Waters wide open from the right corner for a would-be game-tying 3. Somehow, it didn't drop.
Maybe it was the cumulative result of KU's perimeter defense throughout the decisive half. Or maybe it was Waters' ankle feeling off.
Either way, everyone in the building had no reason to think it wouldn't drop.
"We want him to shoot that 10 times out of 10," McGriff said. "It was a great look, Coach (Mike Boynton) drew up a good play, it just didn't go our way."
When you've only won three road games all season, you've got to catch a break at some point, right?
The Jayhawks (22-7, 11-5) got one on the penultimate Saturday of the regular season. But more importantly, they spent most of the victory executing the type of defense — away from Allen Fieldhouse — that is necessary to win in March.
KU is now 1-0 in the month that college basketball is known for, and the Jayhawks still have a pulse in the Big 12 title race. Thank their perimeter persistence on defense for that.