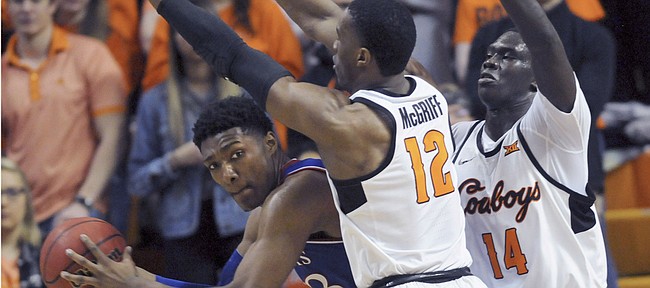 Kansas will live to fight another day.
That's the way the last two wins have felt at least, the latest of which KU outlasted Oklahoma State for a 72-67 victory Saturday afternoon in Gallagher-Iba Arena. Earlier in the week, the Jayhawks bested the Wildcats, who atop the Big 12 standings along with Texas Tech. Kansas must win out while hoping the conference leaders stumble if it hopes to keep The Streak alive.
Saturday's win had a survive-and-advance feel for the visitors. The Jayhawks (22-7, 11-5 Big 12) withstood a barrage of 3-pointers by the Cowboys (10-19, 3-13), making enough plays down the stretch to notch their third road win of the season.
Freshman Quentin Grimes netted a game-tying 3-pointer with 2:41 left in the game, which marked the fifth tie of the day. On the ensuing defensive possession, freshman Ochai Agabji forced a costly turnover by the Cowboys. Grimes then gave KU a lead that it wouldn't relinquish with a free throw to gift his team a 68-67 advantage.
After multiple empty possessions by both teams, Dedric Lawson netted pair of clutch free throws with 14.2 seconds left to put the Jayhawks up 70-67. Agbaji added two more freebies with 4.4 seconds remaining for good measure. The Cowboys did not score the last 4:02 of the contest.
Grimes was one of three Kansas players to finish with double figures, scoring 17 points in the win. It is the second consecutive game that Grimes has scored double digits after not doing so since Jan. 26 against Kentucky. Lawson finished with 20 points to go along with 15 rebounds. Agbaji added 11 points for KU.
Kansas will travel to Oklahoma at 8 p.m. Tuesday.