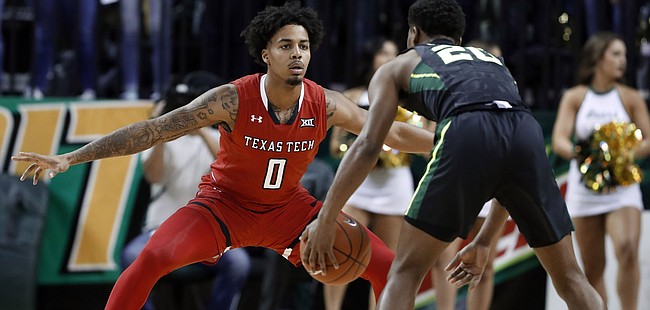 The numbers say it all, but sometimes the coaches say it better.
Such is the case when describing the defense played by 16th-ranked Texas Tech, which will come to Allen Fieldhouse for a 3 p.m. tipoff Saturday in a game that could have an enormous impact on the rest of the Big 12 Conference race.
"You know, they're quick and explosive and aggressive," KU coach Bill Self said during Thursday morning's Big 12 teleconference. "They're definitely one of the premier defensive teams in the country."
The numbers certainly back that up.
Chris Beard's squad, which ranks third in defensive efficiency according to KenPom.com, owns the nation's best field goal defense, allowing opponents to shoot just 36.1 percent so far this season.
The Red Raiders also rank 3rd in scoring defense (56.8 points allowed per game) and 3rd in 3-point defense at 26.4 percent.
Unlike many elite defensive teams of the past, including several at Kansas, this Red Raider defense does not get its reputation by swiping steals and creating turnovers. Beard's team can force teams into mistakes, but Texas Tech ranks just 34th in turnovers forced (16.1) and 99th in steals per game (7.2).
By comparison, the Jayhawks, who rank 14th in KenPom's defensive efficiency ratings, sit 136th in turnovers forced (14.1) and rank 90th in steals per game (7.3).
Where the Red Raiders separate themselves from a whole bunch of pretty good defensive teams is in the way they hunker down in half-court possessions.
"They're an unbelievable rotation team," Self said. "You know, they cover for each other, they communicate, they do a terrific job of trying to keep the ball on one side of the floor, which allows them to kind of load up and take away the lane. They're really, really sound."
In addition to their solid fundamentals on the defensive end, Self said Beard's team has developed its stifling reputation because of how hard the Red Raiders play and how hard they make teams work for anything resembling a decent shot.
TCU coach Jamie Dixon, a defensive-minded coach now in his third season in the Big 12, attributes that to the veterans on Beard's roster. Dixon's team was the most recent to try to slay Tech's defensive dragon.
"It usually is the older teams," said Dixon when describing what makes a team good defensively. "They've got four seniors out there. They're old, long (and) tough. That kind of goes with old. And those are the attributes of a good defensive team. He got an old team (when he took over at Tech in 2016) and has kept them old with grad transfers and transfers. That, as well as being really well-coached, has been a big part of their defense."
Dixon's Horned Frogs lost to Texas Tech on Monday night, 84-65, in Lubbock, Texas, becoming the sixth Big 12 foe in eight games so far to score 65 points or fewer against the Red Raiders' D.
Even high-powered Duke, which knocked off Texas Tech in New York's Madison Square Garden back in late December, only managed 69 points in its victory.
Since then, the Red Raiders have lost three more games and given up an average of 66 points per night in those losses to Baylor, Iowa State and Kansas State, three teams at or within a half game of the lead in the current Big 12 standings.
Eight of the Big 12's 10 teams currently rank in KenPom's Top 37 in defensive efficiency, with Texas Tech and Kansas State ranking third and fourth and the Jayhawks ranking 14th.
Facts like that are a far cry from what Dixon expected when he joined the league.
"When I got here, I thought it was the pace of play and the offense (that) kind of controlled the league," Dixon said Thursday. "(But it has) trended to the defensive end. I was talking to coach Beard about it and I blamed it somewhat on him. A couple new coaches come into the conference and kind of change it."
For Self's Jayhawks, losers of 2 in a row and 5 of their last 11, watching other teams have similar success in areas that used to allow Kansas to separate itself from the pack has put added pressure on the KU defense to keep up and has tasked the Kansas offense with figuring out how to score against upper-level defensive opponents.
After a pair of subpar offensive outings in the last two games — KU scored 63 points in each loss and has scored 64 points or fewer in four of its five losses — Self and his coaching staff have vowed to go back to the lab to try to find ways to get easier offense.
No test the rest of the way will be tougher than the one the Red Raiders provide on Saturday, and that fact is equal parts exhilarating and terrifying for the Jayhawks.
"They're terrific defensively," Self said of the Red Raiders. "And Chris has them playing so hard. We've got to figure out some way to attack their half-court defense and hopefully get out and score some points in transition before the defense can get set. It'll be a great challenge for us, but we're playing at home and I know our guys will be jacked to play."