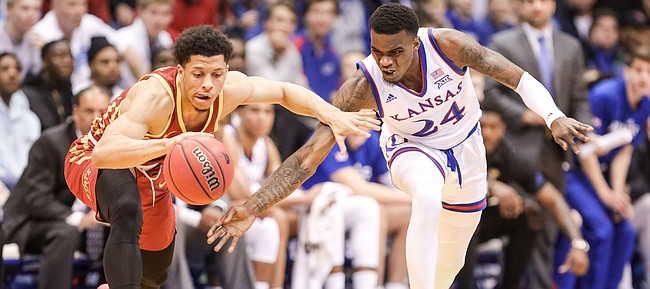 The Big 12 title race is far from over, with at least 10 games remaining for each of the league's 10 teams.
But as perennial champion Kansas approaches the midway mark on the conference schedule, Bill Self's Jayhawks find themselves in an unfamiliar position, with little elbow room existing between themselves and four other contenders to their throne.
Ahead of this weekend's marquee game at Allen Fieldhouse, featuring the two teams many perceived prior to Big 12 play as the best the league had to offer, neither KU nor Texas Tech can currently claim any ownership of first place.
And, depending on how Saturday's games play out around the conference, there's a legitimate chance even the winner between the Jayhawks and Red Raiders will remain a slot below the top of the standings entering next week.
Only a half-game separates the top five teams in the standings, with Kansas State and Baylor tied for first and Texas Tech, Iowa State and KU tied for second.
"It's a crazy race. That's for sure," K-State coach Bruce Weber told reporters on Thursday afternoon. "And I don't think anyone would've predicted us and Baylor to be in first place at this point. But a lot of things can happen."
All five teams already have endured some of the chaos that comes with playing in the competitive league's round robin format.
One of K-State's two losses came at home to Texas.
Baylor, picked ninth in the coaches' preseason poll, already has secured wins over Iowa State and Texas Tech.
The Cyclones, currently the Big 12's best team according to KenPom.com (12th), dropped a home game to K-State (No. 44, per KenPom).
And the Jayhawks, thus far, are the only Big 12 team to lose to West Virginia.
The league schedule doesn't conclude until March 9, and these types of results may end up characterizing the Big 12 in the weeks ahead.
Texas Tech coach Chris Beard said Thursday on the coaches media teleconference that even though his Red Raiders (17-4 overall, 5-3 Big 12) haven't played KU (16-5, 5-3) or Oklahoma State (9-11, 2-5) yet, and he typically reserves overall judgment on the league until he's seen every team in person, he anticipates a tight race from here on out.
"I just think there's so many close games. This league's about giving yourself a chance each night, and then trying to find a way to win a one- or two-possession game late. And normally the teams with the best players have an advantage," Beard said. "We have so much respect for every team in this league. We start our day each day just embracing competition and enjoying it. That's why these players signed up for this. Don't come play at a Big 12 school unless you want to be in 18 fights."
Though barely any separation exists between the top five teams at this juncture, Iowa State coach Steve Prohm offered Thursday his theory that some more will be created during the next two to three weeks, once teams reach the range of 12 to 14 games played.
"Our league's just kind of jumbled up right now. A lot of balance in the league — a lot of really good teams, but a lot of balance, as well," said Prohm, whose Cyclones head into the weekend at 16-5 overall and 5-3 in conference play.
"It's still early, and teams have been able to win on the road, and that's what's kind of got everything skewed a little bit," Prohm suggested.
Indeed, Baylor is 3-1 on the road in the Big 12, and K-State is 2-1. Both Tech and ISU are 2-2 so far in league road venues, while KU is just 1-3.
"I'm glad we're in that mix right now, but we've got to take care of business at home this weekend to stay there," Prohm said, ahead of a matchup with a Texas team that just knocked off KU in Austin.
The Jayhawks, of course, have managed much better inside Allen Fieldhouse, where they're currently 4-0 versus the Big 12.
Beard was asked whether the conference title still goes through Lawrence, making the trip to KU a key component of every contender's chances of dethroning the 14-time defending champions.
"In my opinion, absolutely. Yes," Beard affirmed. "Until somebody else proves they can win that fight, Kansas is the returning champion. So I think it's basically a sign of respect for their program and everything they've done," Beard continued, citing the program's run of successful coaches and NBA-level prospects, as well as "one of the best home court advantages in the country," and the presence of "educated basketball fans that appreciate good basketball when the opponent plays it."
As for the coach who gets to call that venue home, Self certainly recognizes that the rest of the Big 12 won't make things easy on his team. And the way he described the conference recently hints at what may lie ahead for KU and its challengers.
"Anybody can lose two games in a week in our league," Self said, "and anyone can win two games in a week."
Current Big 12 standings
Kansas State, 5-2
Baylor, 5-2
Texas Tech, 5-3
Iowa State, 5-3
Kansas, 5-3
Texas, 4-4
TCU, 3-4
Oklahoma, 3-5
Oklahoma State, 2-5
West Virginia, 1-7
Saturday's Big 12 schedule
No. 16 Texas Tech at No. 11 Kansas
Oklahoma at West Virginia
Texas at No. 20 Iowa State
Kansas State at Oklahoma State
TCU at Baylor