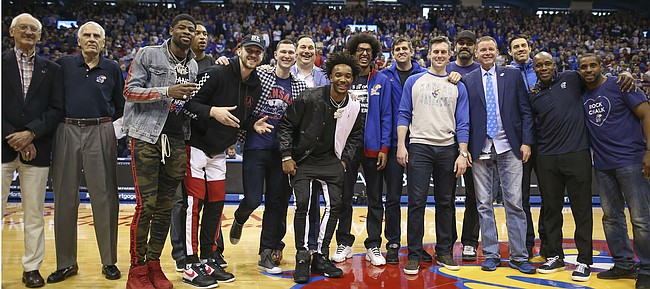 Saturday's 78-53, runaway victory by No. 14 Kansas over West Virginia at Allen Fieldhouse took place in front of nearly two dozen former KU greats, who chose the NBA's All-Star weekend as the perfect time to host a reunion in Lawrence.
What those former Jayhawks saw from the team in the 1970s Retro throwback uniforms on Saturday was something so many of them got used to seeing during their own playing days — Jayhawks running up and down the floor, Kansas lighting up the scoreboard and the home crowd reveling in every moment.
Devonte' Graham, Malik Newman, Svi Mykhailiuk and Clay Young were back from last year's Final Four team, with Graham doing his best, before, during and after, to bring energy to the KU roster, just like he did during his four years in crimson and blue.
"Wow. He is hilarious," said KU junior Mitch Lightfoot of Graham. "You know how he is. He lights the room up, whether it's the press room or the locker room, he's going to light it up with his energy, and it was just very cool to have him back in town (along with) Svi and Malik and all the other greats like (Scot) Pollard, (Nick) Collison, Jacque Vaughn and all the other greats. It gave us some energy."
Photo Gallery
Kansas basketball v. West Virginia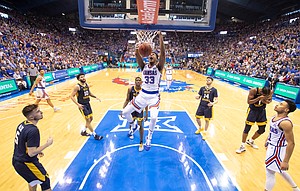 View a gallery of images from Saturday's game between the Jayhawks and Mountaineers at Allen Fieldhouse.
That group of seven former Jayhawks young and old, along with Tyrel Reed, Wayne Simien, Christian Moody, Jeff Hawkins, Kevin Young, Greg Gurley, Jeff Gueldner, Bill Lienhard, Gary Padgett and Conner Teahan, whose younger brother, Chris, buried his first 3-pointer of the season late in the game, was introduced to the Allen Fieldhouse crowd at halftime and spent its fair share of time celebrating KU's easy victory from the seats behind the KU bench.
"I don't have the relationship with some of the other guys," KU coach Bill Self explained after the game. "I know them. They've been around. They've been huge allies for us. But I didn't get the opportunity to coach (all of) those guys. But seeing just the cats that we had last year and the Kevin Youngs of the world, those guys have given their heart and soul to this place and they've given their heart and soul to me and certainly it's always cool to see them."
Added KU junior Dedric Lawson, who said he caught up with the 2018-19 trio at different points throughout the day: "Malik and Devonte' and Svi. I saw Nick Collison but I didn't get to talk to him. They were happy that we won and stuff like that. Those are guys we hung out with last year, and they were more excited to be here than we were to play in the game, just because of how much this place has done for them. It's just a special, special place."
There was one player noticeably absent from the fun who Self ribbed during his postgame meeting with the media.
"Frank (Mason III) had to go to the Bahamas, I guess," he laughed. "He needed a break from the action. But everybody else wanted to vacation in Lawrence."
Garrett update
Sophomore guard Marcus Garrett missed his fifth consecutive game while recovering from a high ankle sprain on his left leg, but the Jayhawks are hopeful that the upcoming week off will be all the Dallas native needs to get back on the court.
"Marcus needs some more time," Self said after Saturday's victory. "He's not ready. But hopefully (he can) practice Monday and Tuesday and, if there's no setback, we can really lock in on Thursday and Friday and get a couple days before we have to travel."
Kansas plays at Texas Tech next Saturday in a game that will be huge in the Big 12 race. The Red Raiders (21-5 overall, 9-4 Big 12) and Jayhawks (20-6, 9-4) both sit tied for second a half game behind first-place Kansas State (19-6, 9-3), with Iowa State (19-6, 8-4) looming in fourth place, just a game behind the Wildcats.
"It'll be very interesting moving forward," Self said of the fight to the finish. "I'm glad we're at least in the game. If we had played better earlier, or played with this type of energy and freedom, I think that we'd be in a much more favorable position. But we didn't."
This and that...
KU now leads the all-time series with West Virginia, 11-5, including a 7-0 mark in games played in Allen Fieldhouse... The Jayhawks have now won at least 20 games for the 30th consecutive season, which is the longest active streak in the nation and one behind the all-time NCAA record of 31 20-win seasons in a row set by North Carolina from 1971-2001... The Jayhawks have now won 19 in a row at Allen Fieldhouse, dating back to the end of the 2017-18 season, and are 14-0 at home this season... KU shot 52.8 percent from the floor and, in doing so, improved to 249-9 all-time in the Self era when shooting 50 percent or better from the floor... During their current 3-game winning streak, the Jayhawks have led their opponents for 110:45 of 125 total minutes.