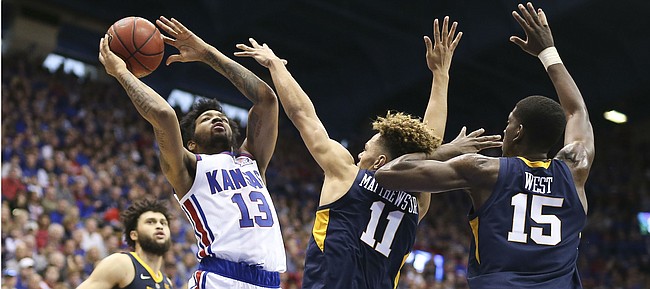 Kansas sophomore K.J. Lawson entered Saturday's 78-53 victory by No. 14 Kansas over last-place West Virginia at Allen Fieldhouse averaging just 9 minutes per game and fighting to find opportunities to show what he could do.
The Memphis transfer and older brother of KU's leading scorer, Dedric Lawson, got 24 of them during Saturday's victory and finished in a tie for the team lead with 15 points on 5-of-7 shooting in a game where every Jayhawk who played contributed something positive to the cause.
Asked after the victory if what Kansas fans have seen from him in the past two outings — he chipped in 10 points and 2 huge shots during Monday's road win at TCU — was the "real K.J. Lawson," the reserve guard shrugged and said, "Of course."
"I mean, how can you judge someone off of 4 minutes a game or 7 minutes a game?" Lawson added. "I mean, you have to judge them off the measurement you're judging other players."
Don't confuse K.J. Lawson's statement of fact for comments from a disgruntled player. K.J., like the rest of his Kansas teammates, is having an absolute blast right now and the joy is being reflected in the results.
Photo Gallery
Kansas basketball v. West Virginia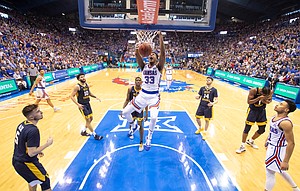 View a gallery of images from Saturday's game between the Jayhawks and Mountaineers at Allen Fieldhouse.
Kansas (20-6 overall, 9-4 Big 12) has now won three games in a row and, because of K-State's home loss to Iowa State on Saturday, sits in a second-place tie with Texas Tech in the league race, just a half game behind the Wildcats.
So, yeah, to say things are fun right now would be putting it mildly. And the fact that K.J. is actually contributing to the product on the floor and playing meaningful minutes like he did back at Memphis is merely adding to everyone's enjoyment of what he's been able to do.
"TCU was a very special moment," Dedric said of his brother's heroics against the Horned Frogs. "He came up big for us, and for it to carry over today was also big. I know the things he's capable of and the way he plays and the hard work he puts in his game. It's just having the opportunity. We go down a man and somebody's got to step up. The season must go on. I'm just proud of him for being ready and seizing the moment."
Added Self: "I haven't given K.J. many opportunities, and he's made the most of them the last two games, obviously. So that's a big bonus. … I'm real happy for him. It's nice to see guys hang in there and, when their number's called, they're ready. And he's been ready."
It did not take Lawson long to prove that in this one. After subbing in for Ochai Agbaji at the 12:21 mark of the first half, K.J. got to the free-throw line for 2 quick points, turned aggressive drives to the rim into 2 more tough points and later swished a 3-pointer from the corner on a pass from point guard Devon Dotson, who bellowed, "Get you one," to his teammate as he floated the pass over the defender softly into K.J.'s hands.
All of that came while his teammates were playing equally good basketball around him.
Although not all of it was always good, the Jayhawks played with an undeniable amount of energy during the first 8 minutes of the game to build a 15-7 lead after a slow start.
No sequence demonstrated that better than a 4-point stretch where Mitch Lightfoot (5 points, 7 rebounds in 23 minutes), unafraid as always, blocked a point-blank layup attempt by West Virginia monster Derek Culver on one end and caught a slick slip pass from Quentin Grimes on the ensuing possession and deposited it via the 2-handed dunk. On the very next possession, which followed a KU steal, Agbaji's lightning-fast transition layup put Kansas up 15-7 and brought the Fieldhouse fans to their feet.
West Virginia coach Bob Huggins quickly called timeout to calm the waters, but KU's defense stayed tough, the offense kept attacking and the Jayhawks followed up that burst with another micro-explosion that ultimately turned a 7-6 WVU lead early into a 27-9 KU lead at the 6:11 mark of the first half.
"That was big," said Dotson, who finished with 15 points, 8 assists and just 2 turnovers. "We kind of put them away early."
Things only got worse for the Mountaineers from there.
With Huggins screaming, staring and spitting fire — at both the officials and his own players — the Kansas run ballooned to 21-2 before West Virginia got on the board again.
And by halftime, Kansas led 43-16, finishing the final 15 minutes of the half on a 37-9 run.
K.J. Lawson had only done half of his damage by that point, and the other half came during a second half that saw him hit 3 of 4 from the floor and 2 of 2 from the free-throw line in 14 minutes.
"I could say it carried over (from the TCU game)," he said after the victory. "But I'm a confident guy. Once I get confidence, I play much better. I've been frustrated many times, but I'm just sticking with it and trying to do the best I can. Only the strong survive."
That last statement might someday be used to describe this year's Kansas team as a whole.
Down in the Big 12 standings with the season nearing its end and playing without starters Udoka Azubuike, Lagerald Vick and Marcus Garrett for long stretches of time, the Jayhawks have just kept fighting.
Attitude and effort continue to be the big reasons these guys talk about when discussing their midseason reversal of fortunes, and Self summed it up best on Saturday with a comment that twice included a three-letter word that seems to have made all the difference.
"I'm actually enjoying being around them and coaching them more because there seems to be more positive energy, which is fun," Self said after Saturday's game. "I mean, this is starting to get to be fun. That doesn't guarantee success, but, certainly, it gives you a better chance to have it."