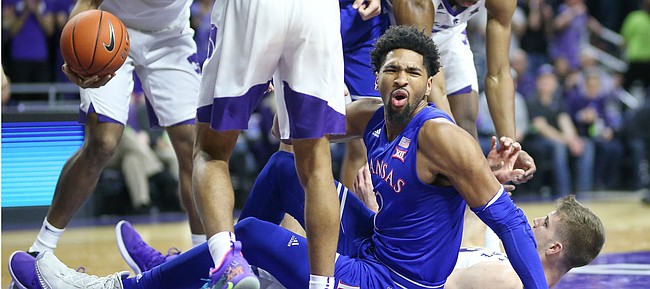 Manhattan — For all that Kansas State had done well this season, particularly while putting together a six-game Big 12 winning streak heading into Tuesday night's Sunflower Showdown with Kansas, the Wildcats' offensive prowess couldn't exactly be considered a point of concern.
What the visiting Jayhawks, so often road losers this season, had to worry about, though, was one of K-State's primary sources of offense: its defense.
If the Jayhawks could avoid the turnover issues that torpedoed them in recent conference road trips to Iowa State and West Virginia, the logic went, they just may have a shot in an arena that greeted them with "FBI" chants when they took the floor before the rivalry game.
Take away K-State's, well, takeaways, and you've cut off a lifeline for an often stagnant offense.
The clean brand of basketball required to beat K-State, however, didn't make the trip west from Lawrence.
KU turned the ball over 23 times, the team's most since 18 cough-ups in its loss at WVU. Sure enough, the Wildcats got the repeated boosts they needed to send the perennial league champions back down I-70 with a 74-67 loss.
K-State (17-5 overall, 7-2 Big 12) entered its annually most anticipated home date on the calendar having scored more than 25 percent of its points this season off of turnovers. The Wildcats followed that formula to the tune of 22 points off of KU's 23 mistakes.
Photo Gallery
Kansas basketball v. Kansas State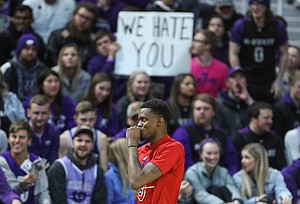 View a gallery of images from Tuesday night's game between the Jayhawks and the Wildcats at Bramlage Coliseum.
The game's opening minutes were a tutorial of what not to do against Kansas State, as the Wildcats' propensity for turning defense into offense popped immediately at a raucous Bramlage Coliseum.
KU turned the ball over on its opening possession when freshman Ochai Agbaji stepped out of bounds. Kamau Stokes kept to the K-State script by following up the gaffe with a 3-pointer.
The next trip down the floor, Stokes swiped a steal and took off for a layup and a 5-0 lead by plucking the ball away from freshman Quentin Grimes.
A second Stokes pilfer off of Grimes came less than two minutes later and he dished to Barry Brown for a 14-6 K-State lead 3:30 into the rivalry battle, a basket that made the home team three-for-three on turning KU mistakes into baskets.
For a while, the Jayhawks somewhat course-corrected. Among their 12 first-half turnovers, only five were the result of steals. The Jayhawks' turnovers didn't disappear, but their live-ball giveaways did, making it much easier to stop the Wildcats, because they had to try to find attempts versus a zone instead of sprinting to open shots in transition.
KU strangled the Wildcats' half-court offense even further with a sly move by Bill Self, who scrapped man-to-man defense for a 2-3 zone — a strategy that played a part in one dreadful first-half stretch for the home team, which missed 12 shot attempts in a row as KU recovered from what was once a nine-point deficit.
K-State didn't score off a turnover again until Dean Wade made a jumper a little more than a couple minutes into the second half, following a Brown steal and Devon Dotson miscue.
That sequence, though, seemed to open the floodgates.
K-State began capitalizing on blunders once again, and it often didn't matter whether the ball was live or dead.
"We were never, ever remotely comfortable," Self, who also lamented a lack of leadership, said during his postgame press conference. "And that's a credit to them."
Just as the Wildcats had accomplished in the first six victories of their now seven-game conference winning streak, the program's best since 2013, they were at their best by getting the opposing offense to play its worst.
A K-State team that headed into the matchup ranked 329th out of 351 Division 1 teams in scoring (65.1 points per game) got the easy, momentum-swinging points KU couldn't afford to give up.
None were prettier than a Cartier Diarra swipe that he transformed into a windmill jam with 48 seconds remaining — the exclamation point and eight-point lead that sealed KU's fate.
The flaw-filled night snapped KU's eight-game winning streak in the Sunflower Showdown and was a reminder of how far the Jayhawks (17-6 overall, 6-4 Big 12) have to go, especially with ball security.