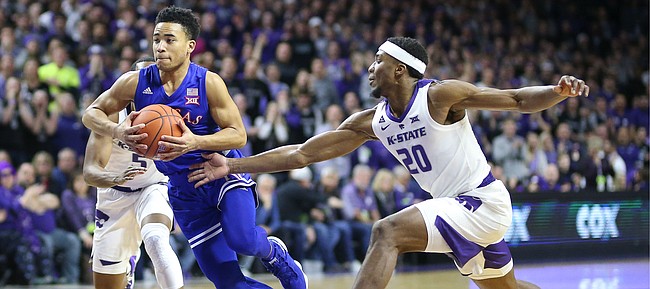 Manhattan — Kansas coach Bill Self has never been one to tell his players how to handle the league race.
Sure, he wants them to pay attention to scouting reports and game plans and the concept of focusing on what they can control. But when it comes to off nights in their dorm rooms or study sessions with their laptops, Self doesn't really mind if the Jayhawks focus their attention on the league standings or do a bit of scoreboard-watching.
"I don't tell them much of anything," Self said before the Jayhawks' 74-67 loss to Kansas State on Tuesday at Bramlage Coliseum. "But I have mentioned certain things. And I've told them it's too early to worry about this stuff. But the guys should be well aware that K-State (was) a game up on us, along with Baylor, in the loss column. They should be aware of that."
It would be hard for them not to be. Everywhere the Jayhawks look, talk of extending their NCAA-record Big 12 title streak to a straight 15 runs rampant, with KU fans tracking the Big 12 race from the opening game to the end and media coverage of yet another KU push increasing with every week.
But just because each passing game brings KU and the rest of the conference one step closer to crowning a champion — or co-champion as occasionally has been the case — that doesn't mean Self puts greater emphasis on games played later in the season.
"You've got to understand, the game in Austin or the game in Morgantown or in Ames, counts every bit as much as winning a big game late," Self said, making note of his team's first 3 Big 12 losses. "What happens when you don't play well in certain games is, it puts you in a situation where you either have margin for error or you have very little or no margin for error. I don't want to say we have no margin for error because who knows what the winning record will be? But we have a lot less margin for error because we stubbed our toe a couple times and we didn't give it our best chance."
Photo Gallery
Kansas basketball v. Kansas State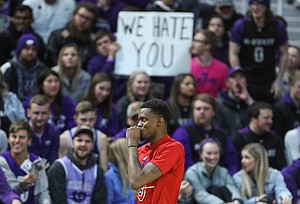 View a gallery of images from Tuesday night's game between the Jayhawks and the Wildcats at Bramlage Coliseum.
Regardless of where they stand now or what the circumstances will be three weeks from now, the Jayhawks, particularly the first-year guys, are enjoying the heck out of this year's Big 12 race.
"I think it's great because, any time you go out there, any night that you're playing, you've got to win that game," freshman Quentin Grimes said. "You can't think about who else is playing, you've got to worry about your game. Because if you're thinking about somebody else, somebody could steal the game at our house."
As for whether he ever had experienced anything like this, dating back to AAU events or his days at College Park High in The Woodlands, Texas, Grimes grinned as if to say, "Are you serious?"
"No," he said. "Not like this, where every team is good every night and anybody could beat anybody if they're just hot or on a good run, good stretch."
Youth vs. Experience
Tuesday's game featured one of the most lopsided experience edges of any game the Jayhawks have encountered this season.
For one, the Jayhawks, as they have been for the past 9 games, were without junior starter Udoka Azubuike. And, for two, the Wildcats are one of the country's most experienced teams, returning nearly everybody from last year's Elite Eight team that lost to Loyola-Chicago in the NCAA Tournament.
In fact, the Wildcats entered Tuesday second in the nation in minutes continuity, which tracks returning minutes from players who actually played a season ago. KU's rank? 285th.
"I think that's, obviously, an advantage for them," Self said ahead of Tuesday's battle. "But I think this time of year, so many of those things are a little bit overrated."
Grimes still grinding
The first 22 games of Grimes' Kansas basketball career have been a self-described adventure of "ups and downs."
While averaging just over 25 minutes per game and starting all 22 contests, Grimes has produced 7 double-figure scoring games, 5 games of 3 points or fewer and 10 games where his final point total landed somewhere in between.
Before experiencing his first taste of Tuesday's Sunflower Showdown, Grimes talked openly about his rookie season and the challenges he has encountered.
"It's definitely been a struggle, for sure," the former 5-star prospect and one-time projected lottery pick said. "But there's always been those couple games where I almost broke out and have shown what I can do."
Despite the rocky road and inconsistency that, to this point, has defined him as a college player, Grimes said his head has remained in a solid place.
"I feel like it's going good," he said. "I'm staying in the gym and not getting down on myself and, moving forward, I feel like I'm on the right track, moving in the right direction. So I feel like it's going to end up pretty well for me and the team going forward."
As for any ideas why the 6-foot-5, 210-pound guard has had to endure those ups and downs and episodes of inconsistency, Grimes had a theory on that, too.
"Maybe just trying to figure out the offense, trying to be maybe too perfect out there, trying to meet every need that coach Self wants out there," the freshman said. "Just trying to be too perfect and not just going out there playing free."
Grimes finished with 6 points and 5 turnovers in 20 minutes during Tuesday's showdown with the Wildcats.
This and that ...
Tuesday's loss dropped KU to 17-6 overall and 6-4 in conference play for the first time since the 1993-94 season ... Kansas is now 1-6 this season in true road games and 5-6 in games played away from Allen Fieldhouse ... The loss snapped an 8-game winning streak against the Wildcats and dropped KU's record inside Bramlage Coliseum to 26-5 all-time. KU now leads the all-time series with K-State 196-94 ... Former Colorado great and one-time Kansas recruit Chauncey Billups, as well as former NBA coach Stan Van Gundy, were on the call for ESPN during Tuesday's game. Van Gundy coached KU assistant Fred Quartlebaum at Fordham back in the 1980s.