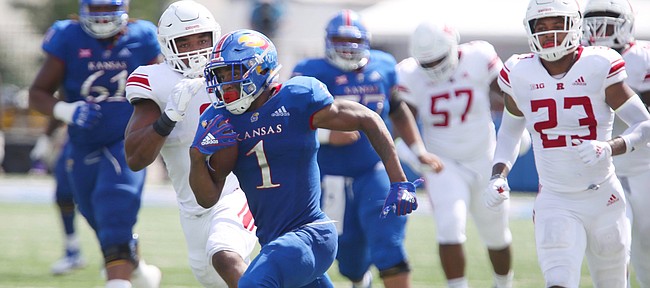 Pooka Williams' skills aren't only dropping jaws around Lawrence.
The freshman's open-field speed, power, vision and agility, which have played a central role in consecutive victories for the Kansas football team, also are drawing the attention of college football evaluators nationwide.
According to Pro Football Focus, the Jayhawks' young offensive star is the third-best true freshman in all of FBS through three weeks.
In only two games, the 5-foot-10, 170-pound back from Louisiana has rushed for a Big 12-leading 288 yards. Williams averages 8.7 yards per carry and has accounted for three of KU's 10 offensive touchdowns on the season.
For the shows he put on in wins over Central Michigan and Rutgers, PFF assessed Williams with a 90.9 overall grade — highest among all FBS running backs, not just freshmen — for the season so far.
Only Texas Tech quarterback Alan Bowman (91.7) and Auburn safety Jamien Sherwood (91.0) have earned higher marks from PFF among true freshmen.
"A major component to Kansas' 2-1 start, Williams has forced or avoided 16 tackles on just 33 attempts this season while he's also gained 158 of his 306 yards after contact," Cam Mellor wrote for ProFootballFocus.com. "Diving deeper into Williams' success reveals that he is currently the nation's highest-graded running back on draw plays."
According to PFF, Williams is one of only 22 running backs to attempt at least two draws, and the KU freshman leads them all with 134 yards (59 after contact), three TDs, three more first downs, four missed tackles forced and a 95.9 grade.
Williams' 163 rushing yards versus RU is the highest total in the Big 12 so far this year. It ranked fifth all-time in KU history for rushing yards by a freshman. June Henley holds the record, with 237 against Iowa State, in 1993.