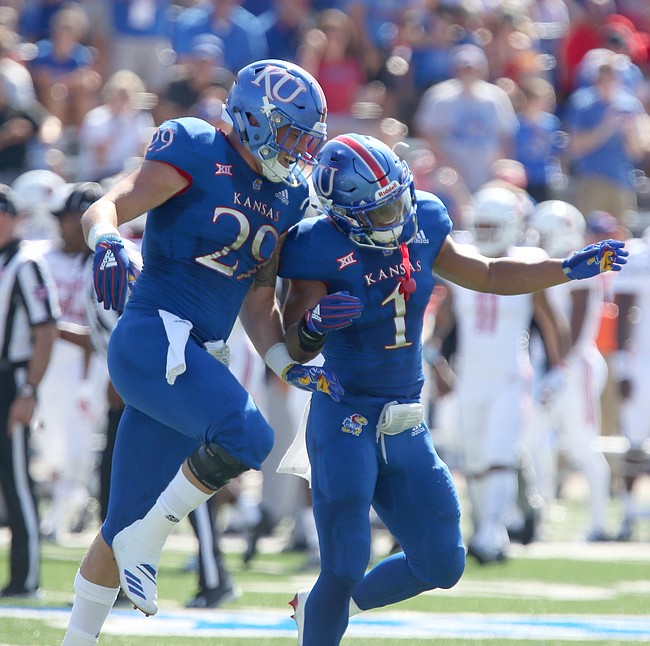 The names broadcast over the public address system for tackles in Kansas' 55-14 Saturday win over Rutgers had a familiar ring with Lawrence residents.
After three weeks, a trio of former Free State players have become the Jayhawks' go-to line of defense. Joe Dineen Jr., Bryce Torneden and Keith Loneker Jr. are in the top three in tackles, combining for 48 solo tackles, along with three fumble recoveries and a pair of interceptions.
"I think it's just a cool deal," Dineen said. "The way our defense is set up, Keith, Bryce and I are going to make a lot of the plays. It's just kinda cool that we all got to play with each other at the high school level, and now we're all three starting in college at the big-time Division I football level is pretty cool."
Prior to the fourth quarter, where mostly backups were on the field, only three of Rutgers' 14 drives had more than three plays before punting or a turnover, and one with four.
Free State head coach Bob Lisher's team was just as efficient last Friday night, not letting Shawnee Mission North run more than four plays on a drive on the night and forcing six turnovers, as well.
Maybe it's something that runs in the family, too. Dineen has a brother, Jay Dineen, who is a freshman linebacker for the Jayhawks.
Another brother, Jax Dineen, meanwhile, has led the Firebirds to a 3-0 start, in which they have outscored their opponents by a 144-0 margin. Jax Dineen, who plays linebacker and running back for FSHS, is leading his team with 383 rushing yards.
"That's pretty impressive," Joe Dineen said. "I thought my senior year we were pretty good, and we didn't put up numbers like that."
Other Firebirds on the Jayhawks' roster include freshman defensive tackle Spencer Roe and offensive lineman Jalen Robinson.
"I need to reach out to coach Lisher," Torneden said. "I think they're rolling over there. It definitely means a lot to me. I think we're really stepping up for our team and I am really thankful for it."
Free State is back in action Friday with a home tilt against Shawnee Mission West, while Kansas will travel to Baylor Saturday.