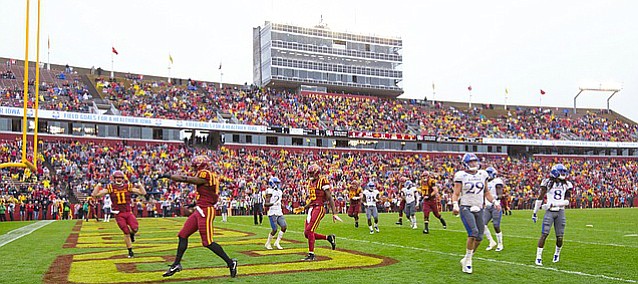 No, the Kansas football team's three-week nonconference schedule as a whole didn't play out perfectly.
But the Jayhawks' victories over Central Michigan and Rutgers have allowed them to enter Big 12 play at Baylor on Saturday in a more ideal head space than seemed possible after their Week 1 home loss to Nicholls State.
Especially for the players who have suffered through the program's struggles the longest, burying KU's 46-game road losing streak in Mount Pleasant, Mich., and delivering consecutive victories for the first time since 2011 felt meaningful.
Now, there is another streak for the Jayhawks to vanquish. And redshirt senior linebacker Joe Dineen Jr. didn't need to hear the entirety of a question earlier this week to identify it.
"A Big 12 road win," Dineen interjected, when a reporter brought up the next accomplishment he and his teammates had in their sights.
Kansas has lost every conference road game it has played since Oct. 4, 2008, when the Jayhawks won at Iowa State, 35-33. The conference road losing streak currently stands at 40 true road games and 41 consecutive Big 12 games played outside of Lawrence — KU lost to Missouri at Arrowhead Stadium, in Kansas City, Mo., in 2009, 2010 and 2011, after defeating rival MU in K.C. to close the 2008 regular season.
According to Dineen, currently the league's leading tackler (13.3 per game), the momentum the Jayhawks (2-1) created the past two weeks puts them in better position to lay another streak to rest.
"Honestly, we expected to do this at the beginning of the season. We knew we were going to be pretty good," Dineen said in reference to KU handily defeating both CMU and Rutgers. "And then, we went out and dropped that one to Nicholls State. But we still knew that we were a good football team and we could play. I think, now, it's finally showing. And, obviously, with this being an opportunity to go play away in the Big 12, it's something that we're really excited about."
A KU victory at Baylor's McLane Stadium (2:30 p.m. kickoff on Saturday, FOX Sports 1) would mark the program's first three-game winning streak since 2009, the final season for both coach Mark Mangino and quarterback Todd Reesing.
But finally winning a Big 12 road game would carry relevant weight, as well.
Redshirt senior defensive tackle Daniel Wise acknowledged the Jayhawks' two wins to close nonconference play meant they would head to Waco, Texas, better equipped to compete. But he also said the players "came to their senses" on Monday through discussions about their 2-1 start to the season.
"It's like, we still haven't done nothing yet," Wise said. "We still have to continue to prove ourselves. We don't want to be an average team that started off good and then, 'What happened to them?' We want to continue this momentum, continue this mentality we're playing with throughout this entire season."
— Note: A previous version of this story incorrectly listed KU's consecutive true road losses in Big 12 play at 38. That number came from KU's media notes and was incorrect. KU has lost 40 true conference road games in a row.