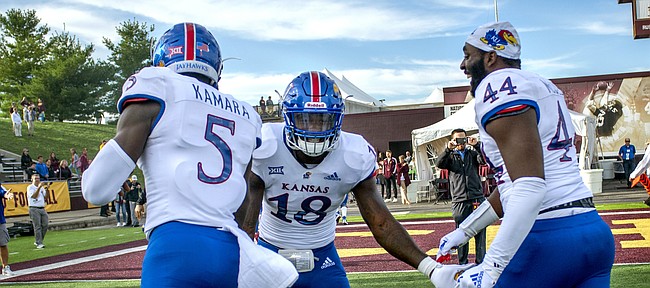 Inside the visiting locker room at Kelly/Shorts Stadium in Mount Pleasant, Mich., this past Saturday, after he became the first Kansas football coach to win a road game since Mark Mangino's final season, in 2009, David Beaty received the game ball as the Jayhawks celebrated.
He didn't hang onto it long, though.
In a behind-the-scenes video of the moment posted to the football team's social media accounts, smiling redshirt senior linebacker Joe Dineen Jr. could be seen presenting Beaty with the football as teammates cheered and sprayed their coach with water.
What it didn't show, according to the fourth-year KU coach, was him passing along the ball to someone else.
During his Tuesday afternoon press conference, a reporter asked Beaty whether he slept that night with the ball tucked under his arm. He explained why he didn't.
"I mean, that was a cool moment, cool moment for our entire team. I took the ball and just threw it over to Pooka (Williams Jr.)," Beaty said of the freshman running back who produced 125 rushing yards and two touchdowns in his college debut, "because he had a great game and, really, we were pointing out a bunch of folks. I grabbed it and threw it over to the defense because that ball is about those guys."
In particular, Beaty said, he wanted to acknowledge Dineen and fellow redshirt senior defensive leader Daniel Wise after they finally got to experience a KU road win.
"They certainly deserved that ball a whole hell of a lot more than I did," Beaty said.
Play-calling duties
During KU's 31-7 victory at Central Michigan, Beaty could be seen holding a play sheet in front of him and communicating via headset with other members of the coaching staff when the Jayhawks were on offense.
However, the head coach said, that didn't mean he was calling the plays. Beaty said offensive coordinator Doug Meacham, as usual, dictated which plays were signaled onto the field.
Podcast episode
Following the Kansas football team's trip to Central Michigan, which included not only the end of the Jayhawks' 46-game road losing streak but also the highly anticipated debut of freshman running back Pooka Williams, KU football beat reporter Benton Smith leads a discussion on how Williams' 125-yard, two-touchdown performance shapes ...
"I thought Meach called a really good game. I thought he did exactly what we talked about in the game plan," Beaty said, adding the same went for defensive coordinator Clint Bowen and special teams coordinator Kenny Perry.
Meacham, Beaty also said, made sure in the second half that KU managed the clock while playing with a lead.
"It was really challenging because we didn't burn much time in those first couple drives," Beaty said in reference to a short-field situation to open the third quarter and two quick possessions that ended with long Williams touchdowns runs. "So we felt like we needed to get some time off that clock and I thought he did a great job handling that."
KU possessed the ball for 18:30 of the second half and won overall time of possession at CMU, 36:16 to 23:44.
More Dineen honors
Dineen's 14-tackle performance at Central Michigan, which also included his first career interception, secured him more than Big 12 Defensive Player of the Week honors.
The Lott IMPACT Trophy also named Dineen, a redshirt senior linebacker from Lawrence, its player of the week. KU will receive $1,000 for its general scholarship fund in recognition of his performance.
Dineen leads the Big 12 in both solo (20) and total tackles (30) through two games.
Pro Football Focus also named Dineen to its national defensive team of the week, assessing him a grade of 91.2.
Plus, PFF had Dineen on its Big 12 defensive team of the week, as well as another former Free State High standout, KU junior Bryce Torneden, who received an 85.1 grade at safety.
Origin of Pooka
Named at birth after his father, Anthony Williams, KU freshman running back Pooka Williams' given name is Anthony Jr.
He picked up the name Pooka from a grandmother, identified as Barbara Griffin, Beaty said while discussing the back from Louisiana with host Brian Hanni on his weekly "Hawk Talk" radio show.
Hanni related that Williams' grandmother told him at a young age, "You look like a little pooka."
KU football's team policy doesn't allow freshmen or redshirt freshmen to do interviews with the media.