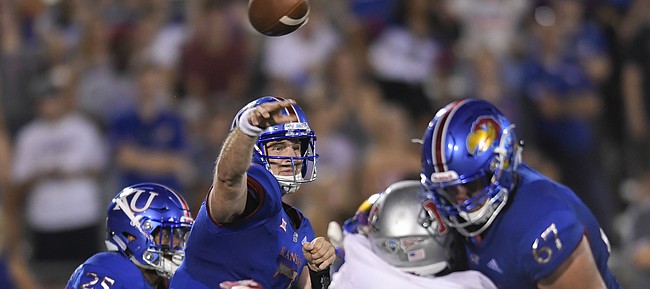 Sure, the season is only two weeks old. But as of this moment, Kansas football, the same program that finished 2017 ranked an ugly 127th out of 129 FBS teams in turnover margin, is sitting pretty in the same category.
With seven takeaways (only two less than their previous yearlong total) and one giveaway, the Jayhawks own a plus-3.0 turnover margin average, a number that ties them for second nationally with Fresno State, Buffalo, Virginia Tech and Toledo. Only Ohio, with a plus-4 margin in its one game played, is ahead of them.
"That was a huge emphasis as we came off the field last year against Oklahoma State," KU coach David Beaty said, referencing the finale of his third season in charge, when KU lost 17 turnovers in 12 games. "So some of the things that we focused on that we've implemented, it's good to see the development starting to work and it's starting to become contagious with those players."
Entering its Week 3 nonconference finale with Rutgers, KU's offense has lost possession of the ball just once — on a play ruled a fumble against Nicholls State during which quarterback Peyton Bender lost the ball while being hit in the midst of trying to pass.
Podcast episode
Following the Kansas football team's trip to Central Michigan, which included not only the end of the Jayhawks' 46-game road losing streak but also the highly anticipated debut of freshman running back Pooka Williams, KU football beat reporter Benton Smith leads a discussion on how Williams' 125-yard, two-touchdown performance shapes ...
According to Beaty, all of the credit for the drastic turnabout to start off September goes to offensive coordinator Doug Meacham and starting QB Bender.
"It's always going to start right there at the top with Doug and him emphasizing the right things," Beaty said. "Managing the game, not putting the ball in jeopardy and knowing that you can play this game and do a lot of damage to your opponent by putting the ball in play and not necessarily always trying to make it look like a big play all the time. Hanging on to the ball and going through reads."
While Bender has completed only 59 percent of his 61 throws, none of his attempts against Nicholls or Central Michigan were intercepted. In 2017, as a junior, he threw four interceptions in his first two games and finished the season with 10 in eight starts.
Now a senior with three touchdown throws and 317 passing yards to his credit, Bender said no one thing in particular this past offseason set him up for playing a cleaner game at QB.
"We did a lot of film study as quarterbacks. I think that definitely translated into the season," Bender said. "Really understanding what the defense is trying to do. 'Who is the extra run fitter? How does that affect the passing game?' We've just emphasized taking the easy throw. Trying to find where the hole in the defense is and just taking advantage of that area."
None of his teammates, on 66 combined carries and 39 receptions, have fumbled. So the whole team gets credit for addressing the ball security issues that plagued them in the past. As for Bender, he attributed his gains in that area to his preparation.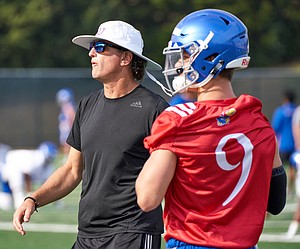 "Knowing what the defense is trying to do going into the game and attacking the areas of weaknesses that we see in the defense," the QB explained. "You know, we were a little bit more conservative on the play-calling aspect in the game on Saturday — didn't take too many shots down the field — which helped."
At CMU (0-2), Kansas (1-1) rushed the ball 42 times, led by freshman running back Pooka Williams Jr.'s 14 carries for 125 yards and two touchdowns.
Bender completed 17 of 26 throws (65.4 percent) for 130 yards and one touchdown. Still, Beaty thought one of the QB's best plays came on an incompletion.
"He threw a glance away, where, you know, (his target) was covered. He threw it away," the coach said. "That's real growth for him. Because he's a guy, he can keep it alive. Keeps his eyes down the field better than anybody I've ever had. But, sometimes, it can be counterproductive."
Even Bender's lone blemish through two games, the aforementioned fumble, came on a play that had to be reviewed by the officiating crew and could have gone either way.
"It was close. It's really hard to tell," Bender said, when asked whether he thought he fumbled the ball or it should have been ruled a pass. "I think if they called it an incomplete pass it probably would've stood as an incomplete pass. I don't think they really could've overturned it. It's just one of those plays where it doesn't happen too often, but (I) need to be aware next time of where the free guy's coming from or have a better sense of awareness if you're getting pressure."
If Bender hadn't held the ball as long on that particular play, Beaty said, and had his "eyes in the right spot," the QB would have been able to make the throw before impact.
Nonetheless, Beaty thinks Meacham trained Bender well, and that's why KU's offense, while only averaging 308.0 yards per game (ninth in Big 12), hasn't killed the team's chances with giveaways.
"That's how you get it. I mean, they're going to do what you teach them to do," Beaty said. "That's how it works. And I think you can see the deliberate training that we've been putting in, Doug has been putting in, our offense has been putting in, to make sure they've got their eyes in the right place."