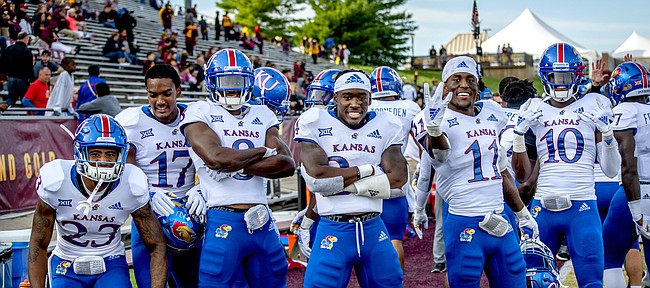 No matter how great a new product looks on paper, it's going to be tough to sell unless the salesman has that first satisfied customer to stand as proof of concept. For the Kansas football program's Louisiana recruiting plan, junior safety Mike Lee represents proof of concept.
Associate head coach Tony Hull deserves most of the credit for recruiting players from The Boot, but Lee coming here made Hull's challenging job more realistic.
Lee enrolled at KU after graduating from Landry-Walker High in New Orleans a year early. He weathered the cultural change, worked his way into the starting lineup in his fifth game, made key plays in the overtime victory vs. Texas and is a third-year starter.
He explained Tuesday afternoon why moving to Kansas has worked for him.
"Really, the best thing, no violence out here in Lawrence," Lee said. "There is a lot of violence in the city and nobody wants to be out there during that violent time. So, really, you have to move far from home to enjoy life, experience something new."
He said he "never saw it (violence), but I was around it. I heard it. I was that close. It's real quiet out here, no violence, real nice out here. I like it."
Not that he doesn't miss things about New Orleans. For one, he said he hasn't found good Cajun food, but the truth is, college football players don't have much free time to go looking for it. He said he has not been to Terrebone Cafe, 805 Vermont Street.
"I'll have to try that," he said.
But with the demands on his time, from classes and tutoring sessions, football practice, film work and conditioning, there is no guarantee he ever will.
Even though he misses the food, Lee seems happy to be in Lawrence, and if it hadn't worked out for him, it's worth wondering what players from Louisiana might not have ended up here. For example, he and freshman cornerback Corione Harris, who made his first start in Saturday's 31-7 victory that ended a 46-game road losing streak, were high school teammates.
It had to be easier for freshman sensation Pooka Williams Jr. to consider KU knowing that he would be far from alone on a roster that now features nine players from Louisiana. Three of five starters in the secondary Saturday are New Orleans natives, including Ricky Thomas, a sophomore transfer from Blinn Junior College.
"He got an interception, so he looks pretty good to me," Lee said of Thomas.
Lawrence looks pretty good to Lee, too, and if the Louisiana pipeline never runs dry, he should take pride in having had a hand in starting it.