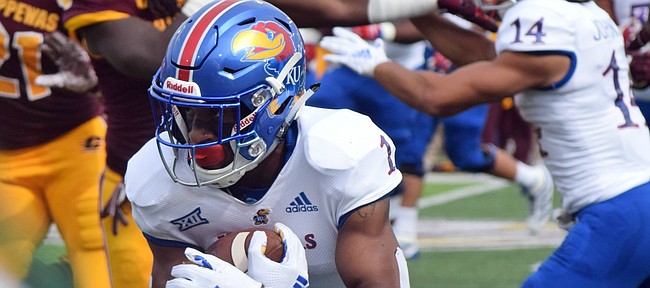 Yes, Kansas freshman running back Pooka Williams will play in the Jayhawks' home football game Saturday against Rutgers.
But will Williams also play the following week at Baylor, and for the remainder of the schedule?
His head coach, David Beaty, would not say Tuesday whether the reigning Big 12 Newcomer of the Week has been permanently cleared for competition.
Asked to clarify whether the issue that led KU to sit Williams out in Week 1 is behind them or if the running back will have to be cleared on a weekly basis, Beaty replied vaguely at his press conference.
"He was withheld last week because of an eligibility issue," Beaty said, referring to Williams not playing against Nicholls State due to what the team previously described as a nondisciplinary matter. "And we're just excited to have him back on the field for this week."
Podcast episode
Following the Kansas football team's trip to Central Michigan, which included not only the end of the Jayhawks' 46-game road losing streak but also the highly anticipated debut of freshman running back Pooka Williams, KU football beat reporter Benton Smith leads a discussion on how Williams' 125-yard, two-touchdown performance shapes ...
So is there no guarantee at this juncture that the freshman, whose 125 rushing yards and two touchdowns spearheaded KU's road win at Central Michigan, will play the rest of the season?
"He was withheld because of an eligibility issue," Beaty repeated, "and we're excited to have him back on the field this week."
Pressed to illuminate whether the first-year back's academic eligibility was at the heart of the matter, KU's fourth-year coach responded: "That's all I can say now."
With third-quarter touchdown runs of 20 and 41 yards in his college football debut, Williams, a 5-foot-10, 170-pound back from Marrero, La., gave Kansas (1-1) an explosive dynamic it lacked during a Week 1 loss to Nicholls State, when he watched from the sideline.
"You saw Pooka Williams, he's a game-changer when he's in there at tailback," KU senior quarterback Peyton Bender said. "It's just nice to be able to hand the ball off to a guy and let him do the work. You saw it (Saturday). He's just an explosive back. He can do it all. He's great in the run game but he can also do it in the passing game."
Williams caught one pass for eight yards at CMU (0-2).
KU plays host to Rutgers at David Booth Kansas Memorial Stadium on Saturday (11 a.m. kickoff, FOX Sports Net).