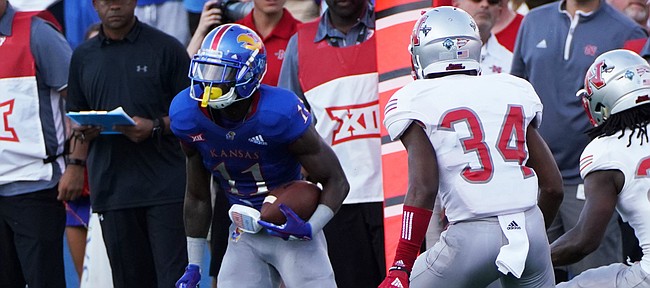 The play happened early in the second quarter of his team's season opener, with more than 43 minutes left in regulation.
All the same, Kansas senior receiver Steven Sims Jr. had a hard time forgiving himself for dropping what looked like a sure touchdown in the end zone.
Sims had beaten the coverage deep for what could have been a 37-yard TD throw from Peyton Bender, to set up a seven-point lead for the Jayhawks. Instead, the 3rd-and-6 incompletion led to a 54-yard Gabriel Rui field goal.
It was just one snap. One drop. But, in the wake of a disappointing home overtime loss, Sims, who finished with four receptions for 29 yards and a TD, said that whiff was the play that kept reappearing in his head.
"Everybody knows that. It is what it is. It happens. I've got to make the play next time," Sims said. "I know I'm capable of making that play, so I'm tough on myself. I'm on myself a lot more than anybody else, so it's all right. I'm going to bounce back this week."
Podcast episode
Following the Kansas football team's season-opening home loss to Nicholls State, KU football beat writer Benton Smith opens up the Twitter fan mailbag to address the numerous questions surrounding the program. Tom Keegan, Matt Tait and Shane Jackson join in on an array of topics, including Pooka Williams, how long ...
That opportunity, for both Sims and his teammates, comes at Central Michigan (0-1), with a 2 p.m. CT kickoff.
"Just definitely have to recover," Sims said of himself and the Jayhawks (0-1). "Things happen. It's football. That's why we love the game. Got to have a better week of preparation this week. We've got to move forward. Last week, I can't let it seep over into this week. So we've got to keep going."
A 5-foot-10, 176-pound wideout from Houston, Sims currently ranks third in KU history in career receptions (165) and is fifth in both receiving yards (2,078) and touchdown receptions (16).
Harris' introduction to college football
Unlike fellow touted Louisiana freshman Pooka Williams, whose status for the game at CMU remained unknown as of Friday night, cornerback Corione Harris got his first taste of college football in Week 1.
A reserve in his debut, the 6-1, 180 Harris was credited with two total tackles, one tackle for loss and a pass breakup.
On some occasions, though, he had to recover to catch back up with a man whom he allowed to get open.
"Some good, some not so good," KU head coach David Beaty said of Harris' play. "But once again, the thing I liked about him is he has a don't-blink attitude. I mean he wanted to get in there and was excited about getting up in their face and playing some press coverage and really attacking those guys. Did some good things. I thought he was physical at times on the edge, which was good. But you know, he's still a young guy, but he's got a bright future. I think he's going to be a really good player."
How to watch
Unlike KU's opener versus Nicholls, which aired on some local TV channels in the state of Kansas, as well as in the Kansas City metro area, today's game at Central Michigan is only available on ESPN's new subscription-based platform, ESPN+.
Fans can subscribe to ESPN+ for $4.99 a month (or $49.99 per year) and cancel at any time.
No blackouts will accompany the ESPN+ stream, regardless of the viewer's location.
CMU looking for program first
KU represents the sixth Power Five program to venture into Kelly/Shorts Stadium.
In its history Central Michigan has yet to win at home against a team from the ACC, Big Ten or Big 12 (no SEC nor Pac 12 team has played in Mount Pleasant).
The Chippewas lost at home:
• in 2005 to Indiana, 20-13
• in 2006 to Boston College, 31-24
• in 2012 to Michigan State, 41-7
• in 2014 to Syracuse, 38-17
• in 2015 to Oklahoma State, 24-13