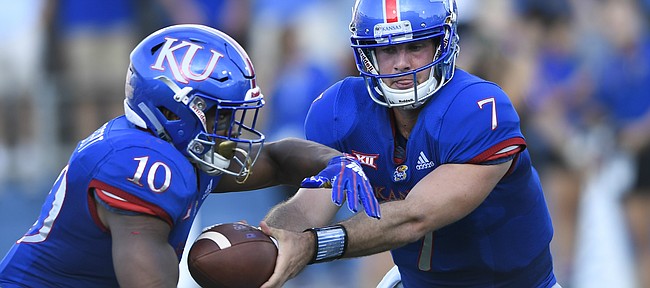 — Kansas (0-1) at Central Michigan (0-1) • 2 p.m. CT kickoff at Kelly/Shorts Stadium • Game-time forecast: 67 degrees, partly sunny, 0% chance of rain • TV: ESPN+ • Radio: KLWN, FM 101.7 / AM 1320
— Log on to KUsports.com for our live game blog and follow our coverage team on Twitter: @KUSports, @BentonASmith, @TomKeeganLJW and @SJacksonLJW
Keys for Kansas
1. Let your RBs carry you
In the Jayhawks' season-opening loss, running backs Khalil Herbert and Dom Williams actually finished with solid numbers in terms of average yards per carry.
A junior, Herbert led the KU ground game with 12 rushes for 62 yards (5.1 yards per attempt), while sophomore Williams added six runs for 35 yards (5.8). It's a small sample size, and both backs were aided significantly by one 23-yard rush apiece. But one of the bigger surprises of the opener was how seldom the Jayhawks asked Herbert and Williams to get involved.
If you throw in two designed run calls for backup quarterback Miles Kendrick and don't include the two times QB Peyton Bender took off for large gains because no one was open for a pass, KU only rushed the ball 20 times for 102 yards. In the meantime, starter Bender and Kendrick combined for 38 pass attempts.
Podcast episode
Following the Kansas football team's season-opening home loss to Nicholls State, KU football beat writer Benton Smith opens up the Twitter fan mailbag to address the numerous questions surrounding the program. Tom Keegan, Matt Tait and Shane Jackson join in on an array of topics, including Pooka Williams, how long ...
Head coach David Beaty pointed to KU's lack of 1st downs in Week 1 as the primary factor that kept Herbert and Williams from getting more involved.
"I mean the more plays you get to call, the more you get to allow those guys to touch the ball," Beaty said after KU picked up just 14 first downs and finished with 255 total yards in the home overtime defeat to Nicholls State."That's something that we've gotta correct. We've gotta get more 1st downs. It gives us a new fresh set of downs. We get more opportunities that way. Simply put, to be able to get the ball in everybody's hands, you've gotta have more downs."
KU ran 70 offensive plays against Nicholls. Six sacks of Bender and two more massive negative yardage plays resulting from errant Alex Fontana snaps led to a net rushing total of 56 yards.
An offense that sustains drives and keeps Herbert and Williams involved will be necessary for KU to compete with Central Michigan, which allowed Kentucky to rack up 299 rushing yards (7.0 per carry) in a 35-20 Week 1 road loss.
2. Establish quickly last week is behind you
Disappointment ruled the night this past Saturday at KU's Anderson Family Football Complex, in the wake of FCS opponent Nicholls handing the Jayhawks a home loss.
Given the program's years of struggles, the mental side of truly recovering from Week 1 will be an important part of the recipe for a win in Week 2.
A quick start for both sides of the ball is the perfect way for the Jayhawks to put their most recent defeat far behind them. Considering the offense began the season with a three-and-out and the defense relented in its first series of the season, allowing the Colonels to travel 78 yards for a touchdown, there should be even greater incentive for the Jayhawks to prove in the opening minutes at CMU that they learned some valuable lessons from their 2018 debut.
"They're coming off a difficult loss at home, one where they made mistakes, which were costly," Chippewas coach John Bonamego said earlier this week."You have to understand who you're playing. They could be dangerous. We need to take care of our side of things and focus on us."
3. No turnovers allowed
Offensively, the Jayhawks didn't have much to feel great about against Nicholls, especially when considering two Colonels miscues on special teams gifted KU 10 of its fourth-quarter points.
However, one positive turned out to be the complete absence of interceptions and lost fumbles.
Repeating that feat at CMU will be a challenge. In the Chippewas' road loss at Kentucky (an eight-point game entering the fourth quarter), they gave themselves a chance to win on the road against an SEC opponent by snagging not one, two or three, but four turnovers.
Safety Devonni Reed's 20-yard fumble recovery for a touchdown provided Central Michigan a 17-7 lead in the second quarter. Both cornerback Xavier Crawford and defensive back Gage Kreski intercepted UK QB Terry Wilson, and defensive end Sean Adesanya recovered another fumble.
CMU enters the weekend ranked sixth in the nation with four takeaways.
While KU didn't cough the ball up against Nicholls, the 2017 Jayhawks lost 26 turnovers during their 1-11 season. So a regression toward the past would make pulling off a road victory that much more difficult.
Mega Matchup
CMU QB Tony Poljan vs. KU defense
In the first start of his college career in Week 1, Tony Poljan didn't dominate through the air, completing 17 of his 27 pass attempts for 137 yards. But the 6-foot-7, 235-pound QB made use of his legs, rushing for team-highs of 16 carries and 47 yards.
KU's defense knows it is facing an unproven quarterback, but redshirt senior linebacker Joe Dineen said Poljan can present problems if the Jayhawks aren't prepared to stop him.
"They like the QB run game a lot, two really good running backs and a good O-line," Dineen added, grouping backs Jonathan Ward and Kumehnu Gwilly with Poljan as players the KU front will have focus in on. "Their quarterback's like 6-7, he's a really big dude. They like to run him a lot, so we'll have some stuff in place to get that stopped."
Between Poljan's inexperience and the knowledge that CMU will likely call upon him to run often, the KU defense needs to do all it can to rattle the sophomore's confidence as both a passer and rusher.
"I thought the guy poses some problems," Beaty said of Poljan. "He's a lot different than what they were last year with regard to how he moves around, but he's definitely capable of hurting you. He can hurt you with his arm, and he's certainly a big dude. He's not easy to tackle. You get in 3rd-and-short situations, I mean, the quarterback run is something you have to be aware of."
Jayhawk Pulse
Kansas, owner of major college football's all-time record for most consecutive road losses, currently at 46, hasn't won in an opponent's stadium since Sept. 12, 2009, at UTEP.
The streak that refuses to die makes winning on the road that much more important to the KU players who have been around the longest. Still, the desire to rectify past failures surely doesn't mean as much to the current roster as going out and trying to prove the Jayhawks are a better team than they appeared to be in a home loss to Nicholls.
Throw in growing public speculation surrounding Beaty's job security and the players have no shortage of motivators to carry with them onto the field at Kelly/Shorts Stadium.
Tale of the Tape
KU ….. CMU
KU run D vs. CMU run game √
√ KU pass D vs. CMU pass game
KU run game vs. CMU run D √
KU pass game vs. CMU pass D √
√ Special teams
Prediction
Central Michigan 27, Kansas 20