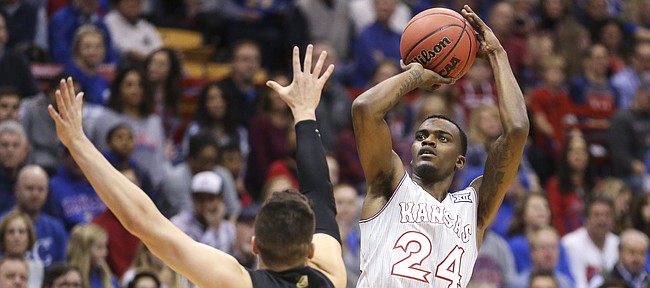 If it's an identity the second-ranked Kansas men's basketball team is seeking, the Jayhawks may have found it Monday night.
Their veterans will lead them.
Six days after watching an all-freshman backcourt lead the team to victory on the bright lights, big city stage at the Champions Classic in Indianapolis, a couple of old heads helped Kansas survive a legitimate scare from a good Vermont team, 84-68, at Allen Fieldhouse.
Coming off of one of the worst games of his career — 2 points in 32 monk-quiet minutes in Indianapolis — KU senior Lagerald Vick went nuts in this one and wasted little time getting started.
The senior from Memphis surpassed his game total from last week in the first 24 seconds of the game and didn't come close to stopping there.
By game's end, Vick had set a school record for most 3-point makes without a miss — 8-for-8, passing Ben McLemore and Rex Walters, who each once shot 6-for-6 — and set a new career high with 32 points on 12-of-14 shooting.
Two of his 12 makes came with a toe on the line, and the two shots he missed nearly went down, as well.
"He was great," KU coach Bill Self said after the victory. "I don't think I've ever coached a better offensive performance. Ever."
KU hasn't had many of them.
Vick's explosive night left him with the second-most 3-pointers ever made by a Kansas player in a single game, tying Mario Chalmers and Billy Thomas for second place behind "Downtown" Terry Brown's 11 3-pointer effort against North Carolina State back in 1991.
The last time Vick left the gym with a career high, it came in a losing effort against Washington last season on a night the Huskies basically begged him to score.
Vermont (1-1) was not trying to give Vick the same treatment on Monday night, but there was little they could do to stop him.
"Vick was unbelievable tonight," Vermont coach John Becker said. "Sometimes, you just have to tip your hat to a guy."
While so many of Vick's points came from behind the 3-point arc — one 3 came after he passed up a wide-open look at the top of the key, only to get it back from Quentin Grimes (10 assists) on the wing for yet another pure swish — the KU senior also flashed an ability to score inside.
His knifing dunk in transition with 9:17 to play cut the Vermont lead to 26-20 and looked personal, as if he were taking it on himself to bring the Jayhawks back from the early deficit. And the alley-oop he flushed with 7:00 to play was all about style. Both sent the Allen Fieldhouse crowd into a frenzy.
Vick, who said his dud against Michigan State "definitely" motivated him to bounce back on Monday night, added that he had no indication before the game began that he would have such a hot shooting night. But it did not take him long to figure it out.
"It was really after the first one," Vick said. "I just heard coach say, 'Keep shooting the ball.' My coaches just told me to let it go."
Doing that was made easier by the fact that Kansas (2-0) kept feeding junior center Udoka Azubuike in the post and Azubuike made Vermont pay nearly every time.
In 34 minutes, Azubuike shot 10-of-17 from the floor (eight of them dunks) and finished with 23 points, 11 rebounds and an assist of sorts to Vick.
"Those two carried us tonight," Self said of Vick and Azubuike. "The advantage we had on them was throwing the ball to Dok. They didn't have anybody who could match up. … He went after the ball, rebounding, like a man tonight."
For 25 minutes or so, Kansas absolutely needed both of them, as Vermont played most of the first half with the lead and was still within six points five minutes into the second half.
But back-to-back jumpers from Vick and two more deep 3-pointers a few possessions later turned a 46-40 game into a 59-45 Kansas lead.
Dok and his dunks and the Kansas crowd carried things home from there.
The 23 points and 11 rebounds were just three points and two rebounds off of career highs for Azubuike, but he was not at all concerned about himself or his numbers after this one. He was happy for his buddy, the lone senior, who, like him, came back for one more run.
And he was even happier that his presence inside could make things easier for Vick on the perimeter.
"I take a lot of pride in that," Azubuike said. "I'm really happy for him and the improvement he has made over the years. Last game, he didn't really play like he wanted to, and in this game, he really made a big difference."
Kansas returns to Allen Fieldhouse on Friday night for a 7 p.m. tipoff with Louisiana.