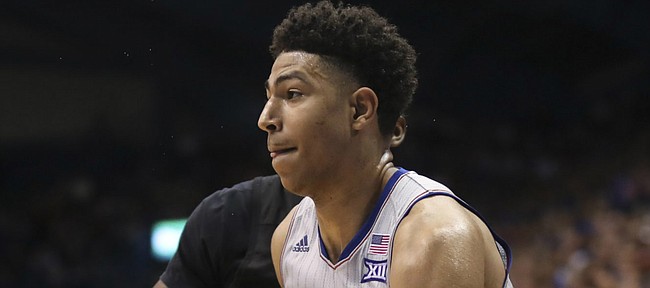 No, Quentin Grimes didn't go through an out-of-body experience behind the 3-point line or manhandle would-be defenders on his way to powerful slams inside the way two other Jayhawks did Monday night at Allen Fieldhouse.
But the 6-foot-5 freshman guard proved to be the perfect catalyst for Kansas teammates Lagerald Vick and Udoka Azubuike in an 84-68 victory against Vermont.
Grimes' high-scoring college basketball debut against Michigan State in Indianapolis didn't influence his approach in KU's home opener.
The McDonald's All-American from The Woodlands, Texas, might as well have viewed the Champions Classic as ancient history. Grimes let the game's flow dictate the type of impact he would make, and it didn't take him long to figure out the Jayhawks needed him as a passer.
The freshman achieved his first career double-double by dishing 10 assists — eight to 7-footer Azubuike (23 points) inside and two to Vick (32 points) behind the 3-point arc — and chipping in 10 points for himself on 4-for-8 shooting, including a 2-for-4 night from beyond the arc.
Though still effective offensively, Grimes transitioned easily into a much different role than he played against the Spartans, when he led KU with 21 points and knocked in six of his 10 3-point tries.
"That game was six days ago," KU basketball coach Bill Self said of Grimes' disinterest in trying to replicate such numbers. "There's been a lot of things happen in the last six days."
The highly touted freshman didn't try to prove he was the best player on the floor against Vermont (1-1). Grimes preferred deferring for the good of his teammates.
"They had a little guy on (Udoka) every time," Grimes recalled after so often dumping the ball in to KU's junior center or lobbing a pass high above the Catamounts. "I felt like that's an easy mismatch I can take advantage of."
Likewise, once Grimes saw Vick couldn't miss — the senior buried all eight of his 3-pointers and even nailed two more long-range 2s with a foot on the line — he knew what he had to do.
"You could see his confidence going sky-high, so I'm not going to go out trying to force 3s even though I had a good game last game," Grimes said. "Whoever's got the hot hand, I'm going to get them the ball."
Though Self, of course, couldn't praise the freshman guard's passing night without mentioning a late "bonehead" turnover, KU's coach thought Grimes' shot selection added to his effectiveness.
"Lagerald's not going to make eight 3s — maybe ever again — in a game. And Quentin might not make six 3s. I hope so. I hope they both do," Self said. "But I thought Quentin had a pretty good floor game tonight and, certainly, he was more valuable to us passing tonight than he was shooting."
Willing to complement his teammates, Grimes showed in his second collegiate game he can be a star in a supporting role, too.
"Me, Lagerald, Devon (Dotson), Dedric (Lawson), Dok, I think any of those guys are capable of getting 25, 30 any night," Grimes said. "You've just got to be prepared for anyone coming in, prepared to contain all of us."