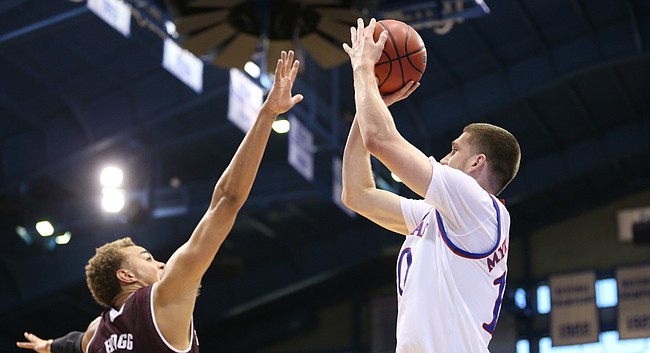 A quick break from Big 12 play served Kansas well Saturday, as the Jayhawks disposed of Texas A & M, 79-68, at Allen Fieldhouse, as part of the Big 12/SEC Challenge.
KU feasted on Aggies turnovers throughout, scoring 24 points off the visitors' 14 miscues.
Senior guard Svi Mykhailiuk looked unstoppable on offense early, en route to a game-high 24 points on 8-for-15 shooting.
Sophomore Malik Newman put up 15 points for Kansas (17-4 overall, 6-2 Big 12) versus Texas A & M (13-8, 2-6 SEC).
Even Lagerald Vick, who had been limited to single-digit points in six of the previous seven games, broke into double figures, with 10 points.
Photo Gallery
Kansas basketball v. Texas A&M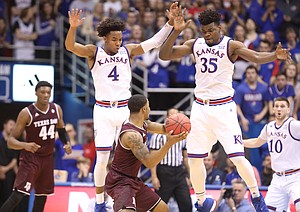 View a gallery of images from Saturday's game between the Jayhawks and Aggies at Allen Fieldhouse.
Kansas improved to 4-1 in the made-for-TV Big 12/SEC Challenge, picking up its fourth straight win in the event.

Here's a quick look back at some of the action:
• The game turned when: The Jayhawks showed up at Allen Fieldhouse as locked in for their SEC foe as they would for a crucial conference date.
KU took the lead for good less than two minutes in, and team defense allowed the Jayhawks to steadily build their lead, as Texas A & M shot just 12-for-33 (36.4 percent) in the first half, making just two of 10 3-pointers.
In the meantime, KU's backcourt lit up the Aggies, as Mykhailiuk poured in 17 points before the break, Newman added eight and Devonte' Graham scored seven of his eight points.
KU's thorough start to the afternoon had the home team ahead by double digits by the midway point of the first half, giving Kansas plenty of cushion for the victory.

• Offensive highlight: KU's first-half mastery from beyond the 3-point arc was something to behold.
Thirteen minutes into the game, Kansas was averaging a 3-point attempt per minute and nine of their long-range bombs torched the nets.
Mykhailiuk led the way, drilling three of his first four from downtown, but he had loads of help.
Vick opened 2-for-3, Graham connected on his first two tries and Newman went 2-for-4 in the stretch as KU opened up a 36-21 lead.
KU shot 10-for-19 on 3-pointers in the opening half, with sophomore sub Mitch Lightfoot knocking down a left-corner 3 to beat the first-half buzzer on a baseline out of bounds set.
Also, in the second half, Udoka Azubuike completed a wicked two-handed jam over a falling Tyler Davis. But the KU big man's ensuing staredown of his fallen foe while stepping over him earned a technical foul.
• Defensive highlight: KU needed all 7 feet and 280 pounds of Azubuike to defend the Aggies' large front line, led by Tyler Davis and Robert Williams.
The Jayhawks' sophomore center more than held his own inside and protected the rim against all comers.
In the first half Azubuike swatted away four A & M attempts — two taken by Davis — and altered plenty of others in the paint.
Azubuike took an active approach on defense when faced with the challenge of taking on one of the bigger front courts KU will face all season. His impact, in the first half especially, paved the way for KU's win.

• Key stat: Hustle points.
As much as KU's 3-point proficiency put the Aggies in a massive hole in the first half, the Jayhawks' desire to bounce back from their road loss earlier this week at Oklahoma showed in the way they attacked off both A & M turnovers and their own misses.
Kansas dominated the first half in points off turnovers, turning eight Aggies mistakes into 13 easy points. The visitors didn't score a single point off KU's four turnovers before halftime.
Despite Texas A & M's huge front line, the Aggies didn't destroy KU on the glass in the first half either. The Jayhawks, led by Azubuike's three offensive rebounds, turned seven second second chances into 11 points.
The Aggies gathered eight of their first-half misses but only had three extra points to show for their efforts.
KU's dominance in the two categories set the stage for a relatively easy first half, and a 45-27 lead at intermission.
By the end of the home win, KU won points off turnovers, 24-5, and second-chance points, 13-12.

• Up next: The Jayhawks return to Big 12 play with a visit to what will likely be the most hostile environment they will experience all season, Monday at Kansas State (8 p.m., ESPN). The Wildcats (16-5, 5-3) knocked off Georgia in Manhattan Saturday, ahead of the Big Monday Sunflower Showdown.
---
More news and notes from Kansas vs. Texas A & M
---