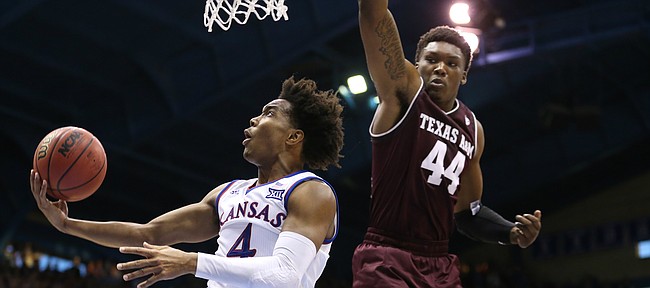 Speed beats size. Speed beats size. Speed beats size.
That was the message drilled into the heads of the Kansas men's basketball players this week in anticipation of Saturday's showdown with a throwback-big Texas A & M team at Allen Fieldhouse.
And after 40 minutes of Big 12/SEC Challenge basketball, the mantra proved true.
Fifth-ranked Kansas knocked off once-fifth-ranked Texas A & M, 79-68, in a game that featured fast-as-lightning Kansas (17-4 overall, 6-2 Big 12) racing out of the gate early and never looking back.
"I really thought Kansas played about as well as any team played all year in the first half," said A & M coach Billy Kennedy, whose team fell to 13-8 overall. "In transition, their ability to shoot the 3 and spread you out, that's the advantage they had over us. We had post guys going out and guarding (Marcus) Garrett and (Lagerald) Vick and those guys did a good job of driving the ball when they needed to."
Photo Gallery
Kansas basketball v. Texas A&M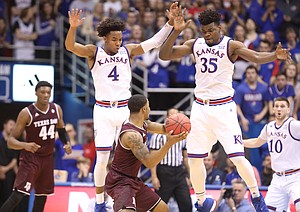 View a gallery of images from Saturday's game between the Jayhawks and Aggies at Allen Fieldhouse.
Getting by their defenders was the aspect of KU's team speed that most impressed KU coach Bill Self on Saturday, and Self, like Kennedy, thought the Jayhawks were terrific in the first half. After that, Self's grades for his team started to suffer, but the damage that was done in building a 45-27 halftime lead was enough to carry KU to victory.
"We're getting better at driving it downhill," Self said. "... I think we're hard to match up with when we're playing that way. And when we're playing fast in transition, we're pretty good."
For a team that, at times, has struggled to take coaching and execute it on the floor, the Jayhawks sure played fast and furiously in the decisive first half. And both Self and his players thought it was the emphasis on that one slogan — "speed beats size" that made it happen.
"That's what we tried to convince them of, because, obviously, we could never get as big as them," Self joked after the game. "But I thought the first half we played pretty quick and pretty fast. That old adage, 'We're not very big but we sure are slow,' doesn't win a lot of games. So we had to be quicker."
In addition to firing away from 3-point range throughout the first half — KU made four of its first five 3-point attempts and 10 of 19 in building a 45-27 halftime lead — the Jayhawks looked to get up the floor as fast as possible nearly every time they corralled a rebound or scooped up a loose ball.
It worked.
The Jayhawks outscored A & M 15-2 in fast break points — 13-0 in the first half — and, perhaps more importantly, occasionally dared the Aggies into trying to keep up with them.
That didn't work.
A & M shot just 36 percent from the floor in the first half, including 20 percent from 3-point range, and coughed it up eight times, often while trying to play faster than normal.
"We just got going early, and I think they were trying to fight back by launching up 3s with us," said KU sophomore Malik Newman, who finished with 15 points and seven rebounds on 6-of-13 shooting in 37 minutes. "(3-point shooting) is very contagious. I think it started with Mykhailiuk and I ended up hitting one and (Devonte' Graham) ended up hitting one. I think we almost were trying to compete with each other to see who was going to miss first."
Never was the Jayhawks' speed advantage more obvious than during a 51-second stretch in the first half in which Kansas turned a two-point edge into a nine-point cushion.
Just. Like. That.
After A & M's Tyler Davis drained a baseline jumper to pull the Aggies within 20-18, Vick (10 points in 32 minutes) answered with a pull-up 3-pointer to push KU's lead back to five.
Vick wasn't done. After driving to the rim and coming up short following another Texas A & M turnover, Vick corralled a steal and flipped a soft lob to Mitch Lightfoot (five points and two rebounds in 16 minutes) for an easy two and a seven-point Kansas lead. A missed Davis jumper later, Newman took the rebound coast to coast for another tough two and the KU lead ballooned to nine.
Texas A & M called timeout after Newman's basket and never operated with a single-digit deficit again.
"One thing about A & M, they didn't try to match up with us and we didn't really try to match up with them," Self said.
Podcast episode
After a 79-68 home win over Texas A&M;, Kansas basketball coach Bill Self praised freshman guard Marcus Garrett for his defense and drives and how the Jayhawks used their speed to match A&M;'s size.
Because of that, KU's four-guard lineup was effective in putting the Aggies on their heels defensively, and the Jayhawks' 12-of-26 3-point shooting performance more than outdid the Aggies' advantage inside.
Even with Texas A & M standing taller at multiple positions, the points in the paint statistic was even at 30-30 by game's end.
"The main key was getting stops," said KU senior Svi Mykhailiuk, who led all scorers with 24 points, 17 coming in the first half. "Don't let them score really easy and I think we did a great job on the post."
The main reason that was so important in this one — other than the fact that playing solid defense always pleases their coach — was the fact that getting stops and steals directly fuels KU's ability to run and makes it easier to play fast.
"Much easier. Much easier," Newman said. "You don't have to think. Just get it and go."
On a day when leading scorer Graham made just two of 11 shots and finished with eight points and seven assists in 40 minutes, the speed and skill of the rest of KU's lineup made Graham's off offensive night easier to overcome.
"He's just a great point guard, has good vision and sees everybody," said Mykhailiuk, alluding to the fact that Graham played a huge role in the Jayhawks' latest track meet. "We need to get stops to play fast, so, whenever we get a rebound, we're just trying to run and press forward because, with four guards, everybody can handle the ball the same and it doesn't matter who brings it up."
With the break from the Big 12 grind now out of the way, the Jayhawks will return to conference play at 8 p.m. Monday night against second-place Kansas State in Manhattan.
---
More news and notes from Kansas vs. Texas A & M
---