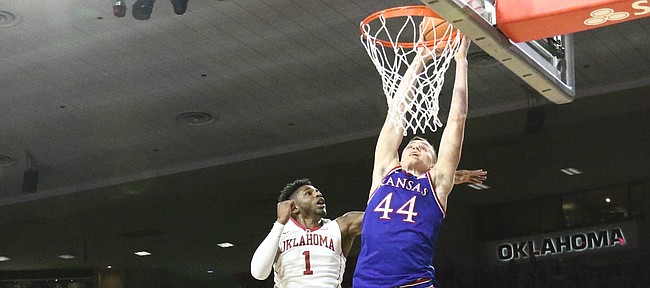 Norman, Okla. — With 7-foot center Udoka Azubuike sitting for all but four minutes of the first half because of early foul trouble, sophomore sub Mitch Lightfoot did his best to hold down the fort down low.
In 14 first-half minutes, Lightfoot recorded six points, four rebounds, two blocks — one on Oklahoma phenom Trae Young — and an assist on 3-of-5 shooting to help keep the Jayhawks close at halftime.
For the game — an 85-80 Kansas loss — the reserve forward finished with eight points and five rebounds in 17 minutes, with two of his four field goals coming on strong dunks at the rim.
"Yeah, he was great," KU coach Bill Self said of Lightfoot. "Mitch played well. Mitch played really well and he gave us a chance after, obviously, Dok got two fouls on him."
As for whether the strong game was the result of Lightfoot having a better feel for his role on this team now that Billy Preston is no longer looming over the front court and freshman newcomer Silvio De Sousa's progress is slow-going, Self was not ready to concede that.
Photo Gallery
Kansas basketball v. Oklahoma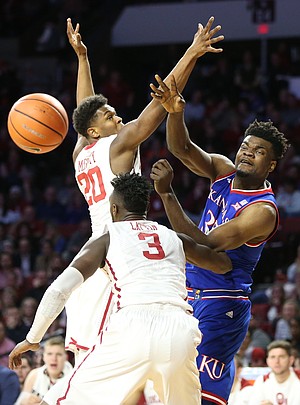 View a gallery of images from Tuesday night's game between the Jayhawks and Sooners in Norman, Oklahoma.
"I don't know if that's true," he said. "Maybe. But he's been pretty good the last four or five games when we (our front court situation was) still up in the air, so I don't know."
Speaking of De Sousa, the 6-foot-9, 245-pound forward who joined the Jayhawks midway through the season after graduating from IMG Academy a semester early played just one minute in his fourth game with the Jayhawks. And his inability to adapt to the environment and big-game nature of Tuesday's Big 12 showdown.
"Three turnovers in one minute," Self said. "Two turnovers and an illegal screen, and they were all good calls. He's just not quite ready."
Graham shoulders blame
In the ultimate senior-leader type of move, KU point guard Devonte' Graham put Tuesday's loss on his shoulders, not the right hand of troubled foul shooter and teammate Azubuike during the postgame meeting with the media.
"I just missed shots," said Graham, who fouled out and finished 4-of-19 for 11 points, seven points below his season average. "I told the guys in the locker room, you can put this one on me. I felt like I let the team down today."
Asked if he thought Graham spoke up to try to deflect some of the attention headed Azubuike's way.
"Sure, sure. Absolutely," said Self before adding, "I didn't think he played bad. I thought he guarded pretty well, made some good passes and did a good job of running things for us."
America's best conference?
Between questions about Azubuike's free-throw struggles and Trae Young's battle with KU senior Graham, Self was asked if Tuesday's clash was merely the latest example of the Big 12 Conference staking claim as the best conference in college basketball.
Ranked No. 1 in the RPI ratings by the slimmest of margins over the Atlantic Coast Conference, the Big 12 already has enjoyed a monster season, both in and out of conference play, and is starting to reach that point where the league's top dogs are beating up on each other while doing their best to hold off serious challenges from the teams in the bottom half.
"I get a kick out of all coaches saying their league's by far the best when they haven't played anybody in the other leagues," Self joked. "We're 6-2 (in Big 12 play) and I'll bet you seven out of the eight games have been games like this. So there are absolutely no guarantees, home or away.
"I don't know if it's the best (conference). You could make a case for the ACC. But I would say it's the deepest, when you talk about 10 teams and all of them RPI in the Top 85 or whatever, there's no other league in America that can line up that."
Next up, a break
After eight straight Big 12 games over the past three weeks, the Jayhawks will get a momentary break from the Big 12 grind this weekend when Texas A & M comes to Allen Fieldhouse for a 3:30 p.m.tip-off in this year's Big 12/SEC Challenge.
KU is 3-1 in the midseason showcase, with two wins over Kentucky and a split with Florida during the past four seasons.
The Jayhawks are 20-1 all-time against former Big 12 brother Texas A & M, including a 10-1 mark in Allen Fieldhouse.
This and that...
Tuesday's loss dropped the Jayhawks to worse than 7-1 to open Big 12 play for the first time since the 2015-16 season when KU started 5-3... The Sooners' victory snapped an eight-game Big 12 road winning streak for the Jayhawks, which included the final five games of last season and the first three road games this season... KU's loss snapped a four-game winning streak over the Sooners and dropped KU's lead in the overall series to 146-67, including a 19-18 mark at Lloyd Noble Center... The Jayhawks are now 7-2 in games away from Allen Fieldhouse this season and Self is now 17-6 all-time against OU. 
---
More news and notes from Kansas vs. Oklahoma
---