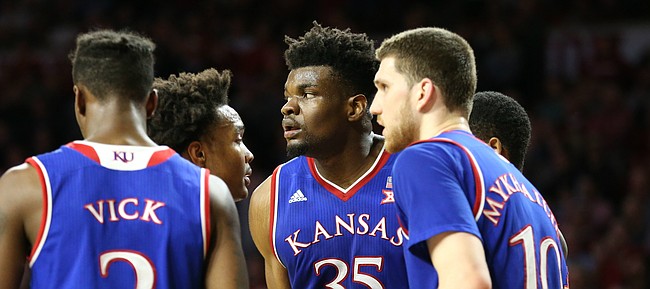 Norman, Okla. — A season-long concern that had not yet fully hurt the Kansas basketball team did the Jayhawks in on Tuesday night, when 12th-ranked Oklahoma used an intentional-foul strategy on KU big man Udoka Azubuike during the game's final four minutes to knock off No. 5 Kansas, 85-80, at Lloyd Noble Center.
Azubuike, who entered the game as a 41.1 percent free throw shooter for the season, missed six consecutive free throws when the Sooners were daring him to make them. That left the door cracked for fab freshman Trae Young and his teammates to steal the victory despite trailing for roughly 90 percent of the second half.
Asked after the game if he had considered taking Azubuike off the floor so the Sooners (15-4 overall, 5-3 Big 12) could not employ their Hack-A-Dok strategy, Self said he preferred to see if his big man could step up.
"It was a bad decision," Self said. "It was on me for this game. If I had it to do all over again, I may have done it differently. But I've never believed that you take out one of your best players because you show him you don't have confidence in him. So I kept him in there."
And the Sooners kept fouling.
Photo Gallery
Kansas basketball v. Oklahoma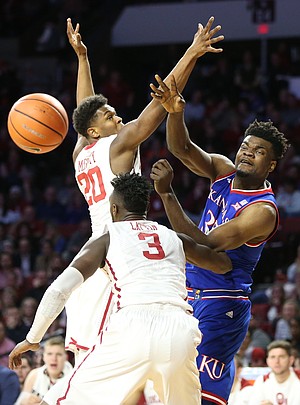 View a gallery of images from Tuesday night's game between the Jayhawks and Sooners in Norman, Oklahoma.
The first call for the strategy made popular in the NBA with notoriously poor free-throw shooters such as Shaquille O'Neal, Dwight Howard and DeAndre Jordan, actually came with around five minutes to play, when OU coach Lon Kruger yelled out to forward Jamuni McNeace to start hacking Azubuike with three minutes to play.
But the Sooners struck a little early. And McNeace had nothing to do with it.
The first premeditated foul on Azubuike came at the 3:37 mark with KU (16-4, 6-2) leading 78-76. Azubuike missed the front end of a one-and-one.
After OU trimmed the KU lead to 78-77, Azubuike was fouled again at the 3:11 mark. Again, he missed the front end.
Despite two gift possessions, the Sooners struggled to take immediate advantage and were forced to foul Azubuike again with 2:53 to play and KU still leading by one. Being the 10th team foul on OU, Azubuike got two shots on this trip, but that did nothing to change the outcome. Clang. Clang.
Finally, with 1:56 to play and KU leading by one — 80-79 after a Lagerald Vick put-back — Azubuike missed two more, paving the way for the Sooners to close the game on an 11-2 run.
"Lon, give him credit," Self said of his Oklahoma counterpart. "That was a great strategy, to do that with Udoka. (Former Texas A & M coach) Billy Gillispie did that to me with Sasha Kaun once and I was so pissed at him after the game. I'm going, 'You stress defense, you believe in your defense and you just told your guys you didn't think they could guard us.' Of course, my guy missed both free throws and they won the game, so, obviously, it was a good decision then and it was a good decision this time."
Get this. One of the loudest ovations of the night came when OU forward Matt Freeman left the game with 1:56 to play after fouling out in 2 minutes. All four of Azubuike's trips to the line late were due to the artful work of Freeman.
Self likened Azubuike's rough day at the line to the highly publicized "yips" suffered by former Major League Baseball pitcher Rick Ankiel, who one day was one of the top young pitchers in the game and the next could not even get the ball over the plate.
That was hardly the case with Azubuike's misfires.
"His misses tonight looked a lot better than his misses a lot of times," said Self, matter-of-factly. "So you can chalk one up there. Better misses."
"I just hope I didn't put him in a situation (like Ankiel)," Self added. "You know, it was obviously the wrong thing to do to win this game. But hopefully it doesn't hurt him moving forward."
Asked if he checked with Azubuike at any point during the nightmarish, one-minute-and-41-second stretch late in Tuesday's game, Self said simply, "I asked him if he wanted to be in and he said, 'Oh yeah.'
"I really thought he'd make them," Self added. "I didn't think he'd make every one, I thought he'd make 50 percent."
Had he, the outcome of this one might have been different. Instead, Azubuike's free-throw shooting woes likely will forever overshadow what was otherwise a terrific basketball game between two teams who have spent time ranked in the top five nationally and are both vying for a Big 12 title in a conference race that suddenly is a little bit closer.
Instead of leaving Norman with a three-game lead on the Sooners and a two-game cushion over the rest of the challengers, the Jayhawks' lead in their quest for a 14th consecutive Big 12 regular season title now is down to a single game over four teams now tied for second place — Oklahoma, Kansas State, Texas Tech and West Virginia.
The overall vibe coming from the KU locker room — even though the Jayhawks admitted that they felt they let this one get away — was still one of a positive nature. Sure, they were devastated by the tough defeat. No one more so than Azubuike, whom Self said was visibly shaken in the locker room after the game.
But the Jayhawks still are on top all alone in arguably the toughest conference in America. And on Tuesday, they had spurts where they played some of their best basketball of the season, storming back from a 10-point first-half deficit to trail by just two at the break and build a 10-point, second-half lead of their own.
Svi Mykhailiuk led Kansas with 24 points (on 6-of-13 shooting from 3-point range), Malik Newman added 20 points, 15 in the first half, and Devonte' Graham, despite a rough shooting night (4 of 19) flirted with a triple-double (11 points, nine assists and seven rebounds) while doing all he could to contain OU star Young, who finished with 26 points, nine assists, four rebounds and five turnovers.
"To be down two when Dok plays four minutes the first half, we couldn't have done any better," said Self of Azubuike, who was scoreless in the first half and then scored eight consecutive points early in the second half to help give Kansas control. "To have a chance to win when your leading scorer goes 4 of 19, that means we played pretty well. So we did some good things, but, obviously, we didn't do enough. We didn't get some key stops late."
As for his final words to Azubuike before leaving the arena, Self's message was simple.
"You're going to be in this situation again," he told him. "Work on them. Let's work on them. Let's figure it out."
---
More news and notes from Kansas vs. Oklahoma
---